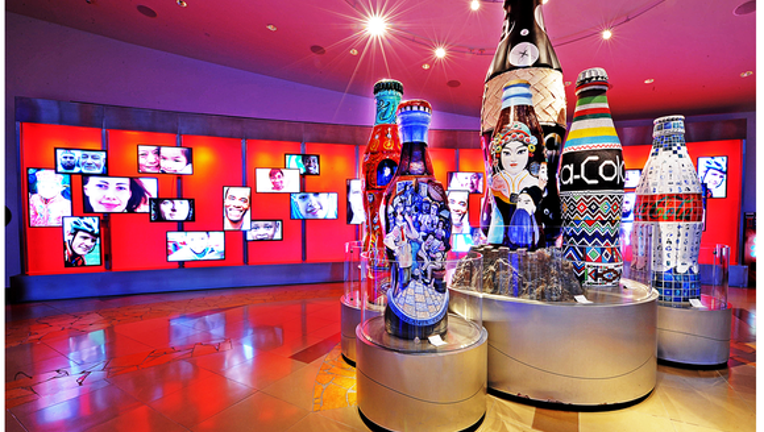 A Coca-Cola folk art exhibit. Image credit: Coca-Cola.
While the war on soda may slow Coca-Cola's growth, the beverage giant still generates a ridiculous amount of money. Over the last 12 months, it earned $46 billion in revenue, ranking 58th among S&P 500 companies. What does the 129-year-old company do with all this money? The slideshow below provides an answer.
Viewers of the slideshow will learn three interesting points, among other things, from scrolling through it:
First, while Coca-Cola paid out more capital than it earned over the trailing 12 months, it's in good company, as a large contingent of industry leaders did the same.
Second, thanks presumably to the power of its brand, Coca-Cola enjoys meaningfully wider profit margins than the typical large-cap stock.
What else can investors learn about Coca-Cola from an analysis of its revenue flows? Scroll through the brief slideshow below to find out.
All slideshow data sourced from YCharts.com on November 24, 2015. Slideshow image credits: Coca-Cola, istock/Thinkstock.
The article How Coca-Cola Spent $46 Billion in 12 Months originally appeared on Fool.com.
John Maxfield has no position in any stocks mentioned. The Motley Fool has the following options: long January 2016 $37 calls on Coca-Cola, short January 2016 $43 calls on Coca-Cola, and short January 2016 $37 puts on Coca-Cola. The Motley Fool recommends Coca-Cola. Try any of our Foolish newsletter services free for 30 days. We Fools may not all hold the same opinions, but we all believe that considering a diverse range of insights makes us better investors. The Motley Fool has a disclosure policy.
Copyright 1995 - 2015 The Motley Fool, LLC. All rights reserved. The Motley Fool has a disclosure policy.