How Citrix Systems Inc. Is Repositioning Itself for Future Growth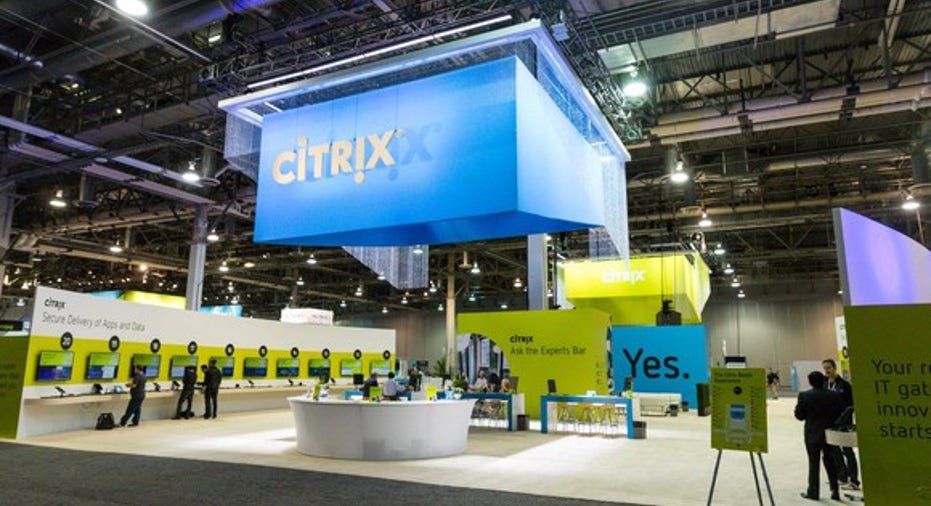 Desktop virtualization services provider Citrix Systems (NASDAQ: CTXS) has made two big moves this year to shuffle its product portfolio. First, it acquired application management company Unidesk to shore up its core offerings. Then, it completed the spinoff of its GoTo business to LogMeIn.
Citrix has made these moves to streamline its product portfolio, increasing its focus on its enterprise offerings and becoming a pure-play software-as-a-service company. The spinoff of GoTo and the acquisition of Unidesk will enable Citrix to ramp up product development efforts in its two biggest segments by revenue -- workspace services and delivery networking.
Image source: Citrix Systems.
Falling behind the competition
Citrix revenue has grown at a compound annual rate of 4% over the past four fiscal years. That's way lower than the 33% annual growth seen in the virtualization desktop infrastructure market from 2009 to 2016, according to ABI Research. And that means Citrix has failed to take advantage of the rapid industry growth.
Evidently, the company needs to reshuffle its offerings, as there are still a lot of opportunities in the desktop virtualization market. But to do so, it will need to focus aggressively on the core businesses that drive the majority of its top line.
Workspace services and delivery networking businesses account for 72% of total revenue, but they've grown at a very slow pace in the past four years -- the former at just 2.3% annually and the latter at 5.2%. To make more significant progress in these segments, Citrix needs to spend more time and money on product development to fight off competition from the likes of VMware.
In fact, Citrix has lost its innovative edge in this space to VMware, which has a better strategy to tap the end market. IDC ranked VMware as the leader in its magic quadrant chart because of its acquisition strategy, while Citrix came in second.
How Citrix is gearing up for growth
Citrix should now be able to scale its core businesses by giving them more time and R&D dollars. For example, the company will incorporate Unidesk's layering technology into its XenDesktop and XenApp services.
Layering is an application packaging and management technology that allows users to separate enterprise-related applications from the operating system. This feature will enable Citrix customers to manage the apps on their employees' devices from a single location, without the need for physical inspection. Since Unidesk is the only provider of full-stack layering technology, Citrix has made a smart move with this acquisition.
Citrix is also partnering with Microsoft (NASDAQ: MSFT) on the Azure cloud computing platform. Azure is Citrix' preferred cloud platform for service delivery, which is a big positive for investors, since Microsoft's cloud service has seen rapid growth in adoption. In the second quarter of fiscal 2017, Azure revenue increased a massive 93% year over year, which pushed the revenue from Microsoft's commercial cloud business to $14 billion.
Microsoft is now ranked second in the public cloud after Amazon Web Services, and the rapid growth in Azure adoption has led to a revenue increase at the company's channel partners. Citrix, for its part, has been enhancing its offerings on Microsoft Azure by making improvements to its XenDesktop service.
Last month, Citrix introduced XenDesktop Essentials for Microsoft Azure to deliver the Windows 10 software. Using this service, Azure customers can deliver apps to devices running on the platform in a secure manner. What's more, Citrix will continue to enrich its Microsoft Azure offerings by adding more apps such as Secure Web and Secure Mail.
These moves should allow Citrix to attract more clients as it focuses on offering a comprehensive suite of solutions. In fact, Citrix' product-development moves are bearing fruit already, as it won 96 new contracts with a value of more than $1 million each in the fourth quarter. In comparison, there were 81 such transactions in the year-ago period.
In all, Citrix closed 850 contracts in virtual client computing last quarter itself, up from 800 last year. The company should be able to sustain this growth in the long run as the desktop virtualization market gets bigger. For perspective, TechNavio forecasts that the virtual desktop infrastructure market will grow at an annual pace of 11% from 2017 to 2021.
Citrix is gearing up to take advantage of this potential growth by repositioning its portfolio under the leadership of CEO Kirill Tatarinov, who was hired last year. Tatarinov's plan for Citrix is to encourage cloud adoption among enterprises by reducing complexity and offering enhanced security. The company's recent moves clearly indicate that the CEO is taking concrete steps in this direction by streamlining its offerings to power long-term growth.
10 stocks we like better than Citrix Systems When investing geniuses David and Tom Gardner have a stock tip, it can pay to listen. After all, the newsletter they have run for over a decade, Motley Fool Stock Advisor, has tripled the market.*
David and Tom just revealed what they believe are the 10 best stocks for investors to buy right now... and Citrix Systems wasn't one of them! That's right -- they think these 10 stocks are even better buys.
Click here to learn about these picks!
*Stock Advisor returns as of January 4, 2017
Teresa Kersten is an employee of LinkedIn and is a member of The Motley Fools Board of Directors. LinkedIn is owned by Microsoft. Harsh Chauhan has no position in any stocks mentioned. The Motley Fool owns shares of and recommends Amazon. The Motley Fool recommends VMware. The Motley Fool has a disclosure policy.