How Cisco Systems, Inc. Gained 11% in February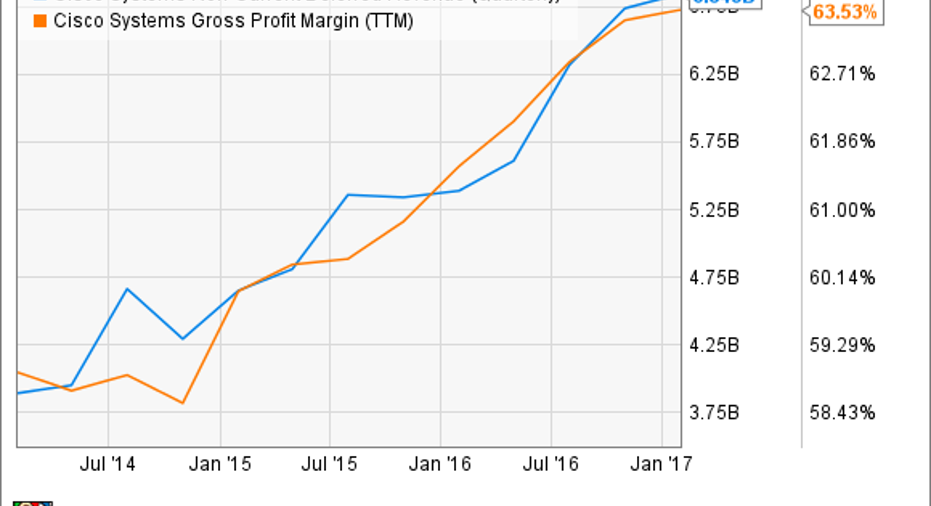 What happened
Shares of Cisco Systems (NASDAQ: CSCO) rose 11.3% in February 2017, according to data from S&P Global Market Intelligence.
So what
The big surge fell near the middle of the month, when Cisco reported solid second-quarter results with a side of optimistic forward guidance targets. If that weren't enough, the networking equipment veteran also boosted its quarterly dividend payout by 12% and retired $1 billion of its shares. Cisco investors can now look back at a market-beating 25% return over the last 52 weeks.
Image source: Getty Images.
Now what
Cisco is reshaping its revenue intakes these days, raising the percentage of recurring contract sales from 26% to 31% over the last six quarters. Because of this transition, Cisco's deferred revenue balance increased by 51% year over year in the second quarter. The end result is a more stable and predictable business model. Expect this trend to continue, as "everything is growing in that space," according to CFO Kelly Kramer.
Management is constructing a whole new business framework, here, and I quite like the new structure. To stay on top of Cisco's fundamental makeover, keep an eye on deferred revenue and gross margins from here on out. So far, the move toward more contract-based sales is working out brilliantly:
CSCO Non-Current Deferred Revenue (Quarterly) data by YCharts.
10 stocks we like better than Cisco SystemsWhen investing geniuses David and Tom Gardner have a stock tip, it can pay to listen. After all, the newsletter they have run for over a decade, Motley Fool Stock Advisor, has tripled the market.*
David and Tom just revealed what they believe are the 10 best stocks for investors to buy right now...and Cisco Systems wasn't one of them! That's right -- they think these 10 stocks are even better buys.
Click here to learn about these picks!
*Stock Advisor returns as of February 6, 2017.
Anders Bylund has no position in any stocks mentioned. The Motley Fool recommends Cisco Systems. The Motley Fool has a disclosure policy.