How BMW Plans to Fight Back Against Google and Apple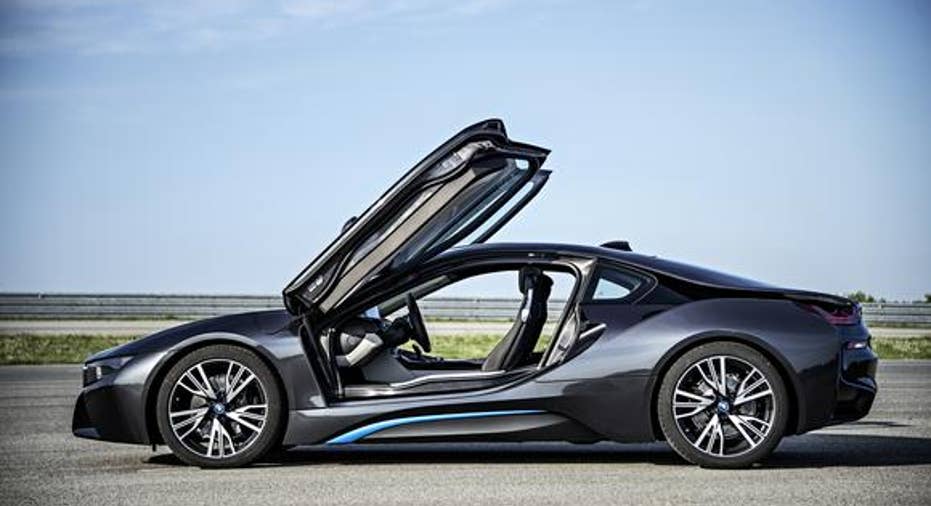 BMW CEO Harald Krueger with the VISION NEXT 100, a concept car meant to show how BMW will take its brand into the high-tech future. Image source: BMW
German luxury-car giant BMW said this week that it is developing a "revolutionary" flagship self-driving car to help it fight off potential Silicon Valley "disruptors" like Alphabet's Google self-driving car.
What BMW said about this new carCEO Harald Krueger didn't give a lot of detail. Speaking during BMW's annual report presentation on March 16, Krueger promised "a revolutionary new BMW i model that will raise premium mobility to previously unknown levels."
The "iNEXT" will be a "symbol of technology leadership," BMW said in a statement. It will bring "new forms of automated driving and digital connectivity together with a new generation of electric mobility, lightweight construction and trailblazing interior design that will set new standards for the customer's mobility experience."
"BMW iNEXT heralds the next era of mobility," Krueger said. "This symbol of our technology leadership will demonstrate how we will bring the future of mobility into series production."
That's a lot of buzzwords. But what will this car be like?
What BMW didn't say about the new iNEXT, but we can guessBMW is probably being vague about the iNEXT because right now, it probably isn't much more than an idea. It might (or might not) look like the futuristic concept car shown above. But we can look at what BMW has already done to figure out where it will probably go with this "revolutionary" new vehicle.
BMW has already made a small but impressive leap into electric cars. Its i3 electric sedan and i8 plug-in hybrid sports car have both won critical praise, while showing off the company's advances in related technologies like lightweight construction using carbon fiber.
Carbon fiber is an exceptionally strong and lightweight material that has long held promise for future cars. (All other things being equal, lighter-weight cars use less energy.) But until recently, it has been much too expensive to use in mainstream models. BMW has invested in advances to bring down the cost of carbon fiber and ramp up production of the material, with plans to -- eventually -- use it in the structures of mass-market models.
The BMW i8 is a plug-in hybrid sports car that makes extensive use of carbon fiber in its structure. Image source: BMW
BMW has also made significant investments in self-driving technology. Like nearly all of its luxury rivals, it has promised a limited self-driving system like Tesla Motors' Autopilot, which allows some hands-free driving on highways, sometime in the next year or two. And like those rivals (including Tesla), BMW is thought to be pushing aggressively toward a fully functional self-driving system that could be brought to market sometime around 2020.
Take it all together, and we can see where the company is going: The iNEXT will probably be a lavishly equipped big sedan built mostly from carbon fiber, powered by a high-performance battery-electric drivetrain, and capable of driving itself under nearly all conditions.
But because it's a BMW, it'll probably also be fun to drive if and when its owner chooses to take the wheel.
Why BMW's hints about the iNEXT are importantThe global automakers are feeling intense pressure to keep pace with the transformational advances that are expected to come from outside companies over the next few years. Developments like Uber's crowdsourced ride-sharing replacing traditional car ownership for some, to Google's self-driving car, to the much-rumored Apple car (or Apple automated car service), all have the traditional auto companies moving to show that they won't be easily "disrupted."
While all automakers are feeling that pressure and responding to it to some extent, the pressure is especially intense in luxury, where Tesla's success has gotten the attention of BMW and its traditional German rivals in a big way. Krueger and his team feel that they have to show BMW's customers -- and maybe more importantly, its investors -- that they're moving aggressively to keep pace with the upstarts from Silicon Valley.
The iNEXT probably isn't much more than an idea at the moment. But it's an important idea for BMW, which wants to show now that it will continue to be relevant in an electrified, self-driving future. But will it be? We'll have to wait and see.
The article How BMW Plans to Fight Back Against Google and Apple originally appeared on Fool.com.
Suzanne Frey, an executive at Alphabet, is a member of The Motley Fool's board of directors. John Rosevear owns shares of Apple. The Motley Fool owns shares of and recommends Alphabet (A shares), Alphabet (C shares), Apple, and Tesla Motors. The Motley Fool recommends BMW. Try any of our Foolish newsletter services free for 30 days. We Fools may not all hold the same opinions, but we all believe that considering a diverse range of insights makes us better investors. The Motley Fool has a disclosure policy.
Copyright 1995 - 2016 The Motley Fool, LLC. All rights reserved. The Motley Fool has a disclosure policy.