How Big Is the St. Jude Medical Threat to Abiomed, Inc. Stock?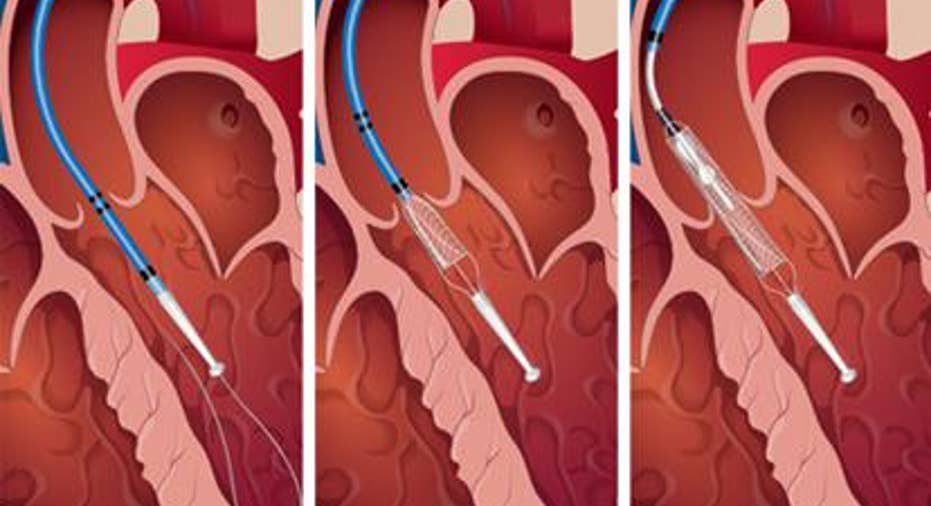 Image source: Abiomed.
Over the past year, Abiomed stock has outperformed theiShares Global Healthcare ETF by a mile, and I'm sure Blackrockregrets not adding it to the ETF's holdings.Rapidly expanding sales, coupled with plenty of room to grow, will do that for a stock -- even if the market as a whole isn't thrilled with the sector it's in.
During Abiomed's third quarter, which ended Dec. 31, U.S. patient utilization of Abiomed's tiny heart pumps soared 45% over the same period the previous year.However, with a stock price around 34 times trailing earnings, the company needs to continue growing at a terrific pace to justify such a high multiple. Part of Abiomed stock's jumpiness can be explained by the recent acquisition of its main rival, Thoratec, by St. Jude Medical , a cardiovascular device heavyweight.
In the medical-device ocean, Abiomed is a minnow among sharks. St. Jude isn't a Medtronic-sizedgreat white, but it's large enough that investors should be concerned. Allow me a few minutes to outline the threat St. Jude poses to Abiomed, and hopefully you won't be needing one of their devices if the stock flutters again.
Key differencesAlthough both Thoratec and Abiomed build heart pumps, there's a key difference in their approach. Thoratec has traditionally been a designer of external pumps built for long-term use.
HeartMate PHP source: St. Jude Medical.
The HeartMate PHP was Thoratec's, now St. Jude's, first pump designed to be inserted into the heart by sliding it through a major artery in the leg or chest, a procedure known as percutaneous insertion. Last July, the HeartMate PHP earned a CE mark, but it has yet to gain approval from the FDA.
Abiomed, on the other hand, was built around percutaneous, catheter-based heart pumps. Until recently its devices were given 501(k) clearance, a status reserved for class 2 medical devices such as condoms, syringes, and sutures. You're not the only one who thinks that's a bit bizarre, but Abiomed's devices had been used in U.S. hospitals for years under this "clearance" that didn't allow the company to promote the devices as "FDA approved" until recently.
In 2015, Abiomed's Impella 2.5 was the company's, and the country's, firstpump to win the "premarket approval" classification reserved for high-risk devices.The first approval was specific to use during "percutaneous coronary intervention procedures" more commonly known as angioplasty.
What to look out forAfter an FDA panel recommended allpercutaneous heart pumps follow themore stringent premarket approval protocol in 2012, Thoratec, now St. Jude, found itself in a bit of a pickle.The premarket approval process requires clinical trials. Since the only percutaneous pump with such approval was Abiomed's Impella 2.5, it's in a head-to-head study with the HeartMate PHP.
The primary outcomes to determine non-inferiority are straightforward, but investigators will measure a handful of secondary outcomes that could be spun in a way to make Abiomed's products seem inferior. The HeartMate PHP is designed to generate blood flow of 4 to 5 liters per minute.The Impella 2.5, as its name implies, generates blood flow up to 2.5 liters per minute.
Reasons to stay calmIf St. Jude puts some spin on the trial pointing to HeartMate PHP's superior flow, don't sweat it. The FDA recently gave premarket approval to Abiomed's 5 liter-per-minute Impella 5.0 and three other pumps for treatment of ongoing cardiogenic shock -- basically whenever the heart isn't pumping enough blood, typically following heart attacks.
More importantly, the FDA did so without requiring big clinical trials,or an advisory committee meeting.In a nutshell, the FDA already has tons of data for most of Abiomed's heart pumps, and they're clear.
Reasons to get excitedSeveral years ago, Abiomed found itself accused of improperly marketing the Impella 2.5.Now it can actually advertise its products as "FDA Approved" for a population it's just beginning to tap into.
Impella 2.5. Source: Abiomed,
In the past, Abiomed has been extremely cagey about how often its devices are used to treat cardiogenic shock, but some analysts estimate the indication comprised about two-fifths of recent Impella sales.
If St. Jude wins premarket approval for its HeartMate PHP, tiny Abiomed will have difficulty battling the giant in thepercutaneous coronary intervention procedure space. So far, Abiomed's products are used in roughly 5% of this 120,000-patient population. Gaining more ground if St. Jude wins approval for the HeartMate PHP could be difficult.
These aren't consumer goods. Be careful not to underestimate the valuable relationships St. Jude has built over the years with U.S. healthcare providers and their purchasing departments.
The good news is that for the moment, Abiomed is the only company able to freely market four pumps to roughly 100,000 patients who suffer cardiogenic shock in the U.S. each year. Its penetration of this space is estimated at roughly 5%, giving it plenty of room to grow.
The faster, the better -- St. Jude's $3.4 billion acquisition of Thoratec tells me the sharks smell blood in the water.
The article How Big Is the St. Jude Medical Threat to Abiomed, Inc. Stock? originally appeared on Fool.com.
Cory Renauer owns shares of Medtronic. The Motley Fool owns shares of and recommends Medtronic. Try any of our Foolish newsletter services free for 30 days. We Fools may not all hold the same opinions, but we all believe that considering a diverse range of insights makes us better investors. The Motley Fool has a disclosure policy.
Copyright 1995 - 2016 The Motley Fool, LLC. All rights reserved. The Motley Fool has a disclosure policy.