How Audi and Porsche Will Try to Take On Tesla Motors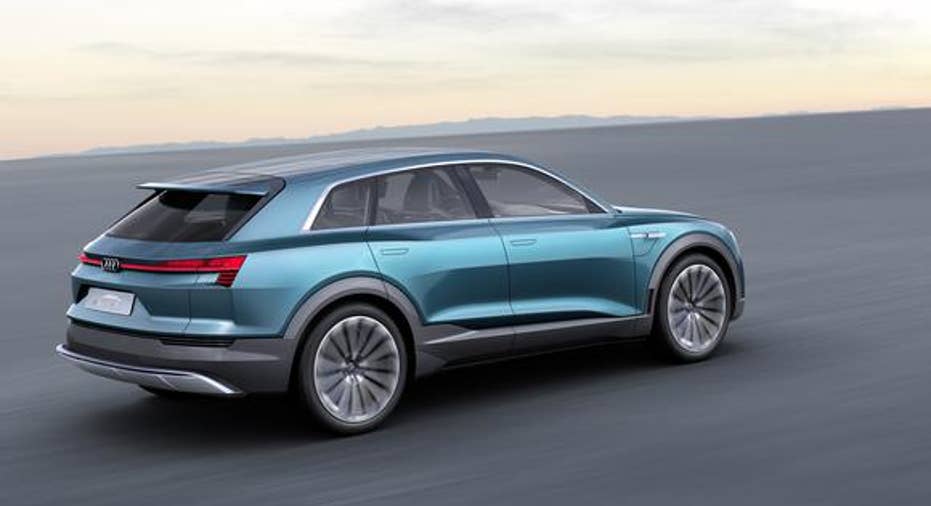 Teslas are fast and fun, but "fast and fun" is Porsche's specialty.Are Elon's legions ready for a thoroughbred Porsche sports car thathappens to be electric? It's coming. Image source: Porsche Cars.
No matter what you think of the company's stock, it's clear that Tesla Motors has made a huge impression on the global auto business. Before Tesla, electric cars were mostly frumpy green-minded things that weren't especially fun to drive.
But Tesla has shown the world that electric cars can be fast and luxurious and very desirable. In the process, it has generated huge demand for its products.
Now the world, or at least the major automakers, are starting to respond. Given that all of Tesla's sales so far have been in luxury-vehicle segments, it's no surprise that the biggest challenges to Tesla look to be coming from the longtime luxury-car leaders.
And the first of those challenges might come from scandal-embattled Volkswagen's biggest-selling luxury-car unit.
First up: an Audi SUV to challenge Tesla's Model X That unit is Audi, and it has already shown at least part of its hand: It unveiled an all-electric concept SUV last fall that's said to be a close preview of a new battery-electric Audi SUV that will go into production in early 2018.
Audi says that last fall's e-tron quattro concept is a "concrete foretaste" of an all-electric luxury sport SUV that it will produce starting in 2018. Image source: Audi.
The concept Audi featured a new fast-charging system that -- it was claimed -- could recharge the SUV to its full 500-kilometer range in just 50 minutes. If that technology makes it to production, it could give the new Audi an edge over the Model X, at least in recharging at home.
Audi's electric SUV will be just the beginning of the Volkswagen Group's move into what Tesla calls "premium electric vehicles." The next step is expected to come from another VW subsidiary known for its sports cars: Porsche.
Aspectacularnew Porsche that happens to be electricAudi's upscale corporate sibling is also heading toward an electrified future. Porsche has already said that it will roll out plug-in hybrid versions of all of its models, including the flagship 911 sports car.
But Porsche has much more in mind: The company showed off a stunning (and fast) electric sports car concept last year and subsequently indicated that something very much like it is headed for production later this decade. I expect that it will follow the Audi SUV by about a year, give or take.
Porsche calls the concept the "Mission E." At least in concept form, the first all-electric Porsche road car is a sleek four-door that looks like a futuristic take on the company's iconic 911 sports car -- because that's what is.
When it showed off the concept car, Porsche said that it had an 800-volt drive system with over 600 horsepower available and a claimed range of "over 500 kilometers," or about 311 miles on the European test cycle. (That probably translates into about 260 miles of range on the different U.S. test cycle. It's in Tesla's ballpark, in other words.)
Porsche claims that the Mission E Concept's 800-volt system can be recharged to 80% range (about 400 kilometers, or 248 miles) in just 15 minutes. Will that system make it to production? If so, it'll be a technical coup. Image source: Porsche Cars.
The concept has all-wheel drive and all-wheel steering, and a zero-to-100 kilometers per hour (62 mph) time of "under 3.5 seconds," Porsche said. And because it's a Porsche, it was also tested on the brutal Nurburgring Nordschleife racetrack -- where it returned an impressive time of under eight minutes.
It's a legitimate Porsche, in other words, that just happens to also be an electric car. For some buyers, that will make it a very interesting alternative to a Tesla -- assuming that Porsche can deliver it for a price that isn't too outrageous.
This is the beginning of a huge move into electrification for VWVW's leadership seems to have learned well from Tesla's example. Audi executives have recently taken to praising Tesla for showing the way to "speed without repentance," as Audi electromobility chief Stefan Niemand put it in a recent presentation. And Porsche's concept car speaks for itself: There's no doubt that it will be very fun to drive.
There's much more to come, including mass-market offerings that go far beyond the current VW e-Golf. Parent Volkswagen has begun development of a new modular electric-vehicle architecture (or "toolkit" in VW-lingo) that will underpin a slew of new electric cars and commercial vehicles, almost certainly including some Audis.
But like rival Mercedes-Benz, which is also preparing a line of electric vehicles that look to aiming directly at Tesla's offerings, Volkswagen is clearly rising to the challenge Tesla CEO Elon Musk has set. How many other automakers will follow?
The article How Audi and Porsche Will Try to Take On Tesla Motors originally appeared on Fool.com.
John Rosevear has no position in any stocks mentioned. The Motley Fool owns shares of and recommends Tesla Motors. Try any of our Foolish newsletter services free for 30 days. We Fools may not all hold the same opinions, but we all believe that considering a diverse range of insights makes us better investors. The Motley Fool has a disclosure policy.
Copyright 1995 - 2016 The Motley Fool, LLC. All rights reserved. The Motley Fool has a disclosure policy.