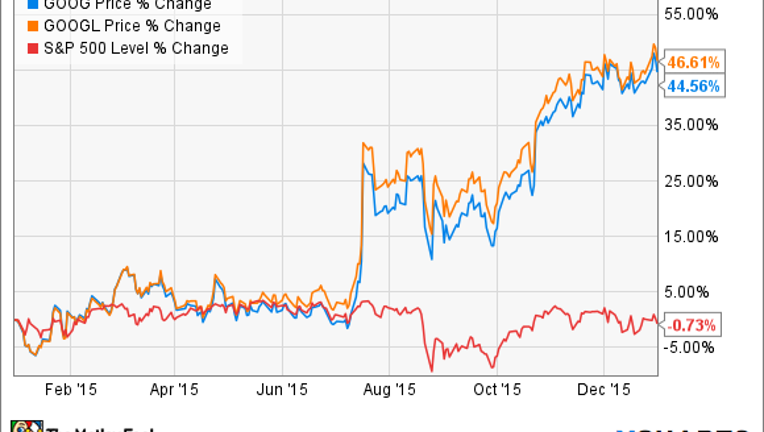 What: Shares of Alphabet had a great year in in 2015. According to data from S&P Capital IQ, the non-voting class C shares gained 44.6% and the vote-enabled class A stock rose 46.6%.
So what: Apart from giving Wall Street's earnings estimates a sound beating in the last two quarterly reports, the company did two things in 2015 to inspire shareholder confidence:
The company formerly known as Google restructured under the name Alphabet. Now Google is one of several independent operating units under that new umbrella.
CFO Patrick Pichette retired to spend more time with his family -- no, really -- and was replaced by Ruth Porat. Alphabet's new CFO was previously CFO of Morgan Stanley. Having run the numbers for a megabank with some $400 billion of assets under management, she certainly has the know-how to fine-tune Alphabet's global operations and make the tech giant more Wall Street friendly.
Now what: In the chart above, you see Porat's influence making waves in the middle of July. Yes, Alphabet beat analyst targets in that second-quarter report, but more important, that's when Porat laid out her cards.
Under Ruth Porat's steady hand, the company is now managing its expenses with a lot more fiscal restraint. It's not pure cost-cutting, but a more responsible approach to making new bets and hiring people. The company has also warmed up to the idea of shareholder-friendly initiatives, authorizing a $5 billion stock buyback program in October.
We'll also have more reason to appreciate the Alphabet makeover:
In other words, the new structure lets Google/Alphabet provide more transparency and more detailed financial reports, aside from making business moves not related to online operations without spooking shareholders.
And that's how Google became Alphabet and crushed the market in 2015.
The article How Alphabet, Inc. Gained 45% in 2015 originally appeared on Fool.com.
Suzanne Frey, an executive at Alphabet, is a member of The Motley Fool's board of directors. Anders Bylund owns shares of Alphabet (A shares). The Motley Fool owns shares of and recommends Alphabet (A and C shares). Try any of our Foolish newsletter services free for 30 days. We Fools may not all hold the same opinions, but we all believe that considering a diverse range of insights makes us better investors. The Motley Fool has a disclosure policy.
Copyright 1995 - 2016 The Motley Fool, LLC. All rights reserved. The Motley Fool has a disclosure policy.