How a Major Drugmaker Plans to Cure Disease... Without Drugs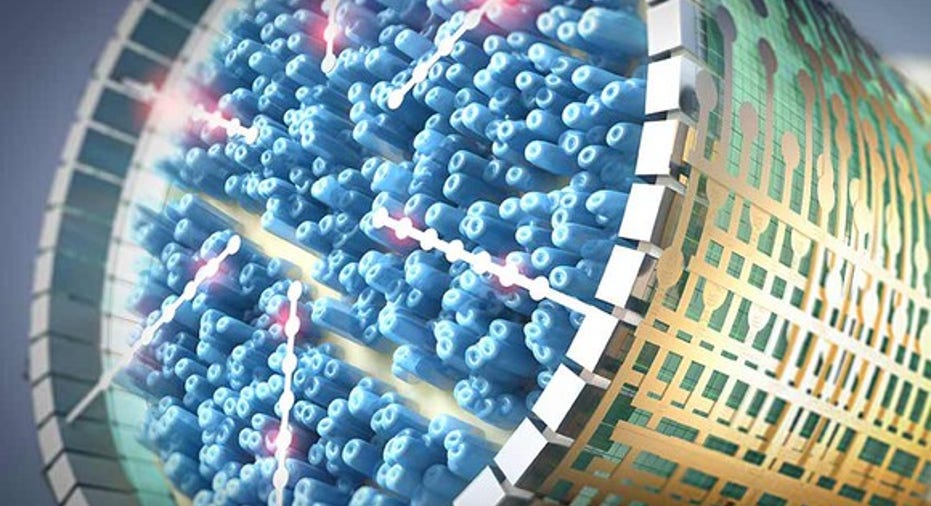 Pharmaceutical giant GlaxoSmithKline plc (NYSE: GSK) has the resources to pursue long-term bets in medicine that could eventually change the course of disease treatment and yield large payoffs. Three and half years ago the company announced its plans for an audacious goal: to literally eavesdrop on the body's electrical system and enter into the body's own internal conversations in order to heal disease.
Not as crazy as it sounds
Medicine has long focused on chemical processes to alter biological function, but every organ has a nerve connection that regulates its function. Organs are controlled by patterns of electrical impulses transmitted through nerve fibers, but when organs dysfunction in chronic disease, the electrical patterns are different. That fact opens up the possibility that inserting patterns in nerves to certain organs can correct conditions that lead to disease. Using electrical impulses to influence organ function is nothing new -- cardiac pacemakers have been in use for decades -- but scientists are just beginning to realize the possibilities of using nerve signals to restore organs to normal function and actually treat disease.
Image source: GlaxoSmithKline plc.
A seminal paper was published in the scientific journal Nature in 2000 which presented evidence that stimulation of the vagus nerve could actually trigger an anti-inflammatory response in rats. Electrical stimulation of the nerve inhibited the production of tumor necrosis factor (TNF), which is also the mechanism used by some blockbuster anti-inflammatory drugs such as AbbVie's Humira. Since then, researchers have come to believe that influencing the the body's electrical system could lead to treatments for conditions as diverse as asthma, arthritis, inflammatory bowel disease, hypertension, diabetes, infertility, and even cancer. A drug gets dispersed throughout the body, affecting multiple pathways and organs in the process and potentially causing undesired side effects, but targeting the signals of a specific nerve bundle with an implanted device has the potential for producing highly localized and specific effects.
GlaxoSmithKline announced in 2013 an effort to pour resources into the field of bioelectronics, taking a leadership role in the industry. The company announced a $1 million innovation prize, the creation and funding of a network of researchers, and the launch of a $50 million venture capital fund, Action Potential Venture Capital, to invest in pioneering bioelectronic technologies.
The investment is already producing visible progress. The first investment by the venture capital fund was in SetPoint Medical, a privately held California company that is developing a platform to treat inflammatory diseases by modulating nerve signals with implanted devices and was co-founded by one of the authors of the original 2000 paper in Nature. In July 2016 the company reported the results of a first-in-human study of vagal nerve stimulation by an implanted device for treatment of arthritis. The study showed that the approach inhibited TNF production and improved symptoms, including in some patients who had not responded to conventional drug treatments. In January 2017, SetPoint reported positive results of another human study using its device to treat Crohn's disease.
Googling the body's internal network
Image source: GlaxoSmithKline plc.
As encouraging as the results from SetPoint are, that approach is primitive compared with the ambitions of a $715 million joint venture that Glaxo and Alphabet (NASDAQ: GOOG) (NASDAQ: GOOGL) birthed last August called Galvani Bioelectronics.The collaboration with Verily Life Sciences, formerly known as Google Life Sciences, aims to do no less than to map the human nervous system, crack the electrical codes flowing through nerves controlling the body's organs, and be able to modify the signals to restore healthusing implantable devices the size of a grain of rice.
The effort has enormous potential... and enormous challenges. Verily will contribute expertise in device miniaturization and software. The tiny devices will need a read/write interface to nerve fibers and a way to be powered without heating the body -- both significant technical problems yet to be solved. The approach will also require the analysis and interpretation of massive amounts of data taken from the signals sensed on individual bundles of nerves controlling the targeted organs, something that's right up Google's alley. Glaxo, for its part, has been working for several years on a "nerve atlas" with the goal of identifying the specific nerve fibers whose signals will need to be decoded and modulated.
A long shot, but we could get news by 2019
Executives from GlaxoSmithKline and Verily are optimistic, though. At the time of the announcement last August, Glaxo executive Moncef Slaoui expressed the belief that Galvani could begin human trials within 18 months, achieve proof of concept in three years, and begin commercialization in seven years. This timeline puts the effort on the radar of long-term investors, who could be seeing news on developments in the next few years.
The challenge is huge, but then so is the potential payoff."Bioelectronic medicines have the potential of doing to the pharmaceutical industry what biopharmaceuticals did to small molecules backin the 1980s,"says Imran Eba, partner in Action Potential Venture Capital. If that happens, GlaxoSmithKline could be in ideal position to benefit from the next big disruption in medical technology.
10 stocks we like better than GlaxoSmithKlineWhen investing geniuses David and Tom Gardner have a stock tip, it can pay to listen. After all, the newsletter they have run for over a decade, Motley Fool Stock Advisor, has tripled the market.*
David and Tom just revealed what they believe are the 10 best stocks for investors to buy right now... and GlaxoSmithKline wasn't one of them! That's right -- they think these 10 stocks are even better buys.
Click here to learn about these picks!
*Stock Advisor returns as of February 6, 2017
Suzanne Frey, an executive at Alphabet, is a member of The Motley Fool's board of directors. Jim Crumly owns shares of AbbVie, Alphabet (A shares), and Alphabet (C shares). The Motley Fool owns shares of and recommends Alphabet (A shares) and Alphabet (C shares). The Motley Fool has a disclosure policy.