How a Donald Trump Presidency Could Affect Caterpillar Inc. Stock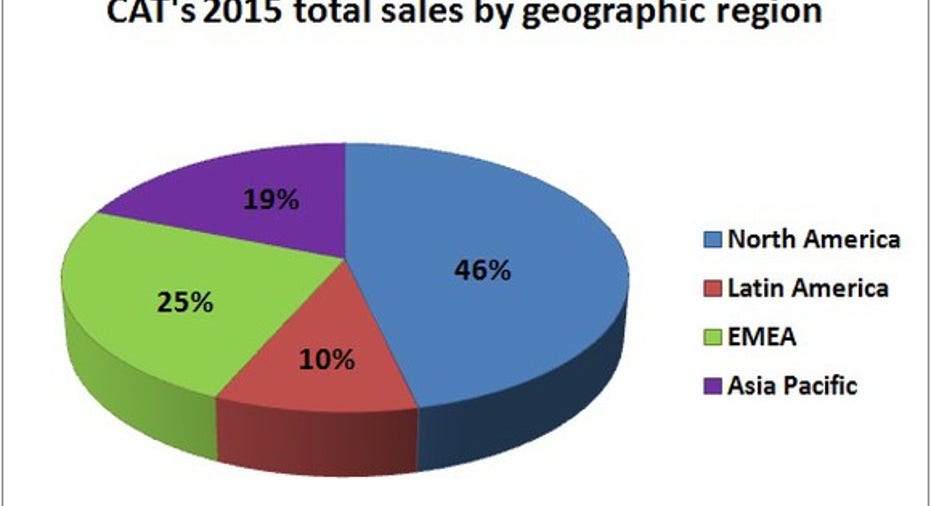 Can Trump turn Caterpillar Inc.'s fortunes around? Image Source: Getty Images
Donald Trump's victory might have caught pollsters off guard and sent stock markets across the globe tanking, but investors in Caterpillar Inc. (NYSE: CAT) are among those partying. The heavy-machinery stock opened with a huge push the morning of Nov. 9, surging almost 10% in trade at one point to hit its 52-week high. The market clearly expects the struggling equipment maker to thrive under Trump's presidency. The question is: Will those expectations turn into a reality for Caterpillar?
Trump never hid his love for Caterpillar
TheDow Jones Industrial Average is up about 5% year to date as of this writing, with Caterpillar absolutely crushing it by leading the pack with gains of about 33% so far this year. I believe much of it has to do with Trump's support of the company in the Republican debates. Referring to Japan in January, Trump reflected on how a weak yen is hurting Caterpillar: "Friends of mine are ordering Komatsu tractors now because they've devalued the yen to such an extent that you can't buy a Caterpillar tractor. And we're letting them get away with it, and we can't let them get away with it."
Trump is clearly miffed with the move by Japan's central bank to devalue the yen, which has made Komatsu's machinery a lot more affordable for construction companies in the U.S. and has hurt demand for Caterpillar's equipment. Japan-based Komatsu is the world's second largest construction-equipment maker in terms of revenue, right behind Caterpillar. Komatsu is also set to give Caterpillar's mining-equipment business stiff competition once it acquires Joy Global (NYSE: JOY) -- Caterpillar's closest mining-equipment rival -- in the coming months. But Trump has vowed to revive the coal industry, too a step that could give Caterpillar's beleaguered resource industries segment a much-needed lifeline.
Trump's rant about Komatsu may not be entirely misplaced: Komatsu's sales from North America were down only about 2% year over year for the six months ended Sept. 30. Comparatively, Caterpillar's machinery sales from North America slumped 20% year over year in just the third quarter. Worse yet, Caterpillar downgraded its outlook for construction-equipment sales in North America for the second half of the year, even expecting the weak trends to "continue into 2017."
Trump's victory has sent Caterpillar bulls into a tizzy, as they believe he'll resort to extreme measures such as imposing hefty tariffs on Japan and China to curb machinery imports. While that should benefit most equipment manufacturers, Caterpillar has hogged the limelight after Trump started advocating for the company during his race to the presidential election. At of his campaign rallies in May, he boasted how much he loved "construction," and how he could tell "you more about Caterpillar tractors than the people that work there."
And that's not to forget Trump's promise of using only Caterpillar and Deere (NYSE: DE) equipment to build his infamous U.S.-Mexico border wall were he to become the president.
OK, so does that mean Caterpillar's sales will skyrocket?
Imposing tariffs and risking trade relations wouldn't be easy, and neither will be the wall. However, Caterpillar still stands to benefit under Trump's presidency, as infrastructure spending in the U.S. takes off after a lull. Trump frequently stressed the dire need to rebuild America's crumbling infrastructure during his campaigns, even proposing to spend a jaw-dropping $1 trillion on projects such as building and fixing roads, dams, airports, and bridges over the next decade.
That number might sound ambitious, but there's no question Trump will want to display his real estate acumen. As you might already know, he has built his private business empire, the Trump Organization, on real estate deals over the years, snapping up stakes in hotels, golf courses, offices, resorts, and other buildings.
The only caveat is that Caterpillar derives a major chunk of its revenue overseas. At a Business Roundtable meeting earlier this year, CEO Doug Oberhelman emphasized how important international markets are when he said: "The United States only makes up 5% of the world's population. We've got to learn to deal with the other 95%."
Data source: Caterpillar Inc. financials. Chart by author.
Even within its construction industries segment, Caterpillar derives half its sales from outside North America. So while an uptick in construction activity at home should benefit Caterpillar, its turnaround also depends a great deal on how quickly international markets recover.
Foolish takeaway
No one can predict where Trump will take America, but Caterpillar appears to be in safer hands under his administration, provided he's as serious about infrastructure as he sounds. Otherwise, Caterpillar may still have a long road to recovery, as I recently explained. The stock now needs more than just promises and hopes to sustain its rally, especially given how richly valued it already appears to be.
10 stocks we like better than Caterpillar When investing geniuses David and Tom Gardner have a stock tip, it can pay to listen. After all, the newsletter they have run for over a decade, Motley Fool Stock Advisor, has tripled the market.*
David and Tom just revealed what they believe are the ten best stocks for investors to buy right now... and Caterpillar wasn't one of them! That's right -- they think these 10 stocks are even better buys.
Click here to learn about these picks!
*Stock Advisor returns as of November 7, 2016
Neha Chamaria has no position in any stocks mentioned. The Motley Fool is short John Deere. Try any of our Foolish newsletter services free for 30 days. We Fools may not all hold the same opinions, but we all believe that considering a diverse range of insights makes us better investors. The Motley Fool has a disclosure policy.