Hotel at iconic TWA terminal will evoke glamour of jet age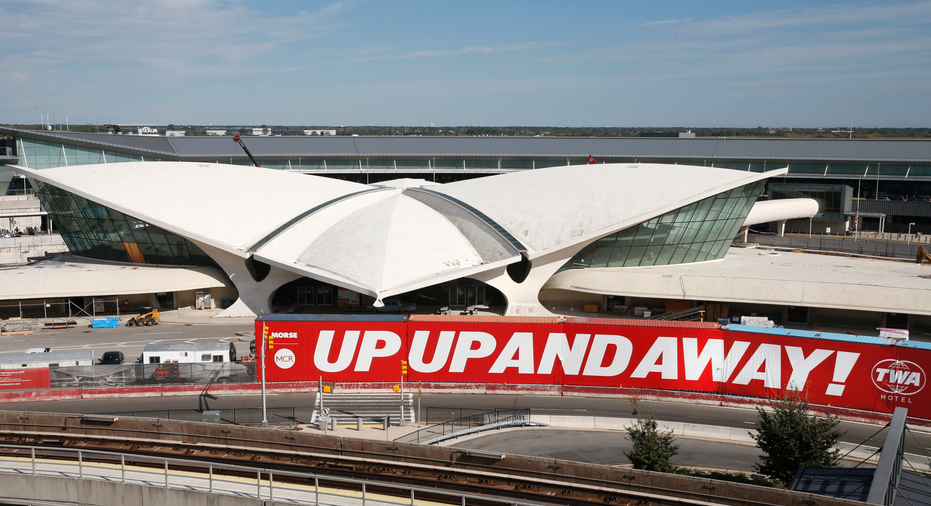 When it opened in 1962, the sleek TWA terminal at New York's Kennedy Airport was the embodiment of jet-age style. Now, construction is underway to transform the landmark into a $265 million hotel that will conjure the same glamour, smack in the middle of an airport better known for controlled chaos than comfort.
The hotel, being built by New York-based MCR Development, will include two new buildings with 505 rooms, a rooftop pool, an observation deck where guests can watch planes take off and a museum stocked with artifacts, including uniforms lent by former TWA flight attendants.
But the starring feature will be the long-closed TWA Flight Center, designed by architect Eero Saarinen. The center will be preserved, along with its Charles Eames furniture and Noguchi fountain, as the hotel's lobby.
"I've loved the TWA building since as far back as I can remember. It's such an incredible structure," said Tyler Morse, CEO of MCR Development. "It's this cacophony of midcentury modern design all under one roof," he said. "To bring that back to life was very exciting."
The gull-winged terminal, which looked like something out of the TV show "The Jetsons" and opened the same year as the animated series, was a symbol of flight and a favorite project of Saarinen, who also designed the St. Louis Gateway Arch. It closed in 2001 when TWA was acquired by American Airlines.
The iconic structure is protected by the city as a landmark and can't be torn down, but its destiny was uncertain before the Port Authority of New York and New Jersey, which operates the region's major airports, began soliciting bids for a hotel operator several years ago.
MCR, which owns 94 hotels in 24 states, was the winning bidder with JetBlue, a 5 percent minority owner.
The hotel is scheduled to open in early 2019. It will be the first hotel at the airport property since the Ramada Plaza, fairly distant from the terminals, closed in 2009. The only other hotels near the airport are budget accommodations a short drive away by shuttle bus or taxi.
The rooms will start at $250 a night. The target clientele, Morse said, will include business travelers as well as aviation "geeks" interested in the landmark TWA terminal and in the location.
Tourists are unlikely to use it as a base for exploring the city. It is a long subway ride or drive from Manhattan, but just minutes from all of the airport's terminals by monorail.
A scale model of the hotel, built for marketing purposes, opened last month at One World Trade Center in lower Manhattan.
It was filled with retro items like swizzle sticks and a front page from John Glenn's 1962 space flight. A sound track featuring Frank Sinatra singing "Fly Me to the Moon" and The 5th Dimension's "Up, Up and Away" plays on a continuous loop while a telescope pointed at Kennedy Airport, 12 miles to the east, links the space to its parent terminal. A mini-fridge is stocked with Tab.
TWA memorabilia includes first-class china and flatware and uniforms worn by pilots and flight attendants. Of particular interest are the paper "Italian toga," ''French maid" and "English wench" outfits from the summer of 1968, when TWA experimented with disposable hostess uniforms.
Chris Betz, event coordinator for the space, said some of the artifacts will go to the museum at the hotel when it opens.
Many of the uniforms and other items came from organizations of former TWA employees that formed after the airline shut down.
"I'm pleased that the building is being taken care of and put to a special, good use, and I really hope they are successful with it," said Judy Gerling, president of TWA Clipped Wings, a group of former flight attendants.
Gerling, who worked for TWA from 1965 to 1989, said air travel was special in the era the hotel will evoke.
"Everybody dressed up," she recalled. "The women wore dresses, hats and gloves. The men wore suits."
First-class passengers were served their meals in courses with linen napkins.
"Even in coach we always had a choice of two or three entrees," Gerling said. "Now you get a choice of peanuts or not."