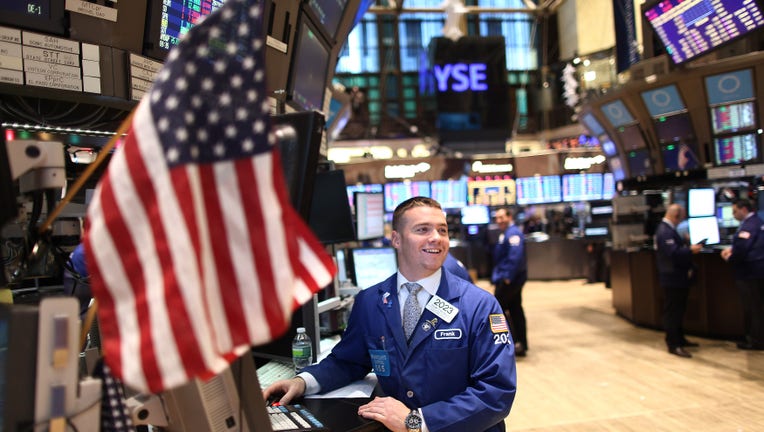 Despite Monday's eurozone-inspired retreat, Wall Street is still on track for its hottest January since the start of Bill Clinton's second term in the White House.
Investors are watching these gains carefully because January tends to be a key barometer for the rest of the year.
Fueled by easing jitters about Europe's debt crisis and the investing phenomenon known as the January effect, the Dow has rallied approximately 350 points, or 2.86%, so far this year. That would mark one of the largest January point gains on record and the biggest percentage increase since 1997.
"It's been a very strong move out of the gate," said Peter Kenny, managing director at Knight Capital.
This year's early strength has been led by the financial sector as shares of Bank of America (NYSE:BAC) and JPMorgan Chase (NYSE:JPM) were up 31.1% and 11.9%, respectively, as of Friday's close. Economically-sensitive Dow components Caterpillar (NYSE:CAT) and Alcoa (NYSE:AA) also set the upbeat pace, soaring more than 20% a piece.
Kenny says much of the credit goes to the January effect, which holds that portfolio managers and traders scoop up new stocks at the start of the year after selling them off for tax purposes and window dressing at the end of December.
"Cash goes into the market. It's more of a calendar event than anything else," said Kenny.
But that's not to say fundamentals haven't played a role as well.
Bond yields across the eurozone have retreated in recent weeks as concerns about the sovereign debt crisis have receded.
Sean Kraus, chief investment officer at CVP Financial's (NASDAQ:CVBF) CitizensTrust, praised Mario Draghi, the new president of the European Central Bank. Under Draghi, the ECB unveiled a slew of non-traditional moves last month, including crucial three-year loans to strained European banks.
"He provided liquidity to the system, making sure no European bank would go down," said Kraus. "That eased investors' minds."
Lately it seems like even when eurozone fears do crop back up, they are quickly shrugged off. For example, the blue chips sank more than 120 points on Monday morning amid worries about Portugal, but by midday those losses were nearly cut in half.
At the same time, corporate earnings and surprisingly decent economic indicators have helped soothe Wall Street's economic anxieties. Now that a double-dip recession doesn't seem to be in the cards, investors are more willing to make riskier bets on stocks.
History shows that a bullish first month of the year bodes very well for the rest of the year, especially during election years.
According to the WSJ Market Data Group, the full year has matched the direction of the January performance in 85 of the Dow's 114-year history, or 75% of the time.
The correlation is even stronger in positive months: the blue chips have ended the full year higher 82% of the time when they end the month of January with a gain.
"Using those historically-based directional data points is important. There's a reason you get a number like that," said Kenny.
Will the January barometer hold true in 2012?
Kenny believes it might, but said it's unclear to what extent the markets will close higher on the year, especially after a strong start. He pointed to a number of potential "risk drivers," including credit-rating downgrades, gridlock in Washington and the failure to fix the U.S.'s structural spending problems.
Kraus said he believes equities will end 2012 higher than now. He pointed to a "muddle-through" scenario in Europe that implies just a slight GDP contraction and few to no major implosions. Kraus also cited internal strength in the U.S. economy and the upcoming election in November.
"It's in everybody's best interest to have a good U.S. economy if they want to be re-elected," said Kraus.