Hope You're Hungry: This Major Airline Is Bringing Back Free Meals on Long Domestic Flights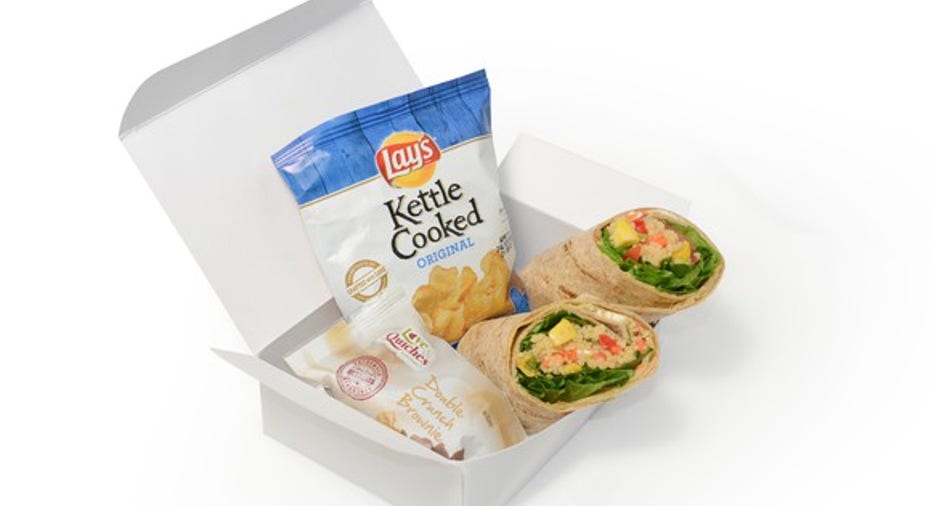 Competition is heating up among the airlines -- and for travelers, that's good news.
You've probably heard by now that Delta Air Lines (NYSE: DAL) has resumed offering free meals on transcontinental flights, right? Well, whether you heard about it or not, Delta rival American Airlines (NASDAQ: AAL) certainly did -- and it's rushing to match Delta's offer to bring back the popular perk.
Free meals return to American Airlines. Yum? Image source: American Airlines.
The rundown
Last week, American Airlines announcedthat beginning May 1, all flyers traveling between New York and Los Angeles or San Francisco will be treated to a continental breakfast (morning flights), or a boxed meal consisting of a wrap, chips, and dessert (with an option for vegetarians).
American's move mirrors Delta's announcement of free in-flight meals beginning on March 1, but it's more of a pocket mirror -- not full-length. Like American, Delta is offering free in-flight meals on flights between JFK and LAX, and JFK and SFO; but Delta also says it will roll out free meals on other flights in short order.
By April 24 -- a full week before American's first batch of freebies kick in -- Delta will already have added free meals on flights along 10 other routes. These include routes to and from Boston and San Francisco, L.A., or Seattle, between Reagan National and LAX, on JFK routes to and from Portland (Oregon), San Diego, or Seattle, and between Seattle and Fort Lauderdale, Orlando, or Raleigh-Durham.
All of which kind of makes American Airlines' announcement sound a day late and a dollar short -- or more precisely, a month late and 10 routes short of Delta's offer.
Why the sudden generosity?
Chances are, American is going to have to up its game, and quick -- but why? I mean, free meals for you and me aren't free for Delta and American to provide, so why did Delta start this freebie war in the first place? Aren't the airlines doing gangbusters business, feeling no compunction about shrinking seats -- and bathrooms! -- to cram more passengers onto airplanes and extract more profit from them? Aren't the airlines consequently rolling in dough?
Well, yes and no. The airline industry has returned to health after the dark days following 9/11. S&P Global Market Intelligence data show that Delta has put together a seven-year profitable streak, tipping the scales at a monstrous $10.5 billion in 2013.
American, too, is looking a whole lot better lately, with a streak of three uninterrupted years of positive profits. (And just to round out the big three, United Airlines (NYSE: UAL) has posted profits in each of the past four years -- and six of the last seven.)
That said, revenue has declined at all three of the legacy airlines for two years straight, and last year, Delta saw its profits drop 3%. The situation's even worse at American, where profits dropped 65%, and United -- a 69% profits decline!
That's a worrisome enough trend in and of itself. But at the same time as revenues are ebbing and profits sagging, rival airlines are starting to encroach on the big three's turf. Competitionis said to be especially intense from JetBlue, Alaska Airlines (NYSE: ALK), and Virgin America -- recently acquired by Alaska Air.
Given this, it's no surprise Delta and American are moving to nip customer defections in the bud, and give customers a solid reason to fly with them and not with the other guy. The only question now is: When will United Airlinesthrow in the towel and throw in some freebies for its customers as well?
And of course, the corollary: When they ultimately do give in, will that stem the tide of revenue and profit declines -- or will the high price of free food ultimately push these airlines back into unprofitability?
10 stocks we like better than Delta Air LinesWhen investing geniuses David and Tom Gardner have a stock tip, it can pay to listen. After all, the newsletter they have run for over a decade, Motley Fool Stock Advisor, has tripled the market.*
David and Tom just revealed what they believe are the 10 best stocks for investors to buy right now... and Delta Air Lines wasn't one of them! That's right -- they think these 10 stocks are even better buys.
Click here to learn about these picks!
*Stock Advisor returns as of February 6, 2017
Rich Smith has no position in any stocks mentioned. The Motley Fool has no position in any of the stocks mentioned. The Motley Fool has a disclosure policy.