Hong Kong shares jump after Trump tweets on China's ZTE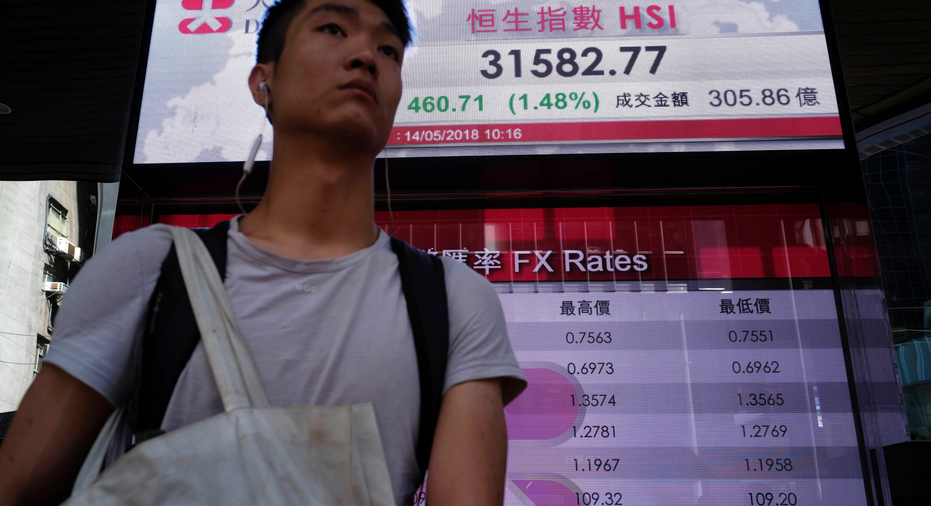 Asian shares were mostly higher Monday, with Hong Kong shares surging after President Donald Trump said he wanted to help a sanctioned Chinese tech giant, signaling a possible improvement in U.S.-China relations.
KEEPING SCORE: Japan's benchmark Nikkei 225 rose 0.2 percent to 22,802.49 while South Korea's Kospi dipped 0.1 percent to 2,476.33. Hong Kong's Hang Seng jumped 1.4 percent to 31,559.37 and the Shanghai Composite in mainland China added 0.4 percent to 3,175.56. Australia's S&P/ASX 200 edged 0.2 percent higher to 6,129.00. Taiwan shares rose but Southeast Asian indexes were lower, including Malaysian shares, which resumed trading after last week's election. The benchmark FTSE Bursa Malaysia KLCI slipped 0.3 percent in early trading to 1,843.72.
TRUMP ON CHINA: In a surprise overture to Beijing, Trump tweeted that he wanted to help Chinese smartphone and telecom gear maker ZTE "get back into business, fast." The company's Hong Kong-traded shares have been suspended since U.S. authorities banned it last month for seven years from importing U.S. components in a case involving illegal exports to North Korea and Iran and its shares. The news helped other Chinese tech-related shares in Hong Kong like internet company Tencent and computer maker Lenovo. It was also seen as a good sign ahead of a further round of trade talks between the two countries, with China's top economic adviser Liu He traveling to the U.S. later this week.
ANALYST VIEW: "It suggests that despite all the initial bluster, the current administration is prepared to take a pragmatic view on decisions," Robert Carnell, ING's chief economist, said in a commentary. "This raises some further hope in terms of additional trade talks over the coming months, with China's Liu He visiting Washington this week.
MALAYSIAN MARKETS: Asian investors are also focusing on financial markets in Malaysia, which are reopening after a public holiday following new Prime Minister Mahathir Mohamad's unexpected election victory. The 92-year-old Mahathir, who was prime minister for 22 years until 2003, appointed his finance, home affairs and defense ministers on the weekend.
WALL STREET: Major U.S. benchmarks finished mostly higher on Friday. The Dow Jones industrial average climbed 0.4 percent to 24,831.17. The S&P 500 index added 0.2 percent to 2,727.72, and had its best weekly gain since early March with an increase of 2.4 percent. The Nasdaq composite dipped less than 0.1 percent to 7,402.88.
ENERGY: Oil futures slipped. Benchmark U.S. crude oil lost 23 cents to $70.47 a barrel in electronic trading on the New York Mercantile Exchange. The contract fell 66 cents to settle at $70.70 a barrel on Friday. Brent crude, used to price international oils, lost 35 cents to close at $76.77.
CURRENCIES: The dollar fell to 109.30 yen from 109.36 yen on Friday. The euro strengthened to $1.1968 from $1.1942.