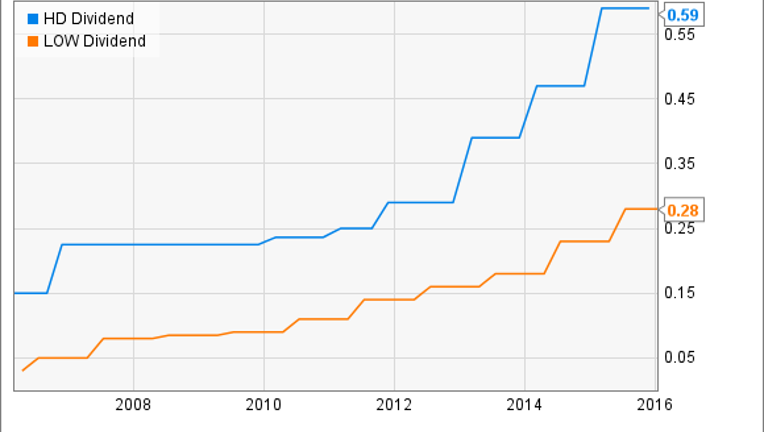 Home Depot announced earnings results this week, and for the fourth straight quarter it beat management's -- and Wall Street's -- expectations. Sales and profits spiked higher by 10%, which is an awesome feat for a $90 billion-a-year business.
Here are the five numbers that I think best explain the record quarter that Home Depot just completed.
8.9% comparable-store sales growth
Comps growth by quarter for U.S. stores. Source: HD financial filings.
Sales rose by a scorching 8.9% at existing locations, compared to 7.3% in Q3. That makes Home Depot one of the fastest growing national retailers around. The company is also in a class of its own within a home improvement industry that's benefiting from a long-running housing market recovery. Rival Lowe's improved comps by just 5.5% over the same period.
For the full year, Home Depot's comps rose by 5.6%, trouncing the 4.1% forecast that management initially laid out last February -- and even beating the 5.3% growth it logged in fiscal 2014.
5.1% customer traffic boost Home Depot processed 332 million customer visits in Q4 for a 5% traffic boost over the prior-year period. The core retailing categories performed well, but the retailer also succeeded with Black Friday deals, holiday dcor, and gift products.
Source: Home Depot.
Not only did shoppers visit more often, but they filled their carts higher once they were inside the store. Home Depot's average customer transaction spending rose by 3% to $58. Combine the traffic and spending increases, and you get a sales figure that jumped over 8% to $325 per square foot.
16.3% increase in operating income Expenses grew at a slower pace than sales, which led to a nice jump in profitability. Operating margin ticked up to 12% of sales from 11% last year, and for fiscal 2015 Home Depot's profit margin was a strong 13.3%.
The company's record $7 billion of earnings translated into an 8% net income margin -- roughly double Lowe's result. "Our focus on improving the interconnected customer experience, along with solid execution and continued recovery in the U.S. housing market, resulted in record sales and net earnings for 2015," CEO Craig Menear said.
HD Profit Margin (TTM) data by YCharts
$9.4 billion of cash flow Home Depot generated $9.4 billion of cash in 2015 for a 15% improvement over the prior year. That increase allowed the company to plow money into profitable investments like expanding its e-commerce presence. As a result, digital sales were up 25%, compared to a 13% gain for Wal-Mart.
More cash generation means plenty of excess earnings to distribute to shareholders in the form of stock repurchases and dividends. Home Depot spent $10 billion between those two channels last year: $7 billion on stock buybacks and $3 billion on dividend payments. Yet cash on hand still rose to over $2 billion.
17% higher dividend Menear and his executive team aim to deliver 50% of earnings back to shareholders as dividends, which contrasts with Lowe's modest 35% payout target. The heftier commitment likely played a role in Home Depot's needing to skip dividend raises during the worst of the housing crisis (2008 to 2010) while Lowe's kept up at least nominal increases:
HD Dividend data by YCharts
But a higher payout target also means investors can expect a big dividend hike after every strong growth year. 2015 was no exception: Home Depot this week raised its dividend by 17% to $0.69 per share following 21% and 26% hikes in 2013 and 2014, respectively.
Looking ahead, the company expects to generate $10 billion of cash in 2016 as profitability continues to improve. So earnings should rise by about 13% to $6.15 per share, which would likely power another double-digit payout increase around this time next year.
The article Home Depot Inc's Stellar Quarter in 5 Numbers originally appeared on Fool.com.
Demitrios Kalogeropoulos owns shares of Home Depot. The Motley Fool recommends Home Depot. Try any of our Foolish newsletter services free for 30 days. We Fools may not all hold the same opinions, but we all believe that considering a diverse range of insights makes us better investors. The Motley Fool has a disclosure policy.
Copyright 1995 - 2016 The Motley Fool, LLC. All rights reserved. The Motley Fool has a disclosure policy.