Home Depot Inc. Drops and Hertz Global Holdings Inc. Soars As Stocks Fall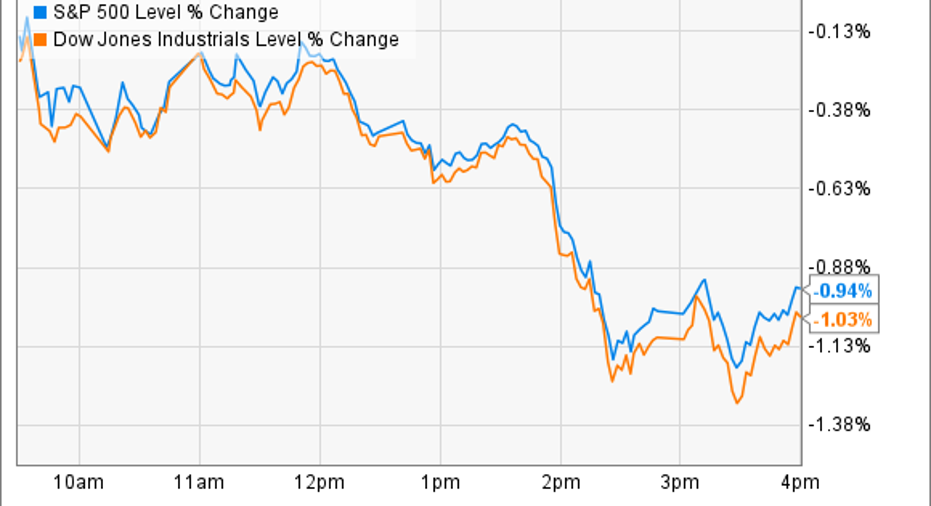 Stocks stayed in moderately negative territory through most of Tuesday's trading session before dropping in the afternoon hours. By the closing bell, the Dow Jones Industrial Average had shed 183 points, or 1%, and the S&P 500 lost 20 points, or 0.9%.
In economic news, housing starts rose at a strong 7% pace in April, according to the latest official statistics. Industrial output also grew at the fastest monthly rate in more than a year, and consumer prices ticked higher. Together, the three reports strengthen the case for the Federal Reserve to raise interest rates in the near future. Investors will get more clues as to the Fed's thinking on rate hikes when its meeting minutes are released on Wednesday at 2 p.m. EDT.
Meanwhile, Home Depot and Hertz were two of the market's most notable individual stock movers on important news for their shareholders.
Home Depot's strong quarter
Home Depot was the Dow's biggest decliner after posting just about the best quarterly report a shareholder could want. Comparable sales rose 7%, on top of the prior year's 7% jump, thanks to customer traffic growth trends that continue to lead its industry along with most of the retailing world. Home Depot registers rang in 4% more transactions this quarter, and each customer spent 2% more, on average, which led to a nearly 7% spike in sales per square foot. "We were pleased with our stronger than expected start to the year, driven by solid execution and broad-based growth across the store," CEO Craig Menear said.
Image source: Home Depot.
The retailer performed even better on the earnings front. Slow-rising expenses helped operating margin improve by 2 full percentage points to 14% of sales. That, plus a declining base of outstanding shares, pushed EPS up 19% to $1.44 per share.
Menear and his executive team boosted their 2016 sales and profit growth guidance and now see earnings jumping 15% to $6.27 per share. Home Depot's longer-run targets include reaching an operating margin of 14.5% and passing $100 billion of annual revenue by 2018 by attacking several large opportunities, including online selling and the professional contractor segment.
Despite the strong quarter, the stock took a step back, likely as some investors booked profits on a stock that's valued at a significant premium to rivals
Hertz' cheap valuation
Hertz shares soared 12% higher and clawed back a small portion of the 60% drop shareholders have endured over the last year. The catalyst for Tuesday's jump was news that CEO John Tague purchased nearly 70,000 shares of the rental giantover the last few days. Insiders sell their stock for any number of reasons, including the need to raise cash for a big financial move like a home purchase. But they tend to buy shares for just one reason: They believe it is undervalued.
It's hard to argue with Tague's timing. Hertz shares were down 60% in the last year, and the stock's valuation, at 7 times next year's profit, is a new low for the company. Expectations couldn't get much worse for this stock.
Plenty of that decline is well earned, of course. Surging competition is driving sales down, which recently pushed bottom-line profitability down to a 2% loss in Q1. In response, Hertz is cutting costs and trimming its fleet. Investments in improving the customer experience are also pushing renter satisfaction scores higher. Those two trends could combine to produce a return to sustainable profits over the next few years, which is likely why Tague decided to pull the trigger and load up on shares in his company's stock.
The article Home Depot Inc. Drops and Hertz Global Holdings Inc. Soars As Stocks Fall originally appeared on Fool.com.
Demitrios Kalogeropoulos owns shares of Home Depot. The Motley Fool owns shares of Hertz Global Holdings. The Motley Fool recommends Home Depot. Try any of our Foolish newsletter services free for 30 days. We Fools may not all hold the same opinions, but we all believe that considering a diverse range of insights makes us better investors. The Motley Fool has a disclosure policy.
Copyright 1995 - 2016 The Motley Fool, LLC. All rights reserved. The Motley Fool has a disclosure policy.