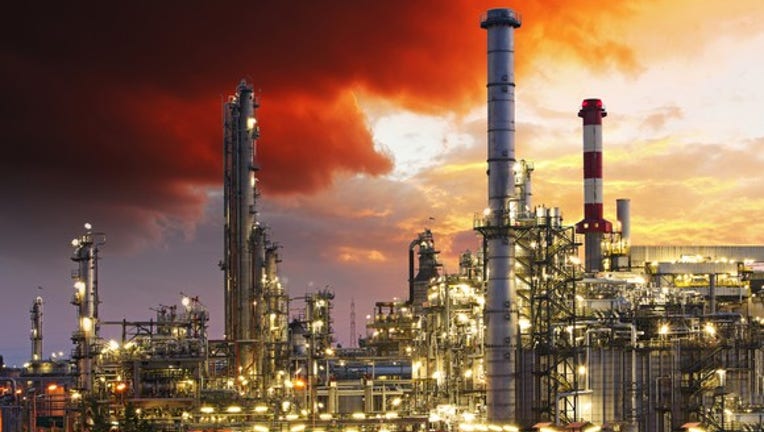 It's awfully hard to get excited for HollyFrontier's (NYSE: HFC) most recent earnings release. The company did what it has always done: run its assets well and keep costs down. That hasn't been enough, though, to offset the tough times the oil refining industry is facing with low refining margins.
HollyFrontier has a plan to get out of this low-margin environment, and that is highlighted by its most recent acquisition. Here's a quick rundown of the company's most recent results and how investors should approach this coming year.
Image source: Getty Images.
By the numbers
| Results* | Q4 2016 | Q3 2016 | Q4 2015 |
| --- | --- | --- | --- |
| Revenue | $2,955 | $2,847 | $2,943 |
| Operrating income | $112.3 | $124.7 | ($56.7) |
| Net income | $53.1 | $74.5 | ($43.9) |
| Earnings per share | $0.30 | $0.33 | ($0.24) |
*In million except per-share data. Data source: HollyFrontier.
This past quarter's numbers are a little better on paper than the situation on the ground. The company realizeda $97 million gain in the quarter on an inventory value adjustment. These types of adjustments are very common for refiners, especially in times when crude oil and refined product prices are very volatile. For a long-term investor, though, these things typically come out in the wash.
Stripping out these gains, HollyFrontier posted a normalized net loss per share of $0.06. Much of that loss has to do with the fact that refining margins remain so weak. Average refining margins for the fourth quarter were just $7.23 per barrel compared to $9.91 per barrel this time last year. Keep in mind, too, that the fourth quarter of 2015 was the first quarter where we started to see a sharp decline in refining margins. The average refining margin for all of 2015 was $16.07 per barrel. With refining margins today at less than half that 2015 figure, it's pretty easy to see why HollyFrontier and other refiners are struggling so much as of late.
Another thing to keep in mind with this quarter's results is that it does not include the contributions of its most recent acquisition: the Petro-Canada Lubricantsplant it purchased from Suncor Energy. Lubricants are a different beast from traditional fuels refining as they have higher and less volatile margins. Bringing these assets into the fold will likely provide a decent boost to EBITDA and net income. The deal closed on Feb. 1, so we will get a partial look at how these assets performed in the coming quarter.
The highlights
The fourth quarter was a quiet one for HollyFrontier, which is to be expected because it made a few big moves in the third quarter that it needs to work through. On top of the lubricant acquisition, it also dropped down its new Woods Cross refining units to its subsidiary partnership, Holly Energy Partners (NYSE: HEP). This was a bit of an unexpected move, but it did help to raise some necessary cash to make the Petro-Canada acquisition. Chances are, the company won't make a lot of significant corporate moves until it has fully integrated the Petro-Canada assets into the business and has given Holly Energy Partners some time to digest its own acquisition.
On the operations front, HollyFrontier posted respectable results despite the tough environment. Utilization rates across all of its refineries remained very high at 94%, and that includes some downtime for work at its Woods Cross and Cheyenne refineries. Also, operational costs per throughput barrel were down to $5.51 per barrel. If we were to see an uptick in refining margins, then this lower operationalcost base could lead to some impressive operating margins.
What management had to say
As CEO George Damiris said about the company's most recent results and progress toward better times ahead:
What a Fool believes
HollyFrontier looks to be in relatively decent shape all things considered. Yes, the refining market has been tough and it looks as though that will continue through at least the first half of this year. That being said, the company continues to execute on the things it can control such as keeping operational costs low.
Over the next couple of quarters, we will start to see how the addition of the Petro-Canada lubricants business impacts the bottom line. This is the big storyfor the company in 2017 as it should help to offset this tough market for refining.
10 stocks we like better than HollyFrontierWhen investing geniuses David and Tom Gardner have a stock tip, it can pay to listen. After all, the newsletter they have run for over a decade, Motley Fool Stock Advisor, has tripled the market.*
David and Tom just revealed what they believe are the 10 best stocks for investors to buy right now... and HollyFrontier wasn't one of them! That's right -- they think these 10 stocks are even better buys.
Click here to learn about these picks!
*Stock Advisor returns as of February 6, 2017
Tyler Crowe has no position in any stocks mentioned. The Motley Fool has no position in any of the stocks mentioned. The Motley Fool has a disclosure policy.