Holiday Shoppers Are Making More Purchases Online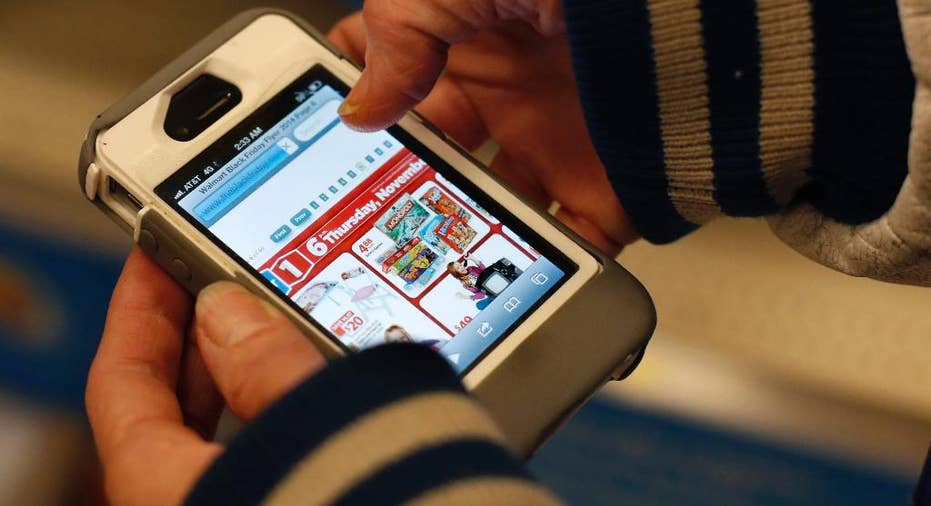 Americans jumped on holiday deals this weekend but spending is increasingly moving online, highlighting the high-wire act that faces retailers tethered to stores.
Online spending over Thanksgiving and the following day, known as Black Friday, grew nearly 18% to $5.27 billion compared with last year, said Adobe Systems Inc., which analyzed data from 22.6 billion visits to retail websites. Even into Saturday morning, shoppers continued to buy at higher-than-expected levels online, said Tamara Gaffney, director at Adobe Digital Insights.
Preliminary data from RetailNext, an in-store analytics firm, shows that the number of store visitors fell nearly 11% on Black Friday and sales dropped over 10% versus last year. More Americans think it is "easier to shop from one's couch than to fight one's way through the mall," Ray Harjen, a RetailNext spokesman, said in an email.
The shift highlights the struggle traditional retailers face as they strive to pull foot traffic into their stores with deep promotions, friendly staff and exclusive products, while at the same time becoming e-commerce experts to fend off Amazon.com Inc. and capture consumers' increased willingness to use their mobile phones to snag deals.
Amazon said sales from mobile phones on this year's Black Friday beat last year's Cyber Monday and Black Friday and exceeded this Thanksgiving to become one of the biggest mobile shopping days on its site. Overall, Amazon said orders were stronger on this year's Black Friday than last with customers buying more than three million toys before the day was done.
Overall, mobile phones accounted for 55% of website traffic on Black Friday, and 36% of sales, Adobe said. Wal-Mart Stores, the world's largest retailer by revenue, said 60% of Black Friday online orders came through mobile devices. EBay said the value of merchandise purchased on its site via mobile increased 15%, year-over-year.
"You have a of people who are mobile for the weekend while traveling," said Antonio Nieves, chief operating and financial officer for Bonobos Inc., a men's clothing retailer. Mr. Nieves said mobile shopping had jumped more than expected before Black Friday on Thanksgiving Day.
Last year was the first year that online shopping over the four-day Thanksgiving weekend exceeded in store sales, according to the National Retail Federation, which forecast a 3.6% increase in sales for this November and December.
BJ's Wholesale Club chief Chris Baldwin said Friday that shoppers were drawn by deep discounts on electronics as well as to practical items like cookware and apparel. Shoppers are still somewhat cautious about spending, Mr. Baldwin said, "but the practical gifts are a little bit of a surprise to us."
There are signs some brick-and-mortar retailers have upped their e-commerce game this year. Walmart.com was more competitive with Amazon on selection and price, according to data from Boomerang Commerce, a pricing data firm.
Walmart.com carried 66% of the most popular toys on Amazon.com, up from 46% last year, according to Boomerang. Jet.com Inc., which Wal-Mart purchased in September, also had more overlap with Amazon on popular toys than last year. Both sites more often sold those toys at lower prices than Amazon compared with other retailers including Target Corp. and Toys "R" Us, Boomerang said.
That shows that Wal-Mart, now the second largest U.S. e-commerce website after Amazon by traffic, "can be a pretty significant player online this holiday," said Guru Hariharan, chief executive of Boomerang.
Traditional retailers rely on a Black Friday boost to set the tone of the holiday shopping season, but consumers who shop in stores on a lazy weekend have often already stocked up online.
At Houston's Memorial City Mall on Saturday morning, Amara Amako, 26 years old, said she had begun her holiday shopping through online sites like Amazon, eBay, as well as store websites -- where she was looking for clothing and electronics.
The student at Texas A&M University said she had only ventured out on Saturday to buy an outfit at Macy's to wear to an event on Sunday and tried to avoid stores on Black Friday. "I just feel it's too many people at the same place, at the same time," she said,
Jaime Martin and her boyfriend, Chris Arfsten, were only at the Houston mall to take Mr. Arfsten's daughter to American Girl for her fifth birthday.
"I'd say we're generally online shoppers," Mr. Arfsten, 33, said. The couple have an Amazon Prime membership and have even started ordering their groceries online via Kroger Clicklist.
They said their holiday shopping budget is about half what it was last year because they had recently bought a house. Ms. Martin, a 30-year-old registered nurse, said she took advantage of Black Friday from a computer and found deals on 800-count sheets for $29 and a $15 holiday outfit for his daughter.
"I just logged on and shopped Macy's online to avoid the crowd," Ms. Martin said, adding that the couple had started shopping before Friday. "All our holiday presents are done and they were purchased online."
Erin Ailworth and Laura Stevens contributed to this article.
Write to Sarah Nassauer at sarah.nassauer@wsj.com