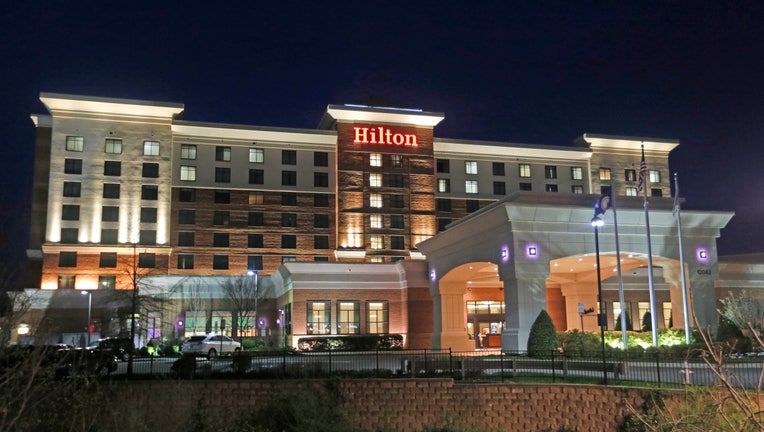 Hilton's first-quarter performance topped analyst estimates thanks to solid occupancy rates. The hotel chain boosted its full-year adjusted earnings forecast on its better-than-expected results.
For the three months ended March 31, the McLean, Virginia-based company's earnings attributable to shareholders were $74 million, or 22 cents per share. A year earlier Hilton Worldwide Holdings Inc. earned $309 million, or 94 cents per share. The prior-year period was bolstered by tax benefits.
Earnings, adjusted for one-time gains and costs, were 38 cents per share. That easily beat the 28 cents per share that analysts surveyed by Zacks Investment Research were calling for.
Revenue increased to $2.16 billion from $1.73 billion. Analysts predicted $2.08 billion in revenue, according to Zacks.
Hilton said Tuesday that systemwide comparable revenue per available room rose 3 percent, mostly on increased occupancy. Revenue per available room, or revpar, is a key gauge of a lodging company's performance.
Looking ahead, Hilton now foresees full-year adjusted earnings between $1.73 and $1.81 per share. Its prior guidance was for earnings between $1.65 and $1.75 per share. The company predicts second-quarter adjusted earnings in a range of 47 cents to 51 cents.
Analysts polled by FactSet expect full-year earnings of $1.75 per share and second-quarter earnings of 50 cents per share.
In January, Hilton enacted a 1-for-3 reverse stock split, reducing the number of shares outstanding. That same month the company completed the spinoff of Park Hotels & Resorts and Hilton Grand Vacations.
_____
Elements of this story were generated by Automated Insights using data from Zacks Investment Research. Access a Zacks stock report on HLT at https://www.zacks.com/ap/HLT
_____
Keywords: Hilton, Earnings Report