Highlights From Iconix Brand Group's First-Quarter 2016 Earnings Report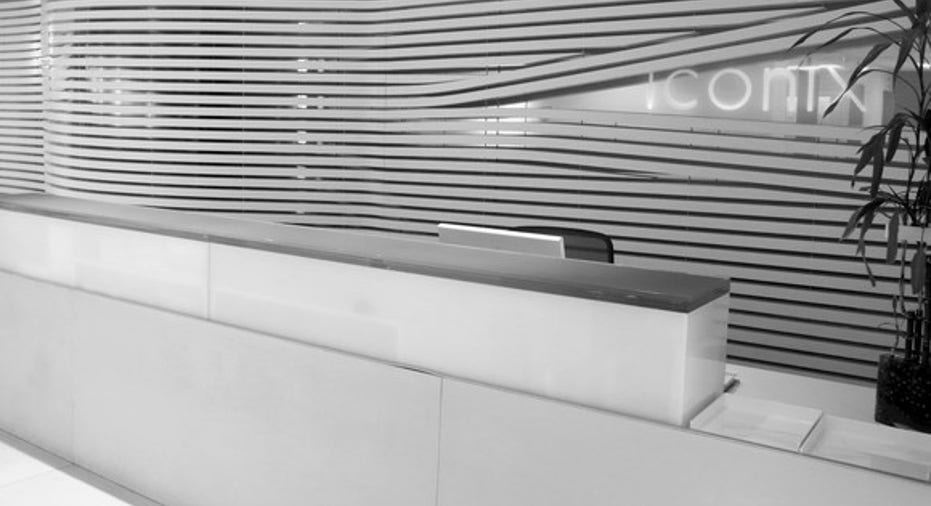 Image source: Iconix Brand Group.
Beleaguered trademark management company Iconix Brand Group (NASDAQ: ICON) reported first-quarter earnings on May 5. After a leadership overhaul and an SEC probe, investors anxiously awaited new CEO John Haugh's first report since being handed the reins of the company.
Total revenue decreased 1% to $94.6 million compared to $95.8 million a year ago, but free cash flow provided from operations increased 63% to $51.6 million from $31.7 million a year ago. Earnings per share were down 71% to $0.37 from $1.26 a year ago. Full year 2016 guidance that was outlined at the end of the 2015 fiscal year was reiterated, with revenue expected to between $370-$390 million, free cash flow between $155-$170 million, and earnings per share between $0.75-$0.90.
With the company fresh off of so many changes and the SEC inquiry into the historical reporting scandal, it was encouraging to Iconix meet its guidance and reiterate expectations. Helping Iconix meet expectations in the first quarter were a few expected one-time items that included $13.8 million in cash from the sale of the Badgley Mischka designer shoes, handbags, and dresses business and $3.5 million cash from the sale of the BBC Ice Cream clothing line. Excluding those one-time items, cash flow was unchanged from the previous year.
Iconix breaks its revenue streams down into the women's, men's, home, and entertainment segments. Licensing revenue from women's brands continues to be the largest segment, at 40% of revenue. Men's brands and home brands are the smallest segments, at 21.3% and 10% of revenue, respectively. All three of these segments saw year-over-year declines in the first quarter, with men's brands falling 15%, but these were slightly offset by 16% growth in the entertainment segment. The acquisition of the Peanuts brand continues to pay off and help the segment grow, and Strawberry Shortcake is being revamped with a new story and toys.
All in all, it was a solid start to the year and a solid first quarter for a team that just recently stepped into the driver seat of a struggling business. What can we expect going forward?
While reiterating financial guidance for the coming year, management was not able to lay out its plan for getting there. This is understandable as CEO John Haugh has only been with Iconix for about two months and just took over the CEO position on April 1. With over 30 brands under the Iconix name and plenty of problems inherited from predecessors, his work is certainly cut out for him.A point of emphasis was that Haugh has been conducting a review of each business and developing a strategy for them so as to put together a long-term plan and vision for the company. With no other sales of businesses or trademarks expected for the year, the impetus will be on licensing revenue to generate the expected $370 to $390 million in total revenue for the full year.
As mentioned earlier, the entertainment segment was the only growing part of the business last quarter. A new Peanuts show will start airing this month, and it is hoped that Strawberry Shortcake will continue to grow this year as well. The women's brands segment is the company's largest revenue generator, and it saw flat year-over-year growth. Iconix launched new marketing campaigns focusing on digital and social media outlets, and it also kicked off a renewed marketing effort for the segment's strongest performer, Danskin, to further that brand's key relationship with Wal-Mart .
The home segment experienced a 10% decline in revenue year over year in the first quarter. Excluding Sharper Image, that decline turns into flat performance. Haugh stated that the decline in Sharper Image was due to a licensee issue that was fixed and said the brand should return to growth for the rest of the year. The company saw success in selling drones and hover boards, and Iconix sees the new product offering building off of that success for the rest of 2016. The rest of the home segment saw good performance, helped by the strong retail relationships the company has built with several big name retailers.
Men's brands was the big drag in the first quarter, dropping 15% from last year. When prompted to elaborate on a statement that the segment had turned a corner, Haugh commented on the fact that, as clothing and shopping trends changed, Iconix was not keeping up. As a result, key brands within the segment like Ecko, Rocawear, and Ed Hardy have received some attention or were overhauled. Renewed marketing campaigns for the brands were launched as well, and the company has seen unprompted interest in its Starter Black high-end sportswear label from professional athletes that it hopes to nurture. Iconix sees the men's segment recovering through 2016, turning in a flat to slightly up year over 2015's performance.
In the next few months, investors should look for more detail on a plan to address the struggling segments of the business as well as a long-term road map for the company overall. International licensing strategy was also briefly mentioned, but not addressed in detail, so keep an eye out for that during the second quarter.
It has been a rough stretch for Iconix Brand Group, but the in-line performance reported after the crisis is encouraging.
The article Highlights From Iconix Brand Group's First-Quarter 2016 Earnings Report originally appeared on Fool.com.
Nicholas Rossolillo owns shares of Iconix Brand Group. The Motley Fool has no position in any of the stocks mentioned. Try any of our Foolish newsletter services free for 30 days. We Fools may not all hold the same opinions, but we all believe that considering a diverse range of insights makes us better investors. The Motley Fool has a disclosure policy.
Copyright 1995 - 2016 The Motley Fool, LLC. All rights reserved. The Motley Fool has a disclosure policy.