Highlights From CES 2017: Driverless Cars, ESports, and IoT Connectivity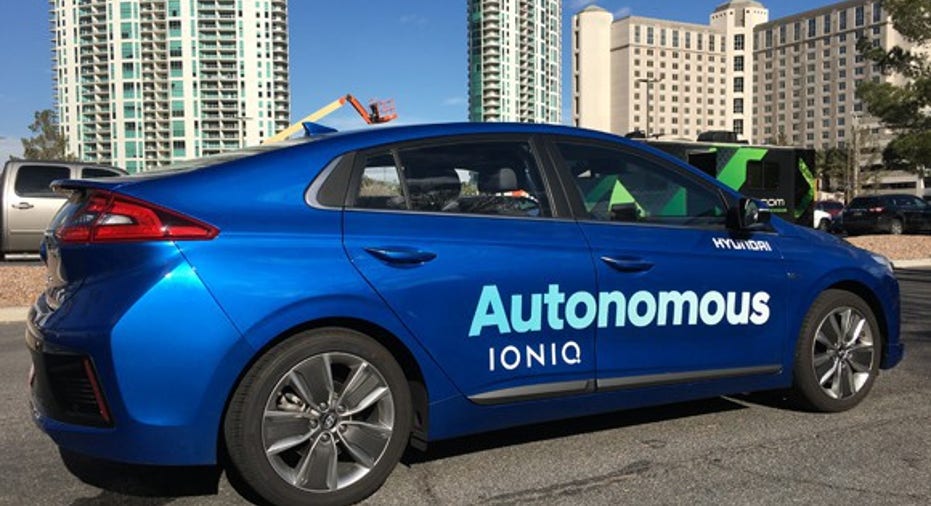 IMAGE SOURCE: THE MOTLEY FOOL
David Kretzmann, lead for The Motley Fool'sOdyssey 2 Supernova Mission, is on the ground at theConsumer Electronics Show in Las Vegas.
The annual trade show is how the consumer tech world welcomes in the new year, making it the place to find the nascent technologies that will eventually work their way into our cars, homes, and pockets.
Here is a video with his early highlights from the biggest consumer tech event of the year!
A full transcript follows the video.
10 stocks we like better than Nvidia When investing geniuses David and Tom Gardner have a stock tip, it can pay to listen. After all, the newsletter they have run for over a decade, Motley Fool Stock Advisor, has tripled the market.*
David and Tom just revealed what they believe are the 10 best stocks for investors to buy right now... and Nvidia wasn't one of them! That's right -- they think these 10 stocks are even better buys.
Click here to learn about these picks!
*Stock Advisor returns as of January 4, 2017
David Kretzmann: Greetings and welcome to CES 2017. I'm David Kretzmann of Motley Fool Supernova. We're thrilled to be here at CES reporting from the front line.
Today there are really three highlights that stuck out to me. This morning we had a chance to really delve deeper into self-driving cars, which is a big theme, here, at CES this year, as it was last year. We initially were able to meet with AImotive, which is a European start-up based in Hungary with a recent office in Silicon Valley. This is a company providing software that's hardware-agnostic so really to any automaker to enable these cars to have that self-driving functionality. And NVIDIA(NASDAQ: NVDA) is actually a seed investor in this company, so it's interesting to get more of that backend perspective of what goes into artificial intelligence and enabling these cars to be self-driving or more autonomous.
We also had a chance to sit down with Baidu (NASDAQ: BIDU) which is commonly known as the Google of China the biggest search engine in China with over 600 million monthly active users. But Baidu is actually the leading mapping company for self-driving vehicles in China and this was the first year that their self-driving auto unit came to CES.
This is a division of the company that just started in September, 2016, but they already have 150 employees dedicated to pushing this self-driving technology (software and hardware) into the Chinese market and potentially beyond. So a lot of companies that you might not expect on the surface are actually very much involved in pushing forward self-driving technology.
Next we had a chance to meet with the vice president of eSports at [Time Warner's (NYSE: TWX)] Turner Sports, which is commonly known for the traditional sports programming on TBS, TNT, and all those Turner Broadcasting networks. We were able to get a better feel for how that space has evolved for Turner Sports bringing eSports under that umbrella of other sports programming at Turner.
ESports is a big, emerging category and has certainly been a big theme, here, at CES. Yesterday the founder and CEO of NVIDIA said eSports at some point in the future will become bigger than all the other traditional sports like basketball, hockey, soccer (you name it), combined. So certainly a lot of growth opportunity left in eSports and we were able to hear a little bit more about how Turner Sports is approaching that emerging category.
Last but not least we had a chance to talk with the CEO of Skyworks Solutions (NASDAQ: SWKS), which is a recommendation in multiple Motley Fool services and a holding in several Motley Fool portfolios, as well. Skyworks is really on the front lines of the mobile connectivity revolution, as the company puts it.
This is a company that's powering the mobile connectivity of your smartphones [and] it's increasingly branching into the Internet of Things a new category that makes up about 25% of the company's total sales over the past year things in the Internet of Things whether it's autonomous vehicles, the connected home, Wi-Fi routers. You name it Skyworks has an important role to play if there's any sort of mobile connectivity involved. So we were excited to get a chance to talk with the new CEO, Liam Griffin, at Skyworks Solutions.
Those were some of the highlights for me today. You can read more about it in my report and we'll be reporting back to you the rest of the week with our findings here on the front line at CES. Thanks for tuning in, and Fool on!
David Kretzmann owns shares of Baidu and Skyworks Solutions. The Motley Fool owns shares of and recommends Baidu, Nvidia, and Skyworks Solutions. The Motley Fool has the following options: short January 2017 $75 calls on Skyworks Solutions. The Motley Fool recommends Time Warner. The Motley Fool has a disclosure policy.