Highlights and Takeaways From General Motors' January Sales Data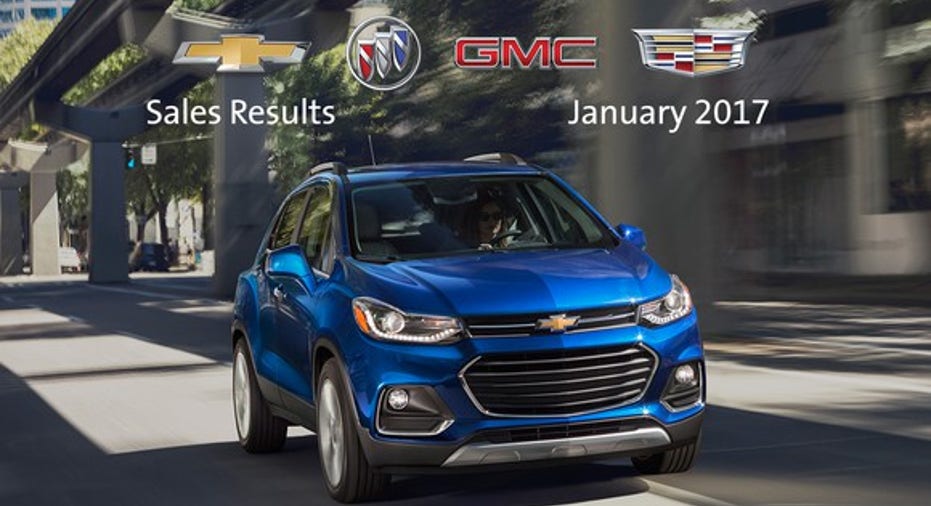 All in all, it wasn't such a bad start to 2017 after the U.S. auto industry set yet another annual sales record last year. While sales did decline 1.9% in January, compared to the prior year, the industry's seasonally adjusted annual rate (SAAR) managed to top estimates and reached 17.57 million -- just barely under the prior year's 17.62 million in January 2016. Let's zoom in onGeneral Motors(NYSE: GM), Detroit's largest automaker, and take a look at highlights and key takeaways from January's data.
GM's 2017 Chevrolet Trax. Image source: General Motors.
By the numbers
General Motors' January sales totaled 195,909 vehicles, a 3.8% decline compared to the prior year. That was below Wall Street's estimated 2.8% decline and the first month GM sold fewer than 200,000 units in the U.S. since January 2014. Retail sales declined at a slightly more rapid rate, down 4.9% compared to the prior year. This is a little abnormal for General Motors, which, over the past year has posted consistent and strong retail gains while allowing its fleet sales to plunge -- making for a more profitable mix at the expense of total sales volume.
Truck sales slow
GM wasn't shy about jabbing its competitors. "In early January, we focused on profitability while key competitors sold down their large stocks of deeply discounted, old-model-year pickups," Kurt McNeil, GM's U.S. vice president of sales operations, said in a press release. "We gained considerable sales momentum as we rebuilt our midsize pickup, SUV and compact crossover inventories from very low levels following record-setting December sales."
That comment was likely prompted by the fact that its high-volume Silverado pickup posted a 6.1% sales decline in January and its Canyon sister truck dropped a steeper 9.3% during the month. That was at the losing end of Ram Truck's 4% gain and the F-Series' 12.5% gain. On the bright side for GM, the Silverado's and Sierra's Average Transaction Prices (ATPs) jumped a significant $1,750 compared to last year, up to roughly $43,650 during January, per J.D. Power.
If you build it...
As new-vehicle sales plateau, automakers will be forced to better match their product portfolios to consumer preferences in order to optimize market share and profits. In this case, that means more new or refreshed SUVs, rather than passenger cars, and GM is looking to do just that, as noted in its fourth quarter.
More specifically, Buick crossovers are expected to generate nearly 75% of the brand's retail deliveries, an increase from 66% during 2016. Chevrolet will have the industry's broadest and freshest lineup of utility vehicles, driven in part by the 2018 Equinox and all-new Traverse, which are arriving by summer. GMC already boasts the highest average transaction prices of any non-luxury brand thanks to its focus on larger vehicles, and it will launch an all-new 2018 Terrain this summer.
Fortunately, at a time when industry incentives have slowly crept up, General Motors has managed to rope in higher average transaction prices to help offset that trend, in part thanks to an increased focus on SUVs, as noted above. GM's ATPs rose $1,200 per unit to $34,500, which was a company record for January. Investors shouldn't be concerned about GM's slightly slower start to 2017 since the company's sales remain a healthy mix favoring trucks and SUVs, and its focus on retail sales rather than fleet sales throughout 2016 means this year's comparisons on total sales will be apples-to-apples going forward.
10 stocks we like better than General Motors When investing geniuses David and Tom Gardner have a stock tip, it can pay to listen. After all, the newsletter they have run for over a decade, Motley Fool Stock Advisor, has tripled the market.*
David and Tom just revealed what they believe are the 10 best stocks for investors to buy right now...and General Motors wasn't one of them! That's right -- they think these 10 stocks are even better buys.
Click here to learn about these picks!
*Stock Advisor returns as of January 4, 2017.
Daniel Miller owns shares of General Motors. The Motley Fool recommends General Motors. The Motley Fool has a disclosure policy.