Hey, Valeant Pharmaceuticals, Less Bad Still Isn't Good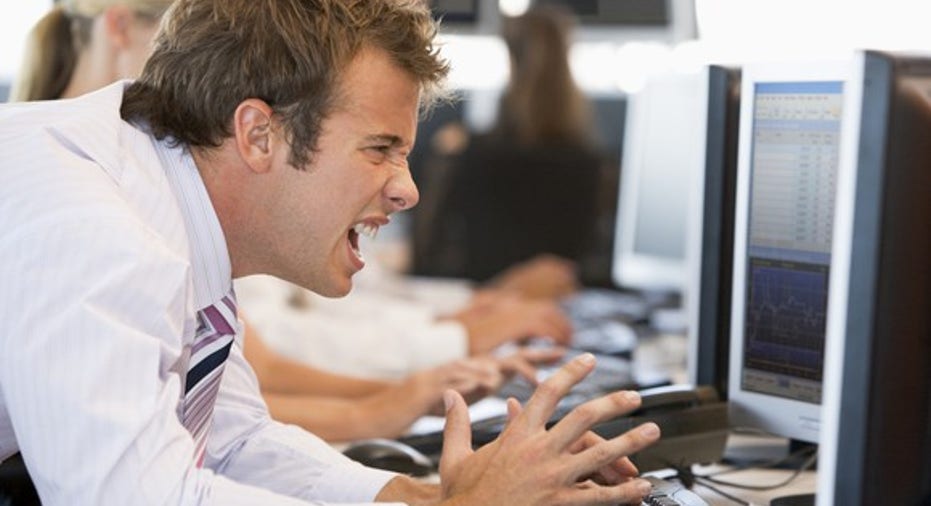 Image source: Getty Images.
It's been a wild week for Valeant Pharmaceuticals (NYSE: VRX) -- but when hasn't it been since August 2015. Over the trailing year, shares of Valeant have vacillated wildly, ultimately resulting in the company losing more than 90% of its valuation. And trust me, you don't see megacap stocks reduced to a mid-cap valuation within a 12-month period very often.
At the heart of Valeant's woes are its pricing power and crippling debt load. Like any drugmaker, Valeant relies on strong pricing power to outpace inflation, as well as, in its case, to fuel its merger-and-acquisition-based growth strategy. With now-former CEO J. Michael Pearson admitting to lawmakers that Valeant made a poor decision in the pricing of two cardiovascular drugs, Nitropress and Isuprel, whose prices were increased more than 500% and 200%, respectively, despite no formulation or manufacturing changes, Valeant's pricing practices are being monitored with a magnifying glass.
The other issue is Valeant's substantial debt load, which has tied the hands of management. Being unable to make new deals, Valeant runs the risk of not moving forward while servicing its existing debt.
Valeant's second-quarter report offers a flicker of hope
Valeant's second-quarter earnings report, which was released on Tuesday morning, was potentially the first bright spot for the company in nearly a year. Although sales declined 11%, to $2.42 billion, missing estimates by $40 million, and adjusted earnings per share (EPS) of $1.40 also fell short of Wall Street's projections by $0.08 per share, the company stuck with its full-year EPS forecast of $6.60 to $7. Valeant had halved its profit forecast since December, so to have the company stand by its prior guidance was a big lift for existing shareholders.
Image source: Getty Images.
Additionally, Valeant also announced that its much-anticipated asset sales have begun. The company is targeting the sale of non-core assets that generate about $2 billion in annual revenue (about 20% of its expected 2016 sales), and believes these divestments could net $8 billion, or 11 times earnings before interest, taxes, depreciation, and amortization (EBITDA). During Q2, Valeant divested its North American commercialization rights to Ruconest, its EU rights to brodalumab, and its Synergetics USA OEM business. In return, Valeant netted $181 million in up-front cash, and could earn $329 million in sales-based milestones down the road.
All in all, Valeant's Q2 report was less bad than Wall Street and investors had expected. But there's just one problem: "Less bad" isn't the same as "good."
Less bad still isn't good
At the end of the day, Valeant still has an enormous amount of debt that's crippling the company's flexibility and putting it right on the edge of a debt default.
Image source: Getty Images.
If you recall, Valeant's failure to file its annual report and first-quarter report on time triggered notices of default from its debtholders. In April, Valeant sought and won concessions from debtholders, but at a steep price. It agreed to pay a $50,000 fee for every $10 million it had borrowed, and had its interest rate hiked by 1%. In return, debtholders agreed to reduce the company's EBITDA-to-interest cost coverage ratio from 3-to-1 to 2.75-to-1. In plainer terms, this just meant that Valeant would need to generate 2.75 times more in annual EBITDA than it was paying in annual net interest to keep its lenders happy.
When Valeant had strong pricing power and its M&A strategy was clicking, staying above this ratio wasn't even a concern. However, with Valeant's image under fire and its pricing power evaporating, Valeant's $4.8 billion to $4.95 billion forecast for full-year EBITDA butts it right up against the 2.75-to-1 EBITDA-to-interest cost coverage covenant as laid out by its lenders. If Valeant can't rework its debt terms, it could be forced to quickly sell some of its assets to repay its lenders. This could include its high-margin core assets that it's trying its best to avoid selling.
Add in legal issues
Even more recently, The Wall Street Journal reported that the U.S. Attorney's Office for the Southern District of New York is investigating Valeant and its now-former drug distributor Philidor Rx Services for possible criminal wrongdoing.
Image source: Pixabay.
At the heart of the matter is whether or not Philidor disclosed the closeness of its business relationship with Valeant to the insurers it was dealing with. If Philidor did not, and it failed to remain a neutral party, it could have been working in Valeant's favor by selling higher-margin brand-name therapies that Valeant owns to insurers instead of cheaper alternatives. If the attorney's office were to find wrongdoing and initiate charges, Philidor executives and Valeant as a company could come under fire. Valeant, in a worst-case scenario, could be subject to big fines and selling restrictions, and its remaining cred with consumers, physicians, and insurers could be damaged beyond repair.
It's worth noting that Valeant fully disclosed this ongoing criminal probe in October 2015, and it's working with authorities every step of the way.
And top it off with a struggling product portfolio
Just in case Valeant's debt concerns and legal woes weren't enough trouble, the company's new drug distribution deal with Walgreens Boots Alliance has had a rocky beginning. According to Valeant's management team, some prescriptions are being filled at a loss, especially within its high-margin dermatology segment. Both Walgreens and Valeant are committed to making their long-term drug distribution deal work, but it's clearly not an overnight fix.
Image source: Getty Images.
In Valeant's second-quarter report, the company's sales data pointed to a 55% decline in its high-margin dermatology segment, a 25% drop in ophthalmology prescription sales, and a 24% decline in dental product sales. There's simply nothing in Valeant's immediate pipeline that's going to reverse sales reductions of this magnitude.
Ultimately, Valeant's Q2 report wasn't as bad as expected, but it's still not good, either. Valeant can't improve shareholder value by simply being less bad than it was previously. It's going to need to make headway on its debt load; it's going to have to find a way to improve the speed bumps in its deal with Walgreens; and it's going to have to hope it steers clear of legal action in the United States. None of these three factors is a given, which makes Valeant a stock worth avoiding for the time being.
A secret billion-dollar stock opportunity The world's biggest tech company forgot to show you something, but a few Wall Street analysts and the Fool didn't miss a beat: There's a small company that's powering their brand-new gadgets and the coming revolution in technology. And we think its stock price has nearly unlimited room to run for early in-the-know investors! To be one of them, just click here.
Sean Williamshas no material interest in any companies mentioned in this article. You can follow him on CAPS under the screen nameTMFUltraLong, and check him out on Twitter, where he goes by the handle@TMFUltraLong.
The Motley Fool owns shares of and recommends Valeant Pharmaceuticals. Try any of our Foolish newsletter services free for 30 days. We Fools may not all hold the same opinions, but we all believe that considering a diverse range of insights makes us better investors. The Motley Fool has a disclosure policy.