Hey Gilead, It's Time to Start Looking Over Your Shoulder in Hepatitis C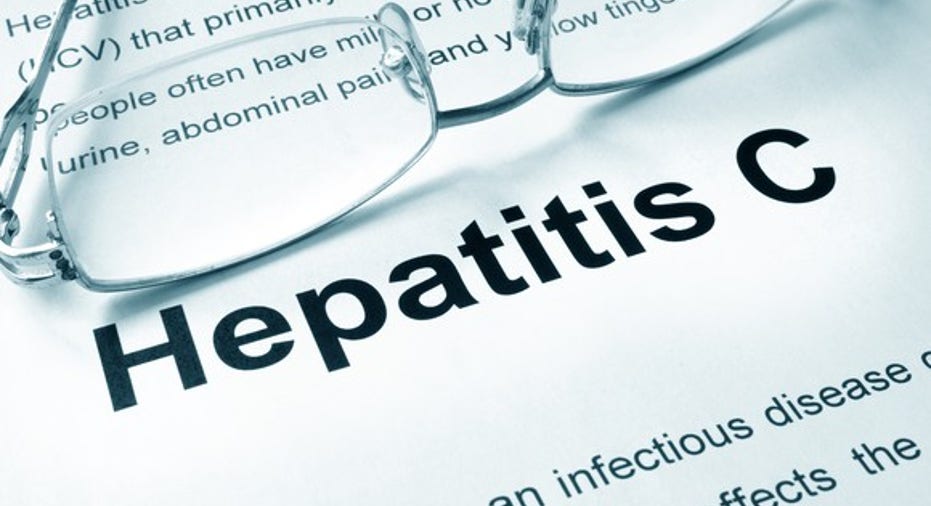 Image source: Getty Images.
Though it's not been a stellar year-to-date performance for biotech blue-chip stock Gilead Sciences (NASDAQ: GILD), long-term investors have had little to complain about. However, the good days might be numbered -- the company's hepatitis C portfolio may soon face new threats.
Gilead's unwavering hepatitis C dominance
Aside from being a dominant player in HIV therapeutics, Gilead has really left a mark in hepatitis C, where it currently has a trio of treatments. Its presence in the space began with Sovaldi, which was acquired as an experimental drug known as sofosbuvir in Nov. 2011 when Gilead purchased a company known as Pharmasset for $11 billion. Its hepatitis C dominance grew with the 2014 introduction of next-gen treatment Harvoni and the more recent release of Epclusa.
Based on Gilead Sciences' first-half results in 2016, its HCV franchise is on track to generate more than $16 billion in sales this year, with Gilead ultimately controlling about 90% of the HCV market.
What makes Gilead's HCV therapeutics so dominant is their convenience and efficacy. In 2011, prior to the introduction of Vertex Pharmaceuticals'now-discontinued Incivek, the standard-of-care for hepatitis C patients was IV interferon and a ribavirin, which was only effective in curing about half of all patients treated and often led to a host of unpleasant side effects. Just a few short years later, Gilead was able to introduce once-daily oral therapies that in many instances eliminated the need for interferon and/or a ribavirin, thus reducing many of the unpleasant side effects of treating hepatitis C. More importantly, effective cure rates often topped 90%.
Image source: Gilead Sciences.
Because of Gilead's strong trial efficacy and convenience, it's been practically impossible to unseat its HCV dominance, at least thus far. Both AbbVie and Merckhave competing therapies on pharmacy shelves, but with efficacies and lengths of treatment relatively comparable to those of Gilead's HCV therapies, neither doctors nor patients have a reason to switch away from Harvoni, Sovaldi, or Epclusa. Mind you, Merck attempted to significantly undercut Harvoni's $1,125 per pill wholesale cost (for a total of $94,500 per a standard 12-week treatment) with its drug Zepatier ($54,600 over 12 weeks), but Zepatier's reception has been lukewarm at best.
However, Gilead might soon have a reason to worry.
Gilead should start looking over its shoulder
There are only four ways to try and unseat Gilead in HCV.
Beat Gilead in efficacy, which is pretty tough to do when we're already talking about 90%+ efficacy.
Beat Gilead on price, which Merck tried and has thus far been relatively unsuccessful with.
Beat Gilead in convenience, which will be pretty darn difficult considering Epclusa's pen-genotypic approval skirts the need for prior genetic testing.
Beat Gilead in length of treatment.
This last point is where Gilead's competitors have a genuine shot.
Gilead's three treatments range -- based on a couple factors such as a patient's HCV genotype, whether or not liver cirrhosis is present, and if they are treatment-nave or treatment-experienced -- from a low of eight weeks to as long as 24 weeks. If a drug developer were able to introduce a four-week, six-week, or even eight-week treatment in indications that currently require 12 or 24 weeks of treatment, then Gilead could lose its leading market share, since shorter treatment duration would likely be cheaper and more favorable to patients and lead to improved compliance.
Image source: Getty Images.
Enter Achillion Pharmaceuticals (NASDAQ: ACHN) and its licensing partner Johnson & Johnson (NYSE: JNJ) from stage left. Last Friday, Achillion announced updated results from a phase 2 trial evaluating the combination of odalasvir (previously known as ACH-3102), AL-335, and simeprevir, which is the scientific name for Johnson & Johnson's Olysio, in treatment-nave genotype 1 patients. (Genotype 1 accounts for around 70% of all HCV cases.) The results were released via ePoster at the European Association for the Study of the Liver Special Conference in France.
The update showed that 100% of patients tested in the six-week and eight-week cohorts (60 total patents) achieved a sustained virologic response 12 weeks after treatment was completed. Patients in cohorts one, three, and four took the triple-combination of once-daily AL-335 and Olysio with odalasvir administered every other day. The only cohort not to achieve perfection was cohort two, which was an eight-week study without Olysio. It achieved a 90% sustained virologic response after 12 weeks of treatment.
To be clear, there are still multiple ongoing midstage studies under way for this triple combination therapy, and it's almost certain that Achillion and Johnson & Johnson will need to run a Food and Drug Administration-approved late-stage study to verify these results in a larger patient pool.
Image source: Getty Images.
But if this combination continues to be successful with six-week treatment durations, then J&J, which has licensing rights, could claw a significant chunk of HCV market share away from Gilead, and Achillion could be set to receive up to $905 million in milestone payments, as well as royalties on sales of the drug that'll range between the mid-teens and low-twenty percentages.
Of course, Gilead isn't sitting on its hands. It's actively engaged in research to reduce treatment length with the full understanding that treatment length may be its only Achilles heel. Gilead has time as well, with Achillion and J&J likely needing late-stage studies for confirmation. However, it's time Gilead faced the facts that a genuine competitor to its HCV empire could be as little as two years away from hitting pharmacy shelves.
A secret billion-dollar stock opportunity The world's biggest tech company forgot to show you something, but a few Wall Street analysts and the Fool didn't miss a beat: There's a small company that's powering their brand-new gadgets and the coming revolution in technology. And we think its stock price has nearly unlimited room to run for early in-the-know investors! To be one of them, just click here.
Sean Williamshas no material interest in any companies mentioned in this article. You can follow him on CAPS under the screen nameTMFUltraLong, and check him out on Twitter, where he goes by the handle@TMFUltraLong.
The Motley Fool owns shares of and recommends Gilead Sciences. It also recommends Johnson and Johnson and Vertex Pharmaceuticals ,and has the following options: short October 2016 $85 calls on Gilead Sciences. Try any of our Foolish newsletter services free for 30 days. We Fools may not all hold the same opinions, but we all believe that considering a diverse range of insights makes us better investors. The Motley Fool has a disclosure policy.