Here's Why Zillow Group, Inc. Stock Is Rising Today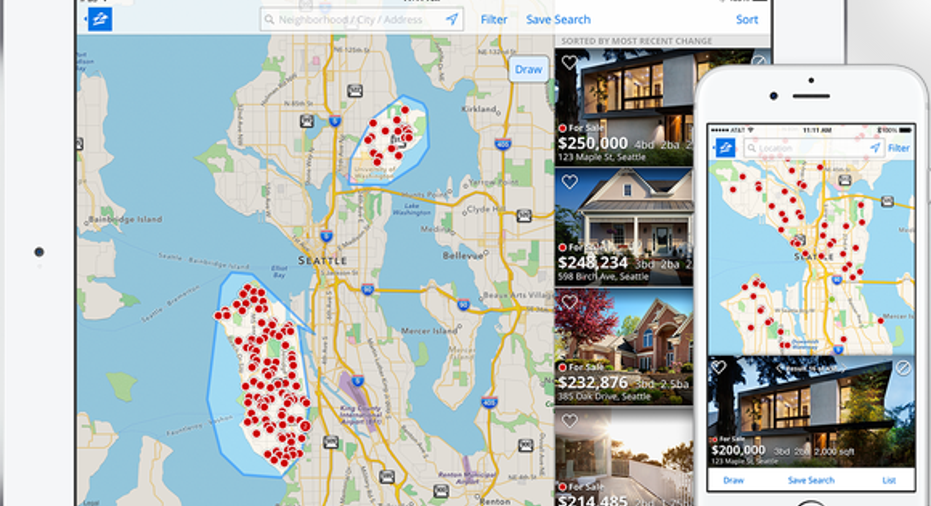 Image source:Zillow.
What happened
Shares ofZillow Group, Inc.(NASDAQ: ZG)(NASDAQ: Z) were up more than 11% as of 11 a.m. EST Tuesday following the company's announcement that itwill take on $400 million worth of new debt in the form of convertible senior notesdue 2021.
So what
Taking on new debt isn't what analysts are excited about, it's what Zillow Group plans to do with that new cash load and what it might mean for the company's future that has them betting more bullishly on the stock. A portion of the proceeds will go toward paying off other debts, including that related to the acquisition of Trulia, LLC.
Image source: Zillow.
More importantly, Zillow will use the remainder of the new funds to drive more growth, whether that's through building upon its existing platforms or making more acquisitions to control an even larger chunk of the real estate search market. Zillow Group already owns many brands includingZillow, Trulia, StreetEasy, HotPads, Naked Apartments, Mortech, Dotloop, Bridge Interactive, and Retsly.Zillow Group's market share as ofSeptemberwas nearly two-thirds of the total online real estate category.
Now what
While taking on new debt can be risky, Zillow seems to be in a good financial position now. As of the most recent quarter, the company had cash, cash equivalents, and short-term investments of $445 million, with current debt of $94 million and long-term debt of $230 million. Though the company's net cash flow from operations was just $30 million during the quarter, which is relatively weak for such a large new debt undertaking, the company did also post its first quarter of profitability since 2013 after it posted a 35% jump in sales year over year. That's a good sign that their operating costs and cash flows are sustainable so long as sales stay strong.
Zillow's stock is now up 42% year to date, evidence that the company's growth strategy seems to be working. This move to bulk up the company's investable capital looks like a good move to continue driving more growth in the quarters and years to come.
10 stocks we like better than Zillow Group (A shares) When investing geniuses David and Tom Gardner have a stock tip, it can pay to listen. After all, the newsletter they have run for over a decade, Motley Fool Stock Advisor, has tripled the market.*
David and Tom just revealed what they believe are the 10 best stocks for investors to buy right now... and Zillow Group (A shares) wasn't one of them! That's right -- they think these 10 stocks are even better buys.
Click here to learn about these picks!
*Stock Advisor returns as of Nov. 7, 2016
Seth McNew has no position in any stocks mentioned. The Motley Fool owns shares of and recommends Zillow Group (A shares) and Zillow Group (C shares). Try any of our Foolish newsletter services free for 30 days. We Fools may not all hold the same opinions, but we all believe that considering a diverse range of insights makes us better investors. The Motley Fool has a disclosure policy.