Here's Why World Wrestling Entertainment Inc. Gained More Than 40% in 2015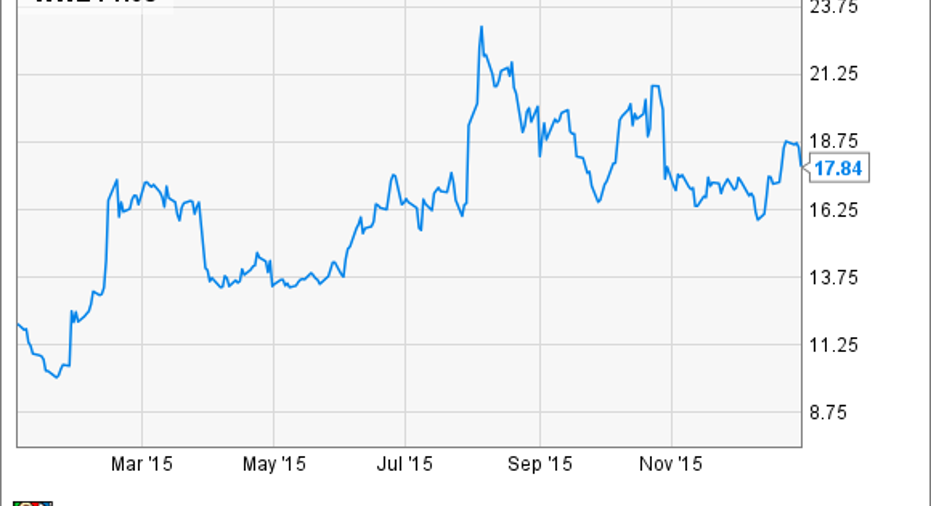 Despite sinking television ratings,World Wrestling Entertainment had a very strong 2015 largely due to increased adoption of its streaming network.
That, along with increasing revenue from its global television partner, helped the company mostly eliminate its losses of the previous year. It may not be all smooth sailing ahead for the self-described sports-entertainment company, but after opening 2015 at $12,49, WWE stock closed the year at $17.84, a 42.83% gain, according to S&P Capital IQ data.
Source: YCharts.
What: For WWE going forward, its most important number will be how many paying subscribers it has for WWE Network. The streaming service, which costs $9.99 a month in the United States, essentially replaced the company's former model of selling monthly pay-per-view events. Those shows are still sold selectively on their own for $49 each and up, but the company has heavily pushed users to subscribe to the network, which includes the former PPVs as well as original programming and a huge archive.
Making the change was a risky, but probably necessary move -- and it appears to be working. In Q3 2015, WWE Network total subscribers increased 79% to more than 1.3 million from the Q3 2014. In addition, paid subscribers grew by 7% over the previous quarter in 2015.
So what:While all WWE Network subscribers are on month-to-month deals, the company has not seen major churn. This makes the company's revenue much more predictable on a month-to-month and even year-to-year basis. Previously, PPV revenue could swing wildly depending upon the interest in each monthly show.
By migrating its fans to the network, WWE not only has a better understanding of its ongoing revenue picture, it also can program more for the long term. In the past, to drive the buy rate for a specific PPV event, the company has had to do what's known as "hotshotting" an angle -- that means advancing a story or delivering a surprise that may pay off immediately, but make long-term growth harder.
Now what:The WWE Network has risen to the point where it plus the limited business still being done on PPV is a wash (or maybe a slight uptick) from where the company was before the streaming service launched. The challenge is to continue growing the user base to get the network over 2 million subscribers and beyond.
That may prove to be a bigger-than-expected challenge given the recent injuries to a number of top performers and all-time low ratings for its signatureMonday Night Rawtelevision show. But, because WWE has long-term TV deals in place, lower ratings are not the concern they would be if this were a year when major market renewals were in play.
Fewer viewers, however, means fewer people who might buy the streaming service, and that presents the company a significant challenge as it tries to build on its tremendous 2015 in the new year.
The article Here's Why World Wrestling Entertainment Inc. Gained More Than 40% in 2015 originally appeared on Fool.com.
Daniel Kline owns shares of World Wrestling Entertainment. He is a WWE Network subscriber but rarely remembers to watch it. The Motley Fool has no position in any of the stocks mentioned. Try any of our Foolish newsletter services free for 30 days. We Fools may not all hold the same opinions, but we all believe that considering a diverse range of insights makes us better investors. The Motley Fool has a disclosure policy.
Copyright 1995 - 2016 The Motley Fool, LLC. All rights reserved. The Motley Fool has a disclosure policy.