Here's Why Winnebago Shares Soared More Than 60% in 2016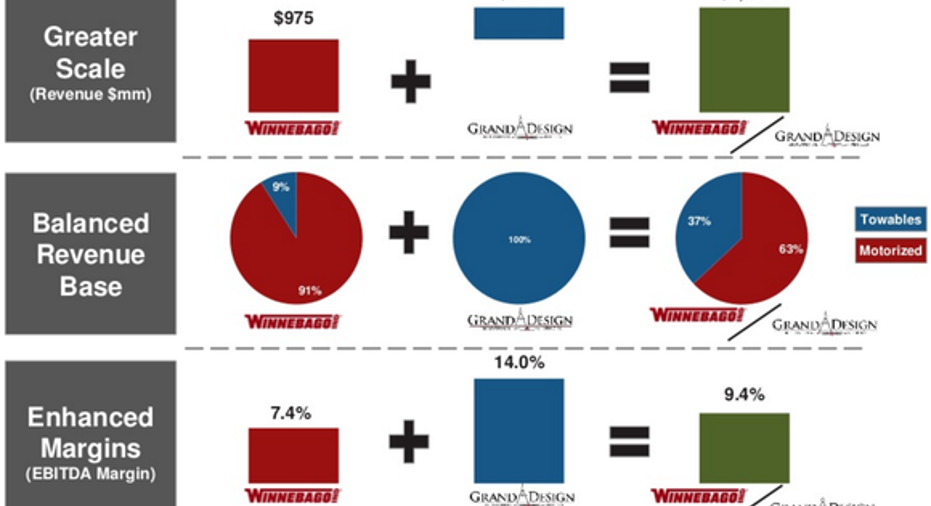 What happened
Shareholders of Winnebago Industries, Inc. (NYSE: WGO), a leading U.S. manufacturer of recreational vehicles used primarily in leisure travel and outdoor activities, were rewarded with a 64% increase in stock price last year.
Image source: Winnebago.
So what
One of the largest developments for Winnebago during 2016 was its acquisition of Grand Design. It was a great move to help diversify its business strategy, as it had previously generated a vast majority of its revenue solely from RV sales but will now generate nearly 40% of its sales from unmotorized travel trailers and fifth-wheel "towables" products.
Image source: Winnebago Grand Design acquisition presentation.
Not only does the acquisition better position Winnebago business-wise, it was also instantly accretive to the bottom line, and cost synergies for the combined businesses are expected to be about $7 million over the next three years.
Winnebago's fiscal 2017 first quarter, which took place in calendar 2016, was a strong performance, with revenue up 14% compared to the prior year and operating income rising 44% -- both results topped analysts' estimates.
Now what
"We are off to a strong start in 2017 as we continue to implement our plan to transform Winnebago, competing more effectively in the market and delivering increased profitability." said President and Chief Executive Officer Michael Happe in the earnings press release.
Investors should expect another strong year for Winnebago, but management also expects it to be a bridge year as the company continues to increase investments in information technology to improve operations.Winnebago will also prioritize deleveraging its business following the acquisitionof Grand Design, with the goal of bringing its 2.5 debt-to-EBITDA level down to roughly 1.5 by fiscal 2018.
10 stocks we like better than Winnebago IndustriesWhen investing geniuses David and Tom Gardner have a stock tip, it can pay to listen. After all, the newsletter they have run for over a decade, Motley Fool Stock Advisor, has tripled the market.*
David and Tom just revealed what they believe are the 10 best stocks for investors to buy right now... and Winnebago Industries wasn't one of them! That's right -- they think these 10 stocks are even better buys.
Click here to learn about these picks!
*Stock Advisor returns as of February 6, 2017
Daniel Miller has no position in any stocks mentioned. The Motley Fool has no position in any of the stocks mentioned. The Motley Fool has a disclosure policy.