Here's Why Weight Watchers International, Inc. Lost 46% in 2016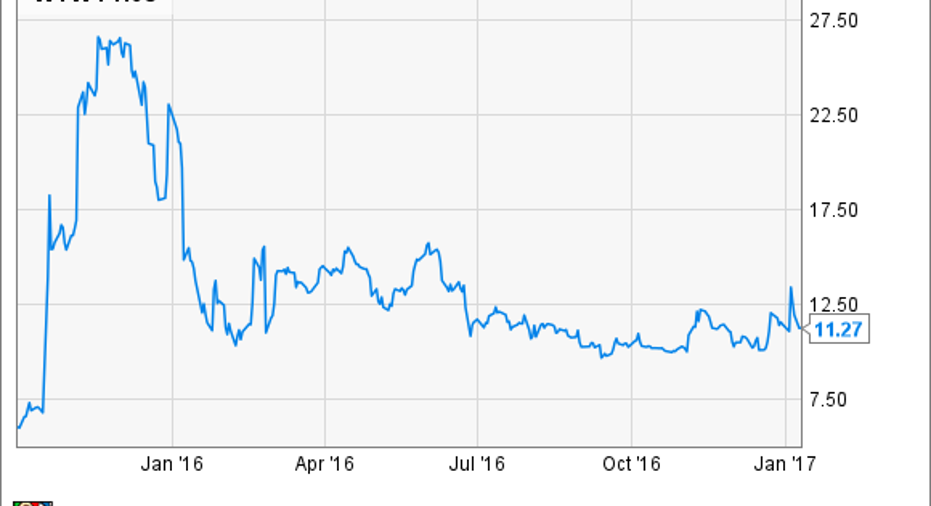 When Oprah Winfrey bought into Weight Watchers (NYSE: WTW) in late 2015, the company's stock soared.
After reality set in and it became clear that the former talk-show host did not possess a magic way to turn the company around, its shares went on a sort of yo-yo diet. They popped on hints of good news or comments by Winfrey, then they tanked when those effects wore off:
Weight Watchers spiked in October 2016 when Winfrey bought in, and have mostly fallen since. Image source: YCharts.com.
What happened
After opening 2016 at $21.34, Weight Watchers closed the year at $11.45, a 46% drop. Essentially the company was hurt by expectations which may have been unfair. Shareholders assumed that Winfrey's mere presence as a 10% owner, board member, and spokesperson would turn the company around. When that proved to not be true -- or at least not to be an instant, overwhelming change -- shares suffered.
So what
This is a case where the stock market had expectations that were perhaps not tied to reality. People hoped for a Winfrey-led rocket ride, and instead got mostly steady growth.
For example, in the third quarter, the company's most recent quarter reported, revenue was up 3% year over year to $281 million, and earnings per share came in at $0.53, an improvement from $0.38 in 2015. End-of-period subscribers also grew by 10% year over year to 2.8 million, and total paid weeks rose by 7%.
"We've seen a great response to our fall campaign and in Q3 we achieved our highest year-over-year percentage growth in recruitment so far this year," said CFO Nick Hotchkin in the Q3 earnings release. "We continue to see positive reactions to our Beyond the Scale program, and we look forward to generating even more interest in Weight Watchers with our upcoming winter marketing campaign featuring Oprah Winfrey."
Now what
Weight Watchers got some positive press late in 2016 when Winfrey went public with having lost 40 pounds on the company's latest program. But that has not done much for the stock, which as of Jan. 10 was still trading below where it closed the year.
Weight Watchers needs to get out of the cycle of every pound Winfrey gaining or losing sending its shares up or down. To do that, the weight-loss brand will need to report results like Q3's on a steady basis. That would show shareholders its business has worked and turned a corner, which it very well may have in 2016.
10 stocks we like better than Weight Watchers International When investing geniuses David and Tom Gardner have a stock tip, it can pay to listen. After all, the newsletter they have run for over a decade, Motley Fool Stock Advisor, has tripled the market.*
David and Tom just revealed what they believe are the 10 best stocks for investors to buy right now... and Weight Watchers International wasn't one of them! That's right -- they think these 10 stocks are even better buys.
Click here to learn about these picks!
*Stock Advisor returns as of January 4, 2017
Daniel Kline has no position in any stocks mentioned. The Motley Fool has no position in any of the stocks mentioned. The Motley Fool has a disclosure policy.