Here's Why Trump's Pledge to Lower Drug Prices Is All Bark and No Bite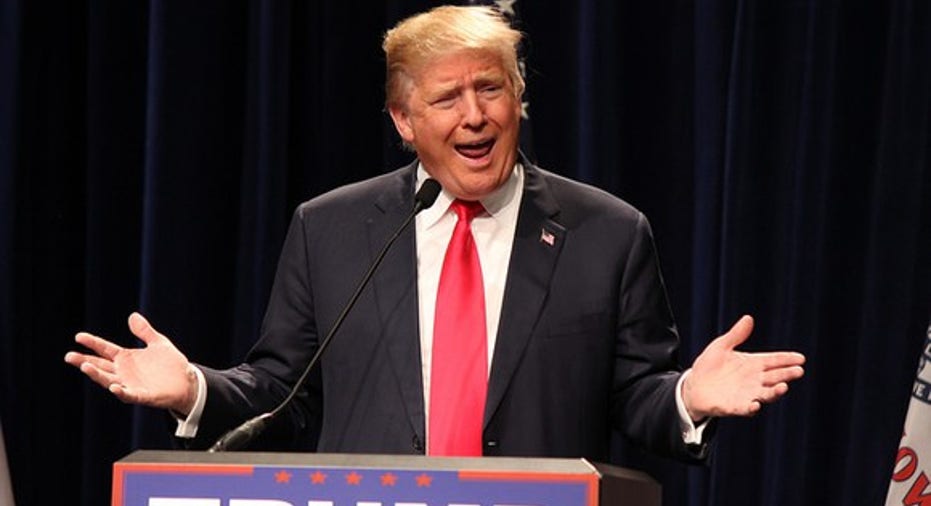 Image source: Disney-ABC Television Group via Flickr.
In less than six weeks, President-elect Donald Trump will be inaugurated and become the 45th president of the United States. Shortly after winning the Nov. 8 election, Trump and his team released his 100-day action plan, which included a veritable laundry list of objectives. These include moving forward with his proposed individual and corporate tax reforms, repealing and replacing the Affordable Care Act, and advancing infrastructure initiatives while at the same time deregulating various industries to make life easier for businesses.
Trump and Clinton both agreed that prescription drug prices are a problem
Of the numerous campaign pledges Trump made, very few coincided with his opponent, Hillary Clinton. However, one of the few platforms where both candidates agreed was in regards to prescription drug pricing. Both Clinton and Trump believed prescription drug prices are too high and aimed to reform them once in office.
During the campaign, Clinton offered up a number of proposals to reduce drugmakers' pricing power. These included shortening the patent protection period for drugmakers, placing a monthly cap on what consumers could spend on select prescription drugs, and creating a watchdog group that would oversee the pricing of prescription therapies.
Image source: Wikimedia Commons.
For Trump, his solution lies with his seven-point healthcare reform plan, which you can read about in more detail here. Trump's plan involves removing the barriers to entry for overseas drug developers so that U.S. consumers have alternative prescription-drug purchasing options. For instance, the list price of Mylan's EpiPen has risen to more than $600 for a two-pack in the U.S., whereas in Canada a single EpiPen runs about $110. If U.S. consumers were somehow able to purchase the EpiPen from Canada, they could save a lot. Considering that the U.S. market helps subsidize the sale of branded therapies in a number of emerging markets, being able to shop outside the U.S. could put money back into the pockets of American consumers.
Earlier this week, Trump revived his pledge to combat soaring prescription drug prices in the U.S. by stating, "I'm going to bring down drug prices" in his profile as Time magazine's Person of the Year.
Trump's words sacked a number of drug developers when those comments went public on Wednesday. As just one example, specialty drugmakerExelixis (NASDAQ: EXEL) fell 9%. Exelixis' lead drug, Cabometyx, is approved to treat second-line renal cell carcinoma, and it bears an annual price tag of around $165,000.Company executives believe the price is more than fair given Cabometyx's statistically significant improvements in overall survival, progression-free survival, and response rate in clinical trials. A number of consumers and Trump may have a differing opinion.
Trump's bark about prescription drug change has no bite
Though Trump has mentioned prescription drug reform on a few occasions prior to being elected president and has now adamantly suggested that he'll push prices lower during his presidency, there's not a lot of meat on the bones of Trump's proposals in how he'll accomplish this task. In reality, Trump's bark about prescription drug reform could be far worse than his bite.
Image source: Evan Guest via Flickr.
To begin with, allowing Americans to purchase drugs from overseas manufacturers would mean a major overhaul at the U.S. Food and Drug Administration. The FDA is the agency responsible for ensuring that U.S. drugmakers are sticking to stringent manufacturing standards, and it would be nearly impossible for the FDA to oversee the quality and safety standards of drugs entering the U.S. from overseas manufacturing facilities.
Secondly, allowing consumers to purchase drugs overseas may help tackle some of the inflationary aspects of mature drugs, but it does next to nothing to address the underlying reasons why prescription drug costs are soaring. Namely, it doesn't address exceptionally long patent periods that keep cheaper generic competitors out of the market. Furthermore, Trump's plan does nothing for insurers, which are leery of kicking high-priced drugs off of their formularies for fear of losing members to rivals. It also does nothing to address the pricing of newly approved drugs.
Thirdly, Trump could find a sea of opposition from Congress in an attempt to reform drug pricing in America just the way he'd like. For example, Trump has previously supported allowing Medicare to negotiate drug prices on its own behalf. However, Trump's appointee to lead the Department of Health and Human Services, Tom Price (R-Ga.), has been an ardent opponent of this idea, implying that Price wants the federal government to remain as far away as possible from free-market drug pricing. Most of Trump's Republican colleagues share this view, which could make it impossible to get Trump's ideal legislation through Congress.
Lastly, it's quite possible that Trump is going to be far too busy with other aspects of his 100-day plan to give prescription drug reform any credence for years to come. Tax reform, infrastructure, and healthcare reform appear to be his top priorities, but tapping into prescription drug reform could prove difficult given the aforementioned changes that would need to be made at the FDA.
What this means for consumers and investors
Image source: Getty Images.
On one hand, the likelihood that Trump's suggestions on drug pricing will fall on deaf ears in Congress is a positive for investors in the drug space, as well as the drugmakers themselves. Drug developers like Exelixis that can continue to innovate and deliver significant improvements in response, disease stabilization, and survival are likely to retain significant pricing power in the years to come.
Conversely, prescription drug inflation is probably going to continue outpacing wage growth and the national rate of inflation in a number of key therapeutic indications (oncology, diabetes, and autoimmune, for example). That's not good news for consumersand is especially worrisome for seniors living on a fixed budget, such as those reliant on Social Security income.
The current trajectory of prescription drug price inflation does look unsustainable over the very long-term based on the opinion of this Fool, but it looks somewhat unlikely that Trump will be the president that successfully tackles drug pricing reform.
10 stocks we like better than Exelixis When investing geniuses David and Tom Gardner have a stock tip, it can pay to listen. After all, the newsletter they have run for over a decade, Motley Fool Stock Advisor, has tripled the market.*
David and Tom just revealed what they believe are the 10 best stocks for investors to buy right now... and Exelixis wasn't one of them! That's right -- they think these 10 stocks are even better buys.
Click here to learn about these picks!
*Stock Advisor returns as of Nov. 7, 2016
Sean Williamsowns shares of Exelixis, but has no material interest in any other companies mentioned in this article. You can follow him on CAPS under the screen nameTMFUltraLong, and check him out on Twitter, where he goes by the handle@TMFUltraLong.
The Motley Fool owns shares of and recommends Exelixis. It also recommends Mylan. Try any of our Foolish newsletter services free for 30 days. We Fools may not all hold the same opinions, but we all believe that considering a diverse range of insights makes us better investors. The Motley Fool has a disclosure policy.