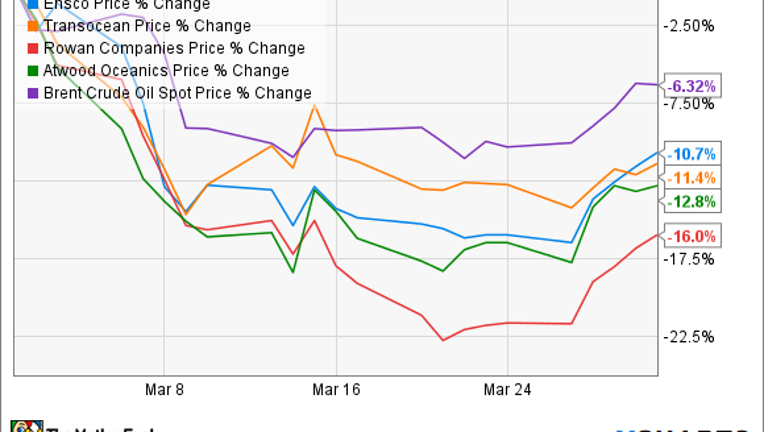 What happened
In March, shares of offshore drillersEnsco(NYSE: ESV),Transocean (NYSE: RIG),Rowan Companies(NYSE: RDC), andAtwood Oceanics(NYSE: ATW) finished between 10.7% and 16% lower than they started. Since the beginning of the year, that puts all four drilling rig operators down between 12% and 30% at month's end.
So what
There hasn't really been much in the way of material news in the offshore oil market over the past month or so following the quarterly earnings season in February. However, there wasa lot of chatter about oil prices.
Image source: Getty Images.
The biggest news affecting oil markets -- and therefore oil stocks -- was the growth of oil inventories, especially U.S. onshore supply. According to industry data, U.S. crude stocks increased 11.6 million barrels in early March, far higher than industry analysts were expecting.
Here's how that affected oil prices for the rest of the month.
It should be pretty easy to see that these four offshore drilling stocks correlated with the movement of oil prices. This is typical -- and will remain so -- for as long as the downturn continues to keep oil producers from spending money on offshore drilling.
Now what
On an asset basis, these stocks are at fire-sale prices:
ESV Price to Book Value data by YCharts.
In other words, the market is pricing these companies at one-third or less of the liquidation value of their assets. But until producers start spending offshore, you can expect offshore drilling stocks to pretty much chase oil prices. When oil goes up, share prices will likely outpace them. When crude falls, however -- as it did in March -- offshore drilling stocks will probably fall farther.
At some point, offshore spending will pick up, simply because some of the world's biggest oil fields are offshore. And while they are very expensive to develop, offshore oil can be profitable at current crude prices.The problem is that it takes a lot of up-front money and a long time before the oil starts flowing. And there's some indication spending is set to pick up, with a number of new projects expected to go to bid before year-end.
The best approach if you're considering investing in this space, or if you already own shares, is to take the time to understand each company, particularly the strength of its balance sheet, how much (and when it's due) debt it has, and the size and stability of its contracted backlog of work.
But until there's more work to be had, there's going to be a lot more of the kind of volatility we saw in March -- and largely based on non-news and speculation.
10 stocks we like better than Atwood OceanicsWhen investing geniuses David and Tom Gardner have a stock tip, it can pay to listen. After all, the newsletter they have run for over a decade, Motley Fool Stock Advisor, has tripled the market.*
David and Tom just revealed what they believe are the 10 best stocks for investors to buy right now... and Atwood Oceanics wasn't one of them! That's right -- they think these 10 stocks are even better buys.
Click here to learn about these picks!
*Stock Advisor returns as of April 3, 2017
Jason Hall owns shares of Atwood Oceanics, Ensco, and Transocean. The Motley Fool owns shares of and recommends Atwood Oceanics. The Motley Fool has a disclosure policy.