Here's Why the Best Is Yet to Come for Sturm, Ruger & Company, Inc.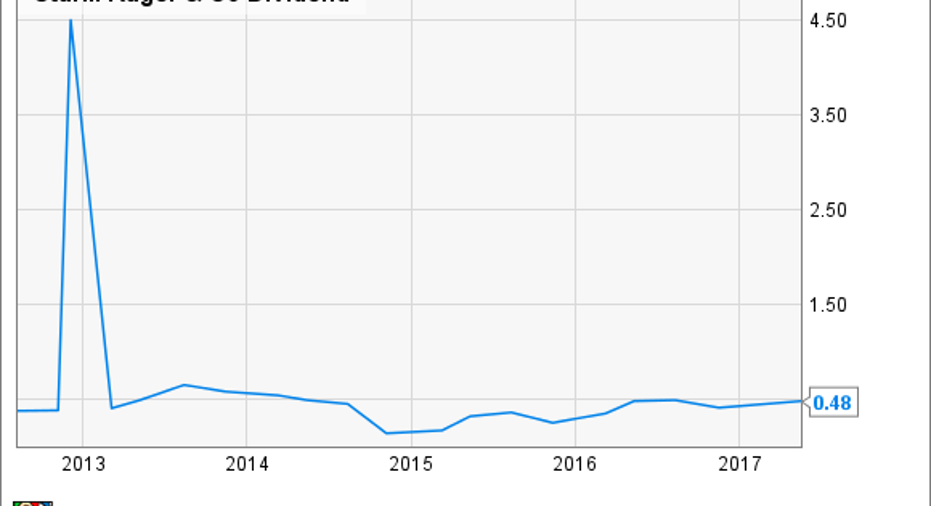 Sturm, Ruger (NYSE: RGR) reported earnings last week, and Wall Street was surprised by the outcome. Because they had been expecting doom and gloom from an imploding firearms market, they never saw that gun demand was actually as strong as it's ever been, even if it is below last year's record-setting pace.
Investors who were paying attention knew it was only a matter of time before analysts came around and the gunmaker's stock was readjusted higher. And while the market has bid Ruger's shares higher, along with industry peer American Outdoor Brands (NASDAQ: AOBC), both are still undervalued, which is why the best is yet to come.
Image source: Getty Images.
Sales continue to rise over time
First, let's understand that first-quarter sales did decline year over year. Ruger reported net sales of $167 million, which was down 3% from the $173 million it notched last year, but they were higher sequentially. And though flat year over year, quarterly earnings handily beat analyst projections.
But what's important here is that demand for firearms continues to largely climb higher. As new CEO Chris Killoy told shareholders at the gunsmith's annual meeting, over the past 25 years, there have been 15 periods when gun sales rose, and 10 where they declined, but the trend still tracks higher.
Data source: FBI. Chart by author.
So it is now with the current market. Gun sales were white-hot last year due to the expected electoral outcome, and production had been higher, too, to meet that demand. When the results were tallied, it did take some of the wind out of the sails, and dealers were left with higher-than-expected inventory, and that created an environment that was very promotional. Even so, the first quarter has always been one where buyers can get good deals.
Financially stable to weather any storm
Ruger is a rock-solid, financially stable company that ended the quarter with $35 million in cash, though it has since grown to $50 million. More importantly, it has no debt and likely won't take on any. As Ruger chairman Mike Jacobi told investors, "we generally love cash."
And it's not afraid to use that cash to return value to shareholders. In the just past quarter, it bought back some 1.4 million shares for about $67 million, for an average cost of about $49.67 per share. It also paid out some $7.8 million in dividends to shareholders.
Sturm, Ruger has a different dividend policy than most companies. Rather than pay a set dividend every quarter, the gunmaker pays out a percentage of its profits. In 2012, it raised the rate from 25% to 40%, which rewards shareholders when Ruger is making more money and allows it to conserve cash when times are lean. It declared the first quarter's dividend of $0.48 per share, equal to what it paid out last year.
Yet the same year, it hiked the percentage rate of profits it would pay back to investors in dividends. Ruger also paid out a special dividend of $4.50 per share, or almost $87 million worth.
RGR Dividend data by YCharts.
New products to continue driving growth
Ruger doesn't rely upon acquisitions like American Outdoor Brands does as it pushed into a new line of business. Ruger hasn't done that, instead relying on sales of new products to continuously push its top line higher.
In the first quarter, new products including the Mark IV pistol, the LCP II pistol, and the Precision Rifle accounted for 25% of total firearm sales, or $41.5 million. That's slightly below the 29% they accounted for in all of 2016, but well ahead of the 21% they represented the year before that.
Ruger also notes that unlike other manufacturers that rely upon sales to law enforcement agencies for a good portion of their sales, it doesn't do that either. It notes that because police officers already have guns, gunmakers have to have a costly trade-in program that makes the overall business a low-margin one. Instead, it points with pride to the fact that its concealed-carry guns like the LCP, LC9, and LCR are the top choices among police officers as their backup weapon.
The best is yet to come
All of the foregoing doesn't mean Sturm, Ruger isn't without its challenges, of course. Sales can be erratic, which makes for difficulty in planning production, but as it notes, it's been doing this for some time and is quite familiar with the seasonality of the business, including its ups and downs.
Are the best days yet to come for Sturm, Ruger? The company's financial stability, its new product lineup, and continued elevated demand for its products indicate the future should be even brighter than the past.
10 stocks we like better than Sturm, Ruger & CompanyWhen investing geniuses David and Tom Gardner have a stock tip, it can pay to listen. After all, the newsletter they have run for over a decade, Motley Fool Stock Advisor, has tripled the market.*
David and Tom just revealed what they believe are the 10 best stocks for investors to buy right now...and Sturm, Ruger & Company wasn't one of them! That's right -- they think these 10 stocks are even better buys.
Click here to learn about these picks!
*Stock Advisor returns as of May 1, 2017.
Rich Duprey has no position in any stocks mentioned. The Motley Fool has no position in any of the stocks mentioned. The Motley Fool has a disclosure policy.