Here's Why the Best Is Yet to Come for Las Vegas Sands Corp.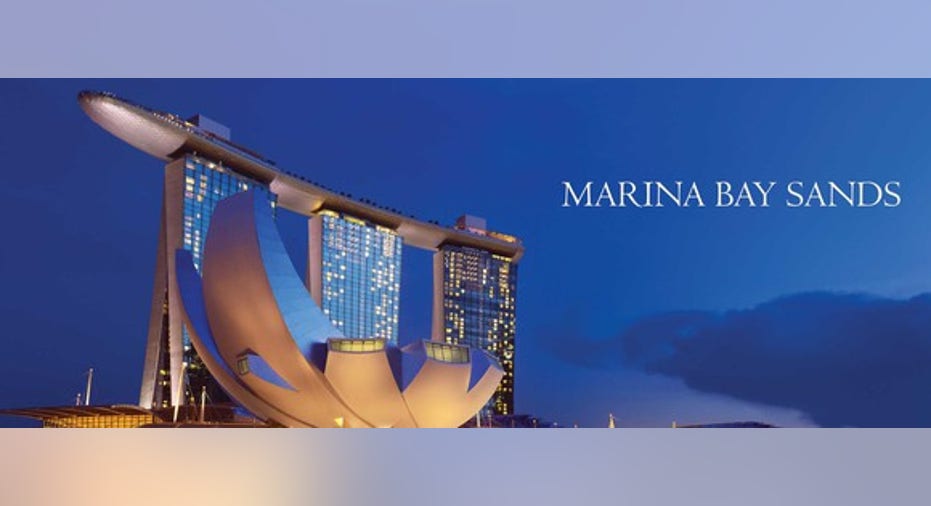 Shares ofLas Vegas Sands(NYSE: LVS) are flat over the last five years, after the stock went on a massive run leading up to the spring of 2014, and then was cut down just as drastically throughout 2015. However, things look to be turning around for the gaming industry, and Las Vegas Sands' future looks positive.
Here's why the company continues to look like a good play in the gaming industry -- and why its best days could still be ahead of it.
Macau gives and takes away -- but it's set to start giving again
Las Vegas Sands certainly isn't the only company that felt the sting when, in 2014, the Chinese government implemented new regulations that severely cut travel and total gaming volume in Macau, which makes up the majority of total revenue for Las Vegas Sands andWynn Resorts(NASDAQ: WYNN), and a significant portion forMGM Resorts International(NYSE: MGM). As the market digested the 26 months of year-over-year gaming revenue decline in Macau that followed the increased regulation, and the resulting losses that followed for these companies, the share prices of each were cut considerably.
Things could be turning around now, as March was the eighth straight month that year-over-year gaming revenue was positive, and at 18% growth over March 2016, the recovery looks to have solid footing. Las Vegas Sands continues to look like the best play on Macau's regrowth, as its newest casino there cements the company's dominance on the island with five properties total that control the majority of gaming tables and slots, as well as hotel rooms.
Las Vegas Sands' "Parisian" resort in Macau. Image source: Las Vegas Sands.
The biggest potential growth driver in years
Outside of Macau, Las Vegas Sands has relatively small operations in the U.S., with its flagship Venetian resort in Las Vegas accounting for a small percentage of total revenue on the Las Vegas Strip, and its Bethlehem resort in Pennsylvania performing well, but at too small of a scale to really move the needle for the company's overall revenue. Las Vegas Sands' resort in Singapore, one of only two resorts that will be allowed in the lucrative market, has also been largely stable, but its days of considerable growth are probably behind it.
However, analysts have long been watching Japan as a potentially large opportunity in gaming -- some analysts estimate as much as a $25 billion opportunity -- as the government there has been debating allowing casino resorts in the country for years. The legislature finally passed a bill that paves the way for casinos to build in the country. There are still many hurdles that regulators, and then casino companies, will have to jump through before we'll know when resorts may start building, or which companies will be given licenses -- which are expected to be few as a means to keep tight control of the industry.
The Marina Bay Sands resort in Singapore. Image source: Las Vegas Sands.
While it's just a possibility until there's more official word, Las Vegas Sands does look like a top choice for winning a license in Japan. Japanese Prime Minister Shinzo Abe has used the Marina Bay Sands resort in Singapore before as an example of what an integrated resort in Japan should look like, and Las Vegas Sands has a better-positioned balance sheet than most of its competitors to take on the challenge of investing billions in building a new resort there.
Las Vegas Sands' growth potential
Looking back at Las Vegas Sands' performance in 2016, the company was able to stop some of the bleeding from the last few years of trouble, but it still reported sales that were down 2%, and earnings per share down 15%. This is in contrast with Wynn and MGM, which each posted nearly 10% sales growth over 2015, and considerable earnings gains. Additionally, Las Vegas Sands' price to earnings of 27 times doesn't look cheap for that performance.
Still, this behemoth company is expected to turn those numbers around in 2017 and 2018 as its bets in Macau continue to pay off -- and as the largest player there, its wins should be outsized compared to those of its rivals.That revenue and earnings turnaround already looks to be in the works as fourth-quarterrevenue increased 7.4% year over year, while net income grew 5.6%.The stock is now trading at 21 times next year's earnings estimates.
As 2017 moves along, Las Vegas Sandsshould continue to post stronger year-over-year earnings with each quarter, and that should encourage the market to push its stock price back toward its all-time high from 2014. Looking much longer term, with a growing base business and the increased opportunities in Japan, it looks like the best is yet to come for Las Vegas Sands.
10 stocks we like better than Las Vegas SandsWhen investing geniuses David and Tom Gardner have a stock tip, it can pay to listen. After all, the newsletter they have run for over a decade, Motley Fool Stock Advisor, has tripled the market.*
David and Tom just revealed what they believe are the 10 best stocks for investors to buy right now...and Las Vegas Sands wasn't one of them! That's right -- they think these 10 stocks are even better buys.
Click here to learn about these picks!
*Stock Advisor returns as of April 3, 2017.
Seth McNew owns shares of Las Vegas Sands. The Motley Fool has no position in any of the stocks mentioned. The Motley Fool has a disclosure policy.