Here's Why the Best Is Yet to Come for Hewlett-Packard Company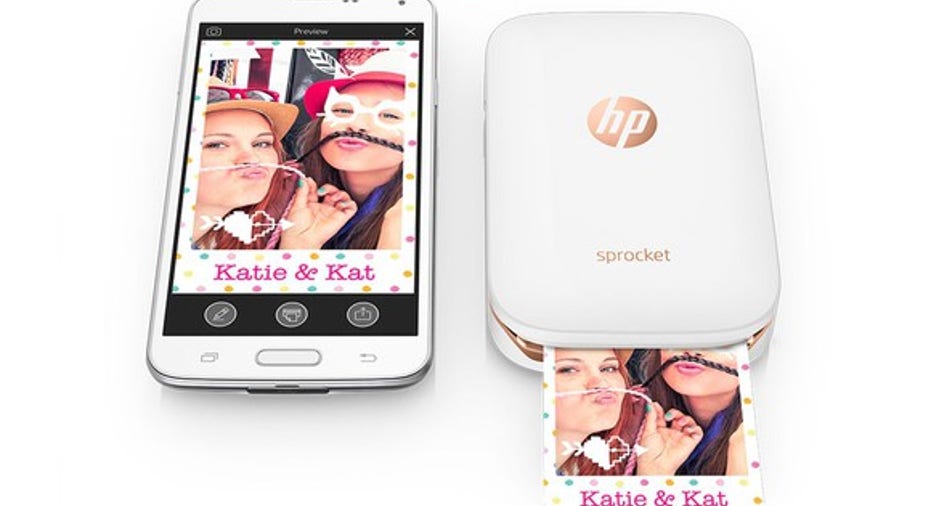 When HP (NYSE: HPQ) split with Hewlett-Packard Enterprise (NYSE: HPE) in late 2015, the former seemed more like a slower-growth income play than the latter. But over the past 12 months, HP shares rallied 55%, outperforming HPE's 46% growth and the S&P 500's 18% gain.
In a previous article, I highlighted the ways HP evolved its aging PC business while scaling up and diversifying its printing one. Today, we'll look at the key growth drivers for HP, and see why the 78-year-old company's best days could still be ahead.
HP's Spectre laptop. Image source: HP.
1. PC declines have likely bottomed
In January, Gartner announced thatworldwide PC shipments fell for the fifth consecutive year in 2016. That was sour news for PC vendors like HP, but Gartner expects sales to be nearly flat this year andrise in 2018 -- indicating that the market has finally bottomed out.
That's because sales of premium "ultramobile" devices -- like Ultrabooks, Macbooks, and 2-in-1 devices -- are expected to rise and offset declines in "traditional" PCs like desktops and regular notebooks. HP's most recent quarterly report, which showed Personal Systems (PC) revenue rising 10% annually to$8.2 billion, reflected that shift -- desktop sales stayed flat, but notebook sales rose 16% on strong demand for higher-end convertibles, detachables, and thinner devices. Looking further ahead,the business could gain another tailwind from rising demand for VR-ready desktops and notebooks.
2. It's scaling up its printing business
Last November, HP announced thatit would acquire Samsung's (NASDAQOTH: SSNLF) printing business. That move will help HP use economies of scale to lower production costs, and is expected to become accretive in the first full year after the deal closes. HP also believes that combining the two companies' technologies will "reinvent and replace service-intensive copies with superior multi-function printing."
HP's printing business didn't look great last quarter. Total printing revenues fell 3% annually to $4.5 billion, due to an 8% decline in commercial hardware (exacerbated by some products being shifted to the consumer business) and a 3% drop in supply sales. However, consumer hardware sales improved 2% -- thanks to healthy demand for its Sprocket mobile printer.
HP's Sprocket mobile printer. Image source: HP.
HP's commercial printing business could also perk up once it installs more high-end 3D printers for enterprise customers. It shipped its first Multi Jet Fusion printers to Jabil, Materialise, and Shapeways during the quarter, and CEO Dion Weisler noted during the conference call that HP wastracking that progress "to disrupt the $12 trillion traditional manufacturing market." Those new investments, along with the Samsung acquisition, could considerably strengthen HP's printing business over the next few years.
3. It's all about the bundles
One of HP's biggest advantages in the enterprise market is its ability to bundle products together at competitive prices. Last quarter, HP formed new partnerships with glass and ceramics maker Corningand pharmaceutical giant Roche, both of which now use "comprehensive" packages of HP's notebooks, desktops, and workstations. HP could eventually add 3D printers to those bundles for customers across the manufacturing industry.
As enterprise spending warms up again, HP could sell more bundles to big enterprise customers -- which would strengthen both its PC and printing businesses.
4. The stock is cheap, and the company rewards its shareholders
HP trades at 12 times earnings, which is well below itsindustry average of 20. It also trades at 0.6 times sales, which is also much lower than the industry average of 0.9. HP also pays a forward dividend yield of 3.1%, which is comfortably supported by a payout ratio of 33%. That combination of a stable business, low multiple, and high yield make HP very appealing in a market filled with overvalued dividend stocks.
HP also clearly intends to return most of its free cash flow to shareholders. Last quarter, it generated over $700 million in FCF and spent more than $600 million on buybacks and dividends. Those moves can boost its earnings, keep valuations low, and attract additional income investors.
The key takeaway
The "new" HP is definitely leaner and more focused than the old one, which included too many moving parts which frequently canceled out each others' gains. Therefore, I believe that HP's renewed efforts in the PC and printing markets could make it a great long-term play at current prices. The stock probably won't soar anytime soon, but its low valuations and solid dividend make it a sound investment for conservative investors.
10 stocks we like better than HPWhen investing geniuses David and Tom Gardner have a stock tip, it can pay to listen. After all, the newsletter they have run for over a decade, Motley Fool Stock Advisor, has tripled the market.*
David and Tom just revealed what they believe are the 10 best stocks for investors to buy right now... and HP wasn't one of them! That's right -- they think these 10 stocks are even better buys.
Click here to learn about these picks!
*Stock Advisor returns as of February 6, 2017
Leo Sun has no position in any stocks mentioned. The Motley Fool owns shares of and recommends Gartner. The Motley Fool recommends Corning. The Motley Fool has a disclosure policy.