Here's Why Steel Stocks Are Surging Today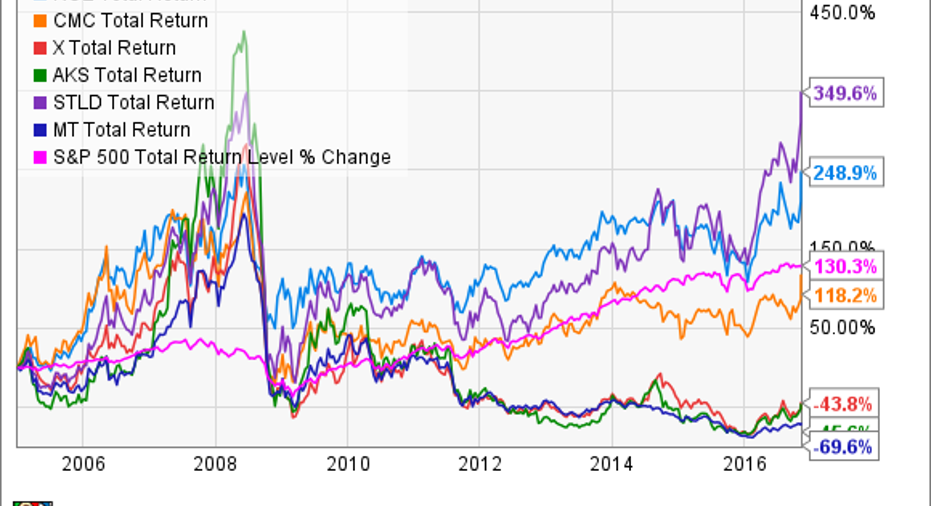 Steelmaking is still an expensive, challenging industry. Invest accordingly. Image source: Getty Images.
What happened
It's a great day for steel stocks. Shares ofNucor Corporation(NYSE: NUE),Commercial Metals Company(NYSE: CMC),United States Steel Corporation(NYSE: X),AK Steel Holding Corporation(NYSE: AKS), Steel Dynamics, Inc.(NASDAQ: STLD), and ArcelorMittal SA(NYSE: MT)are all up between 9.4% and 18.9% at 11:55 a.m. EST on November 9:
So what
It's largely a response to the election of Donald Trump as the next president of the United States. A key component of Trump's "Make America Great Again" platform has been his intent to fight for American manufacturing, and few domestic industries have been under more intense overseas competition than steelmakers.
Over the past few years, steel demand in North America has been very strong, but imports, particularly from Asia, have flooded the domestic market and put serious pressure on steel plants in the U.S. to operate profitably. The fact that much of this imported steel has come from countries that were providing illegal price support to their own steel industries -- a violation of free trade agreements with the U.S. -- has heavily weighed on domestic producers as imports at one point spiked to as much as 30% of the American steel market.
Here's how the stocks of the steelmakers spiking today have performed since the start of 2014:
NUE Total Return Price data by YCharts.
As you can see, only Steel Dynamics has outperformed the market, and several steelmakers have lost money for investors over this period. In short, investors today are counting on a Trump presidency to "make steelmakers great again."
The reality is, there has already been a lot of progress on this front. Recently implemented tariffs and duties on steel from the biggest offenders are already in place, and imports have seen their share of steel sales shrink since the start of the year. Furthermore, there are more trade cases in the works, which could further protect American steelmakers from the effects of illegal dumping as they play out over the next few quarters. So, a lot of the "heavy lifting" for the steel industry has already been done.
However, there's more to it than just trade actions. Steelmaking is a very expensive undertaking, often with very high fixed costs that can be difficult to bring down when demand falls. And considering how heavily steel production is tied to economic trends, it's a dangerous idea to bet on the industry going forward simply because of Trump's pro-America policies.
Now what
As things stand today, investors interested in steelmakers should continue to place emphasis on the same things that separate the best steelmakers from those who are more likely to struggle when demand isn't strong: the ones with the most efficient operations, and the best ability to adjust their operations according to demand. This includes Nucor and Steel Dynamics, which both operate so-called "mini-mills" and have better ability to scale demand up and down to match the market.
AK Steel and U.S. Steel, on the other hand, have been shown to have a harder time bringing their costs down when the demand cycle weakens, leaving them -- and investors -- more exposed to losses.
This is particularly important for one big reason: Economists across the political spectrum are very wary of many of Trump's campaign promises when it comes to their potential impact on the American economy. The downside of his aggressive pro-America stance is that it could very well harm the U.S. economy, and if there's one thing that would be horrible for steel stocks, it's a recession.
Bottom line: Over the long term, a good defense has proven to be the best offense for steel investors:
NUE Total Return Price data by YCharts.
Nucor and Steel Dynamics still have a leg up, as their long-term returns demonstrate, while their competitors continue to struggle with high costs and less flexible operations. Not only would they do well if steel demand remains strong, but they're also the best-positioned steelmakers to ride out the next eventual downturn.
A Trump presidency may accelerate the leveling of the playing field for American steel producers, but it won't change the cyclical nature of the industry -- or how some steelmakers will still struggle when demand softens.
10 stocks we like better than Nucor When investing geniuses David and Tom Gardner have a stock tip, it can pay to listen. After all, the newsletter they have run for over a decade, Motley Fool Stock Advisor, has tripled the market.*
David and Tom just revealed what they believe are the ten best stocks for investors to buy right now...and Nucor wasn't one of them! That's right -- they think these 10 stocks are even better buys.
Click here to learn about these picks!
*Stock Advisor returns as of November 7, 2016
Jason Hall owns shares of ArcelorMittal. The Motley Fool recommends Nucor. Try any of our Foolish newsletter services free for 30 days. We Fools may not all hold the same opinions, but we all believe that considering a diverse range of insights makes us better investors. The Motley Fool has a disclosure policy.