Here's Why Shares of Targa Resources Gained 21% in November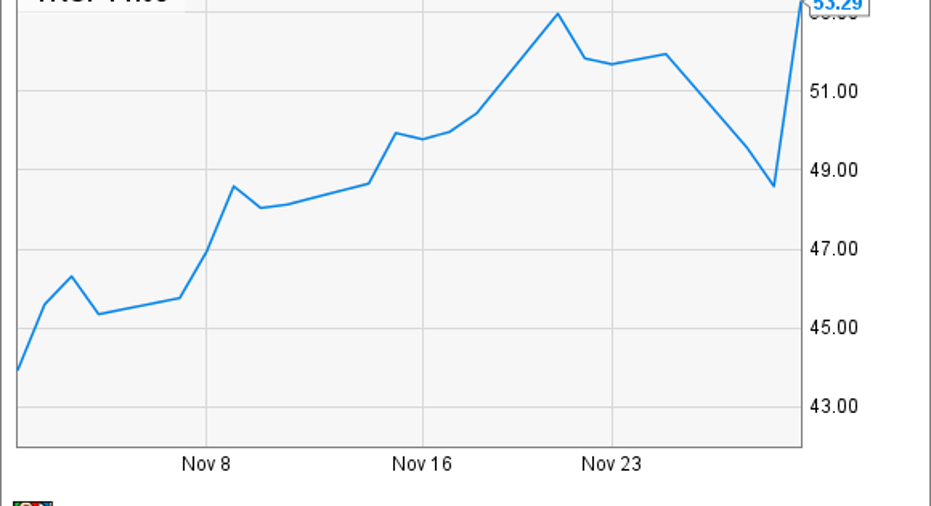 Image source: Getty Images.
What happened
Shares of Targa Resources (NYSE: TRGP) gained 21% November. The three largest reasons for the gains were an earnings announcement and industrywide jumps thanks to the election of Donald Trump as president and OPEC saying it will cut production.
So what
The news of Trump's election and OPEC's production cuts gave the industry a big boost this past month. Trumps campaign promised nixing regulations that are, in his words, "harming business." For oil and gas, that could mean more federal land open for drilling and an easier time for pipeline companies such as Targa to get regulatory approval for new work. The OPEC production cuts, on the other hand, could potentially support higher prices that would motivate companies to drill more, which in turn should increase volumes across Targa's pipeline, storage, and processing network.
For investors, though, it's important to keep in mind that these are plausible scenarios that have yet to play out. It's entirely possible that those production cuts won't come to be. Even with a more favorable regulatory environment, lower prices for oil and natural gas would continue to temper total production in the U.S.
Investors should be most focused on the company's most recent earnings announcement. In it, its results weren't great as it missed both top- and bottom-line analyst expectations, but management's outlook for the fourth quarter made things look much better. One example that CEO Joe Bob Perkins mentioned was that liquid petroleum gas export volumes were lower than expected but export activity between the end of the quarter on Sept. 30 and the conference call on Nov. 2 was more than enough to offset third-quarter weakness.
As a result, the company expects to exceed guidance for export volumes and its dividend coverage ratio is supposed to land in the 1.2 times range, a rather healthy number that should give the company some cash to spend on new capital projects or to trim its debt load.
Now what
Getting back on track with strong cash generation will help it to rebuild after a tough couple of years. The company consolidated by buying out the outstanding shares of its former master limited partnership a little over a year ago to lower its cost of capital and help it grow, but its project backlog has been drying up fast. While the company has an OK balance sheet and growing cash flows are supporting its dividend payments, it will need to find some new growth opportunities if it wants to put that lowered cost of capital to work.
Targa is on a more stable footing as of late, which is a remarkable achievement considering the oil and gas environment of the past year. The question now is whether it can find that next wave of growth in the oil patch. If it can't do that, then it won't matter who is the president or what the OPEC nations do.
10 stocks we like better than Targa Resources When investing geniuses David and Tom Gardner have a stock tip, it can pay to listen. After all, the newsletter they have run for over a decade, Motley Fool Stock Advisor, has tripled the market.*
David and Tom just revealed what they believe are the 10 best stocks for investors to buy right now... and Targa Resources wasn't one of them! That's right -- they think these 10 stocks are even better buys.
Click here to learn about these picks!
*Stock Advisor returns as of Nov. 7, 2016
Tyler Crowe has no position in any stocks mentioned.You can follow him at Fool.comor on Twitter@TylerCroweFool.
The Motley Fool has no position in any of the stocks mentioned. Try any of our Foolish newsletter services free for 30 days. We Fools may not all hold the same opinions, but we all believe that considering a diverse range of insights makes us better investors. The Motley Fool has a disclosure policy.