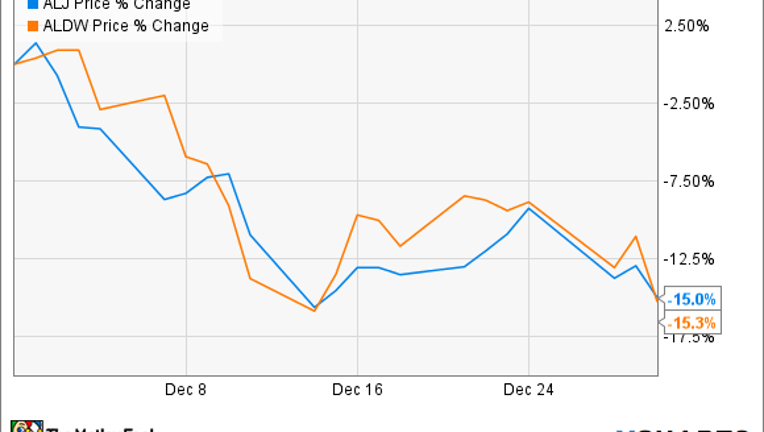 What: Shares of Alon USA Energy fell 15% in December, mostly on the back of the announcement that Congress had lifted the ban on exporting crude from the United States. At the same time, Alon USA Partners -- Alon Energy's midstream subsidiary -- also declined 15%.
So What: One of the small things that didn't get a whole lot of attention over the past couple of years was the fact that domestic crude oil was priced at a pretty significant discount to international benchmark prices, giving refiners like Alon a nice boost to margins. Now that Congress has lifted the ban on exporting crude oil, though, chances are that the price difference between the two will decline.
The reason this hits both Alon and Alon Partners is that both entities have refining assets. Alon USA Energy has dropped down its Big Springs refinery in Texas to Alon Partners along with its wholesale & marketing assets.
Now What: Losing that bit of margin on cheaper domestic crude will certainly not help Alon Energy or Alon Partners, but it's not necessarily the end of the world, either. Alon USA Partners' refinery is right in the middle of the Permian Basin in Texas, so it gets the benefit of lower crude costs from less transportation. Also, a large portion of Alon Energy's refining capacity is in California, which benefits from higher refined product prices despite the higher crude costs.
Both Alon Energy and Alon Partners outpaced the boarder market in 2015, and did immensely better than the rest of the energy sector. As long as crude prices stay low, Alon USA Energy and Alon USA Partners could continue to do well into 2016.
The article Here's Why Shares of Alon USA Energy Declined 15% in December originally appeared on Fool.com.
Tyler Crowe has no position in any stocks mentioned. The Motley Fool has no position in any of the stocks mentioned. Try any of our Foolish newsletter services free for 30 days. We Fools may not all hold the same opinions, but we all believe that considering a diverse range of insights makes us better investors. The Motley Fool has a disclosure policy.
Copyright 1995 - 2016 The Motley Fool, LLC. All rights reserved. The Motley Fool has a disclosure policy.