Here's Why Seadrill Ltd, Noble Corporation, and Diamond Offshore Drilling Inc Shares Are Up Over 15% Today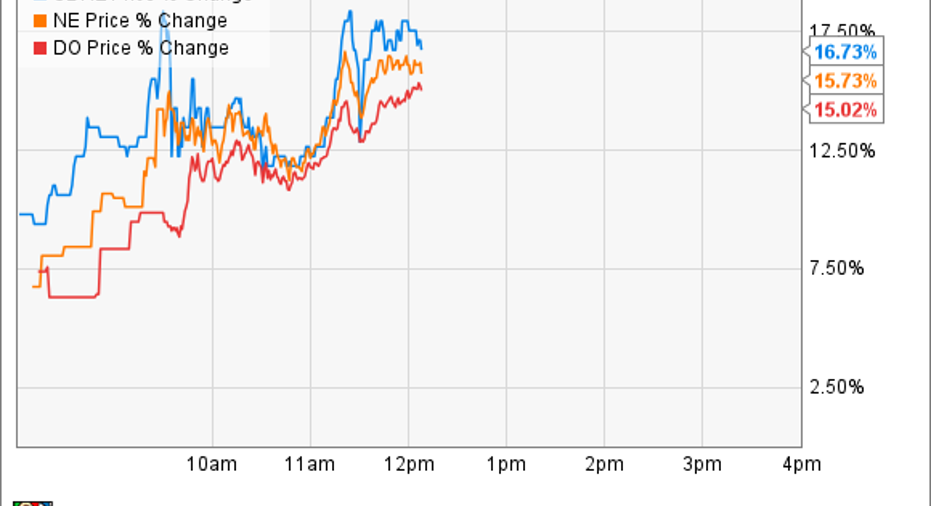 OPEC's production cut is a start, but there are still too many of these vessels operating. Image source: Getty Images.
What happened
Shares of offshore drillersSeadrill Ltd(NYSE: SDRL), Noble Corporation Ordinary Shares(NYSE: NE),and Diamond Offshore Drilling Inc(NYSE: DO) are up more than 15% at 12:11 p.m. EST on Nov. 30:
SDRL Price data by YCharts.
So what
What a difference a single piece of news can make. According to a number of sources, OPEC has agreed to cut oil production by 1.5 million barrels per day. This would be a major step toward restoring the balance of supply and demand in global oil markets, which have been flooded with an oversupply for years, while demand growth has been weak amid an oil boom in North America that has shifted the balance of power to some degree.
Adding to the potential good news for oil prices, Rigzone reported that Russia, one of the top global oil producers and not an OPEC member, is considering cutting its production if a deal with the organization is actually formalized.
Now what
There are three important things investors must consider:
First, as much as it seems likely that OPEC will indeed reach some agreement on supply cuts, the cartel hasn't actually announced a formal agreement. And until OPEC formally announces production cuts, all bets are off.
Second, North American shale has become the "swing producer." If domestic producers choose to ramp up production, the move would bring oil prices back down.
Third, offshore drillers will almost certainly be the last to benefit from any oil price recovery.
Furthermore, all three of these companies are heavily indebted and without substantial cash assets:
SDRL Total Long Term Debt (Quarterly) data by YCharts.
Of the three, Seadrill is certainly in the most exposed position. The company has more than $3 billion in long-term debt due in the next 12 months, with $2.4 billion of that due by mid-2017.
Noble Corp, on the other hand, has less than $300 million in current debt and $2.9 billion in available liquidity on its revolving credit facility. Noble Corp has idled 10 of its vessels, and has another eight either already off contract or with contracts expiring before August 2017.
Diamond Offshore has the smallest debt load and smallest cash position, only owes $182 million in short-term debt, and has a relatively robust $4.1 billion backlog. The company has also already gone through a significant idling of its fleet and has all but three of its currently active vessels under contract through late 2017.
Bottom line: News that OPEC has reached agreement on production cuts is a far cry from oil markets actually stabilizing and seeing oil prices rise in a sustained way. And until this plays out further, it's really not clear how -- or even if -- offshore drillers will benefit.
The bigger issue for offshore drillers remains an oversupply of active vessels, compounding the lack of new drilling activity. A lot of older vessels have been scrapped in the past year, but more work on that front will need to happen, in addition to a rebound in offshore investment by producers, before the prospects improve for these companies.
Factor in the significant debt loads and steadily falling revenues as contracts expire, and things could get worse for the most exposed, like Seadrill, before they get better. Invest accordingly.
10 stocks we like better than Seadrill When investing geniuses David and Tom Gardner have a stock tip, it can pay to listen. After all, the newsletter they have run for over a decade, Motley Fool Stock Advisor, has tripled the market.*
David and Tom just revealed what they believe are the 10 best stocks for investors to buy right now... and Seadrill wasn't one of them! That's right -- they think these 10 stocks are even better buys.
Click here to learn about these picks!
*Stock Advisor returns as of November 7, 2016
Jason Hall owns shares of Seadrill. The Motley Fool has no position in any of the stocks mentioned. Try any of our Foolish newsletter services free for 30 days. We Fools may not all hold the same opinions, but we all believe that considering a diverse range of insights makes us better investors. The Motley Fool has a disclosure policy.