Here's Why Restaurant Brands International Inc. Gained 11.4% in March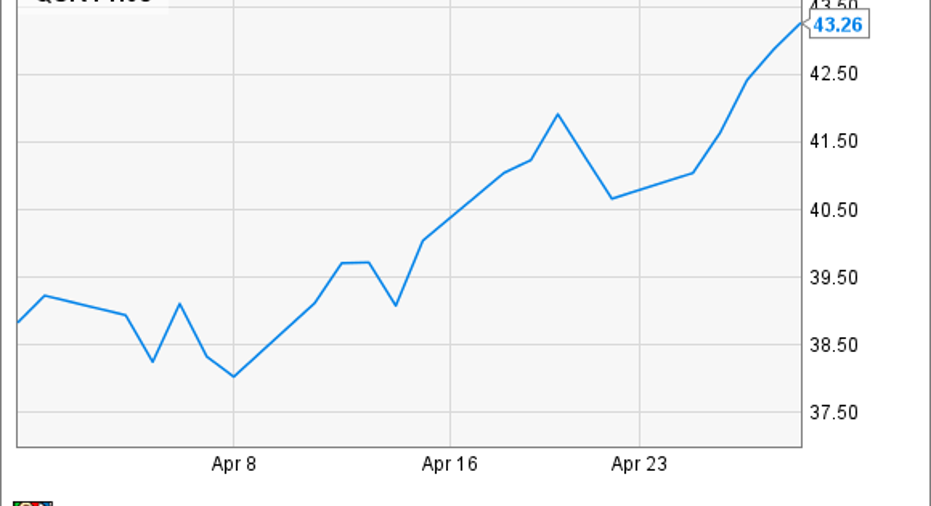 Restaurants Brands International , the parent company of Burger King and Tim Horton's, had a solid start to its year, and you can partially thank the humble hot dog.
What: It seems silly that it took so long for a fast-food chain built around "flame-grilled" products to properly make a go of it with a hot dog line, but that's what happened. Burger King added its Grilled Dogs line on Feb. 23, about five weeks before its quarter closed. That introduction was an instant success and likely part of the reason RBI delivered such strong results in Q1.
Hot dogs don't get all of the credit -- the stock jumped even higher after earnings were reported April 28, but the positive feelings created by the new offering clearly fueled the company's share price in April. RBI stock closed at $38.83 before ending the month on April 30 at $43.26, an 11.4% jump, according to data provided by S&P Global Market Intelligence.
Image source: YCharts.com.
So what: Hot dogs may have built optimism, but the company proved worthy when it actually reported on April 28. Both of the company's brands performed well in the quarter, with Tim Horton's posting a 5.6% increase in comparable sales and Burger King delivering a 4.6% increase. Overall systemwide sales grew 7.9% at the coffee chain and 10% at RBI's burger outfit.
"Innovative product launches and continued expansion of our global footprint drove favorable comparable sales and systemwide sales growth for the quarter," said CEO Daniel Schwartz in the earnings release. "We believe our focused approach on delivering a great guest experience and growing franchisee profitability will support long-term, sustainable value for our guests, franchisees, employees and shareholders."
Now what: While both RBI brands have been doing well, it's likely to only get harder from here. Burger King operates in a space where there is constant pressure to produce the next big thing. Grilled Dogs meets that need for now, but it won't be long before consumers want something fresh. The same isn't exactly true in the coffee and doughnuts market for Tim Horton's, but competition in that space continues to get stronger as it comes not just from cafe chains, but also convenience stores and fast-food eateries.
The article Here's Why Restaurant Brands International Inc. Gained 11.4% in March originally appeared on Fool.com.
Daniel Kline has no position in any stocks mentioned. He has never tried a fast food hot dog. The Motley Fool has no position in any of the stocks mentioned. Try any of our Foolish newsletter services free for 30 days. We Fools may not all hold the same opinions, but we all believe that considering a diverse range of insights makes us better investors. The Motley Fool has a disclosure policy.
Copyright 1995 - 2016 The Motley Fool, LLC. All rights reserved. The Motley Fool has a disclosure policy.