Here's Why Regeneron Pharmaceuticals, Inc. Jumped 9.4% in November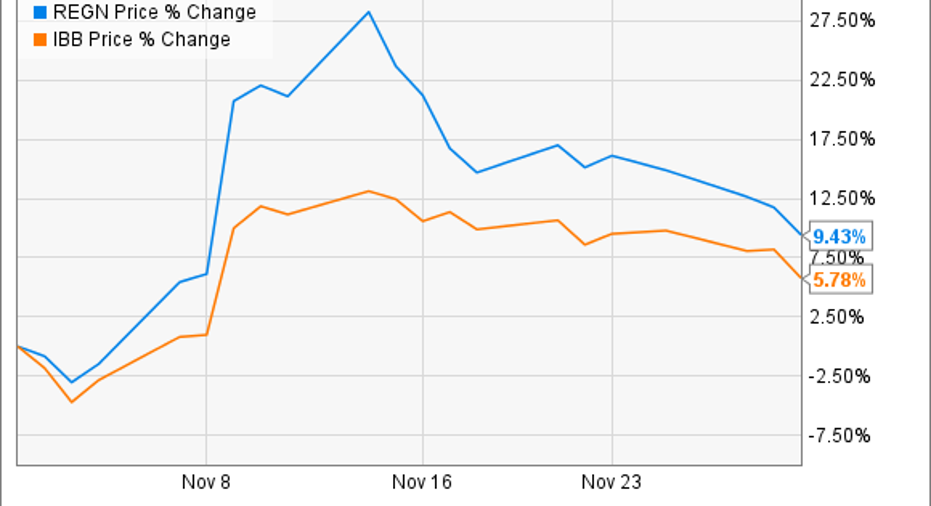 Image source: Getty Images.
What happened
Shares of biotech giant Regeneron Pharmaceuticals (NASDAQ: REGN) rose more than 9% in November, according to data fromS&P Global Market Intelligence. That move significantly outpaced the 6% gain of the iShares Nasdaq Biotechnology ETF (NASDAQ: IBB).
So what
Beyond the general rally in thebiotechsector caused by the surprise election of Donald Trump, shares of Regeneron reacted favorably to the release of the company's third-quarter earnings.Here's a look at a few of the highlights from the report:
Revenue jumped 7% to $1.22 billion.
Non-GAAP earnings grew 32% to $3.13 per share, which was far ahead of $2.71 that Wall Street had projected.
Sales of top-selling eye disease drug Eylea rose 16% year over year to $854 million.
Regeneron's partnerSanofi (NYSE: SNY) reported that sales of its cholesterol-busting drugPraluent jumped to $38 million in the quarter. That was more than it sold in the first and second quarters of 2016 combined.
In addition to earnings, the companyalso had two other positive announcements to share with investors in November.
First, CEO Leonard Schleifer and Chief Scientific Officer George Yancopoulos were named National Life Sciences Entrepreneurs of the Year by Ernst & Young.
Second, an independent Data Monitoring Committee (DMC) recommended that the company's ODYSSEY OUTCOMES trial should continue as planned. This trial isdesigned to measure the change in cardiovascular events in high-risk patients who use Praluent. This recommendation was made in response to the DMC performing a planned interim analysis of the trial.
All in all, it was a month filled with positive news, so it is no surprise to see that shares rose so much during the month. That's especially true when you remember that the stock dropped by double digits in October.
Now what
Looking ahead, there are plenty of upcoming events for shareholders to look forward to.
First, Regeneron and Sanofi are expecting a Food and Drug Administration decision on their monthly dosing option for Praluent on Jan. 24, 2017, as well as data from theODYSSEY OUTCOMES trial in late 2017. If the trial shows that using Praluent helps to lower the risk of cardiovascular events, then sales will likely surge.
Second, the two companies should also receive a go/no-go decision from the agency about Dupixent (dupilumab), an atopic dermatitis drug, in late March. This drug is believed to hold blockbuster potential, so a positive decision would likely send shares soaring.
Finally, investors can look forward to RegeneronandSanofi announcing their resubmission of sarilumab in the coming months as a hopeful treatmentof rheumatoid arthritis. The FDA had previously rejected the two companies' application due to manufacturing issues that were identified in one of Sanofi's plants in France. Fixing the issues and resubmitted the drug for regulatory review remain a top priority for both companies.
Overall, the long-term bull case for Regeneron continues to look strong. With shares currently down more than 30% from their 52-week highs, right now could be a great time to consider joining meas a shareholder.
10 stocks we like better than Regeneron Pharmaceuticals When investing geniuses David and Tom Gardner have a stock tip, it can pay to listen. After all, the newsletter they have run for over a decade, Motley Fool Stock Advisor, has tripled the market.*
David and Tom just revealed what they believe are the 10 best stocks for investors to buy right now... and Regeneron Pharmaceuticals wasn't one of them! That's right -- they think these 10 stocks are even better buys.
Click here to learn about these picks!
*Stock Advisor returns as of Nov. 7, 2016
Brian Feroldi owns shares of Regeneron Pharmaceuticals.Like this article? Follow him onTwitter where he goes by the handle@Longtermmindsetor connect with him on LinkedIn to see more articles like this.
The Motley Fool has no position in any of the stocks mentioned. Try any of our Foolish newsletter services free for 30 days. We Fools may not all hold the same opinions, but we all believe that considering a diverse range of insights makes us better investors. The Motley Fool has a disclosure policy.