Here's Why Regeneron Pharmaceuticals Inc Is Down 35% This Year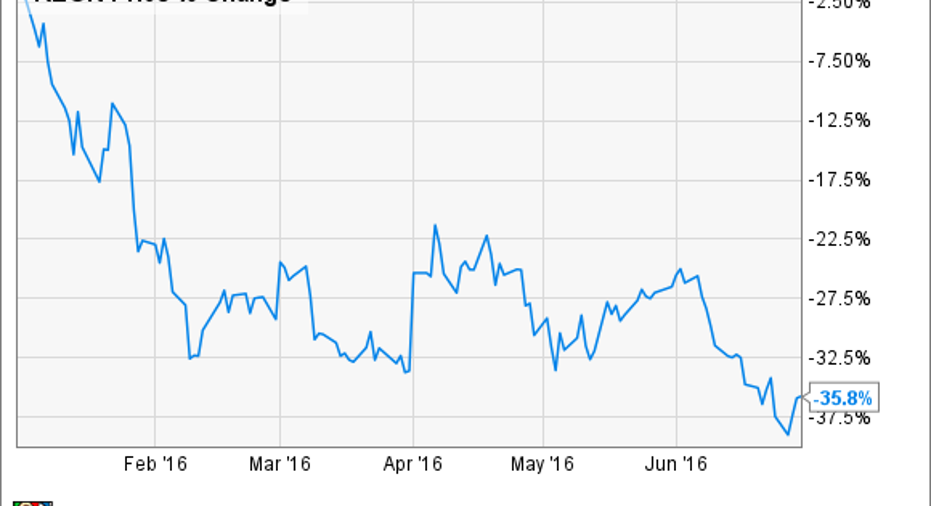 Image source: Regeneron Pharmaceuticals.
What:2016 has been rough on shareholders ofRegeneronPharmaceuticals. The company's stock has surrendered more than 35% of its value since the start of the year, according to data fromS&P Global Market Intelligence.
So what:The year so far has been full of both positive and negative developments that pushed the company's shares in one direction or the other. Here's a recap of the year's top headlines:
Regeneron Pharmaceuticals and its collaboration partner Sanofi reported encouraging data from a phase 3 study involving their experimental compound Sarilumab. The study showed that the drug outperformed AbbVie's megablockbuster drug Humira at treating patients with active rheumatoid arthritis.
The company reported positive resultsfrom a phase 2/3 study using its experimental drug Fasinumab as a treatment for pain related to osteoarthritis. Data showed that all tested doses usingFasinumab significantly outperformed placebo in improvement pain relief.
Regeneron and Sanofi reported encouraging data from two phase 3 trials testing Dupilumab's ability to treat moderate to severe atopic dermatitis. Patients who used Dupilumab showed animprovement in skin clearing, itching, mental health, andoverall disease severity. The company affirmed that it's on track for a third-quarter regulatory submission.
The company inked a collaboration deal with the privately heldIntellia Therapeutics to enter the excitingnew gene editing field called CRISPR.
On a clinical basis, the company is having agreat year, but traders are far more focused on three recent negative developments:
First, a U.S. District Court ruled that the company's new cholesterol-busting drug Praluent infringes on two patents held by its main rival, Amgen. Damages have yet to be announced, but Amgen is calling for Praluent to be removed from the market completely.
Second, Regeneron is forecasting that U.S. sales of its best-selling drug, Eylea, will grow between 20% to 25% for the full year. That's a solid number in absolute terms, but it's a big deceleration from last year's torrid growth figures.
Finally, sales of Praluent are off to a slowstart.
Add in the fact that the company's shares have historically traded for a premium price, and it's not hard to understand why shares have cratered so far this year.
Now what:Biotech stocks in general have been sold off hard since the start of the year, so perhaps it's not surprising to see that Regeneron's shares have struggled. Despite the weakness, I think there are plenty of reasons to be bullish on the stock from here.
For one, Regeneron's management team has a history of under-promising and over-delivering, so it's possible they're being conservative with Eylea sales guidance. In addition, cardiovascular outcomes data will be available for Praluent in the next few quarters, which could help spur demand. In addition, Sarilumab and Dupilumab both look as if they'll be winners, and both could be on the market by the end of 2017.
That's a lot of potential growth for a company trading for about 21 times next year's estimated earnings. Investors with a long-term time horizon might want to consider picking up a few shares while the market remains skeptical of its chances of success.
The article Here's Why Regeneron Pharmaceuticals Inc Is Down 35% This Year originally appeared on Fool.com.
Brian Feroldi has no position in any stocks mentioned.Like this article? Follow him onTwitter where he goes by the handle@Longtermmindsetor connect with him on LinkedIn to see more articles like this.The Motley Fool owns shares of Regeneron Pharmaceuticals. Try any of our Foolish newsletter services free for 30 days. We Fools may not all hold the same opinions, but we all believe that considering a diverse range of insights makes us better investors. The Motley Fool has a disclosure policy.
Copyright 1995 - 2016 The Motley Fool, LLC. All rights reserved. The Motley Fool has a disclosure policy.