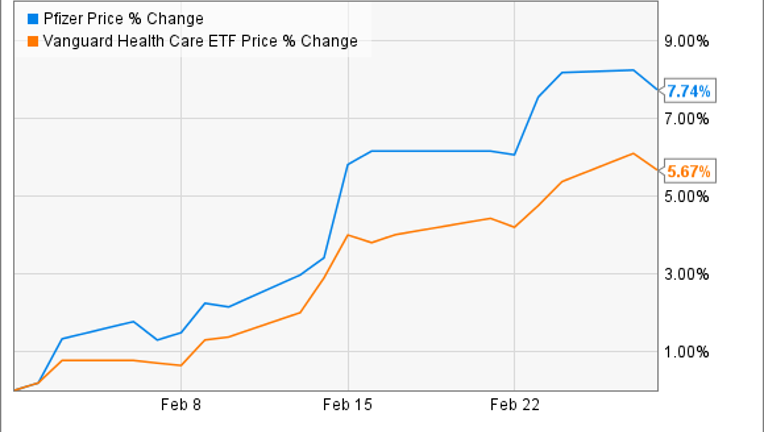 What happened
According to data fromS&P Global Market Intelligence, shares of Pfizer (NYSE: PFE)gained 7.7% in February. The move has added more than $11 billion to the pharma giant's market capitalization.
So what
Pfizer showered investors with a number of positive announcements during the month that helped to nudge its stock higher. Here's a review of the most important announcements from the period:
Top-line results from a study comparing its rheumatoid arthritisdrug Xeljanz to AbbVie's Humira showed that Xeljanz in combination with methotrexate met its primary endpointin demonstrating non-inferiority versus Humira in combination withmethotrexate.
Pfizer and partnerCelltrion Healthcare presented dataat the annual Congress of the European Crohn's and Colitis Organisation. The data showed that Inflectra -- Pfizer's biosimilar version of Johnson & Johnson's megablockbuster drug Remicade --showed similar efficacy and safety in treating Crohn's disease when compared toRemicade.
Its FDA Biologics License Application, or BLA, for inotuzumab ozogamicin has been accepted for review. This drug has been granted Priority Review by the agency as a treatment for relapsed or refractory B-cell precursor acute lymphoblastic leukemia. A decision date is expected by August 2017.
According to Pfizer and partner Merck, a second BLA has been accepted by the FDAfor Priority Review of avelumab as a hopeful treatment forurothelial carcinoma. A decision is also expected in August of this year.
Image source: Getty Images.
When you add this string of positive developments to the general rise in the healthcare sector -- as measured by the Vanguard Health Care ETF-- it is easy to understand why shares rallied in February.
Now what
Pfizer's management team is projecting that 2017 will be another year of growth. Revenue is expected to land between $52 billion and $54 billion while adjusted earnings per share is forecasted to fall in the range of $2.50 to $2.60. While the midpoint of this range represents a small bump from the $52.8 billion in revenue and $2.40 in adjusted profits recorded in 2016, it's growth nonetheless. It's also worth pointing out that this forecast reflects the upcoming disposition of its Hospira Infusion Systems business and a negative hit from currencies. Absent these charges, the growth rates would be quite a bit higher.
All in all,Pfizer continues to look well positioned to post modest EPS growth in the years ahead. With shares trading for less than 14 times full-year earnings estimates and offering up a dividend yield of 3.7%, Pfizer remains a solid choice for healthcare investors who eschew risk.
10 stocks we like better than PfizerWhen investing geniuses David and Tom Gardner have a stock tip, it can pay to listen. After all, the newsletter they have run for over a decade, Motley Fool Stock Advisor, has tripled the market.*
David and Tom just revealed what they believe are the 10 best stocks for investors to buy right now... and Pfizer wasn't one of them! That's right -- they think these 10 stocks are even better buys.
Click here to learn about these picks!
*Stock Advisor returns as of February 6, 2017
Brian Feroldi has no position in any stocks mentioned. The Motley Fool owns shares of and recommends Johnson and Johnson. The Motley Fool has a disclosure policy.