Here's Why Organovo Holdings Inc. Vaulted 11% in November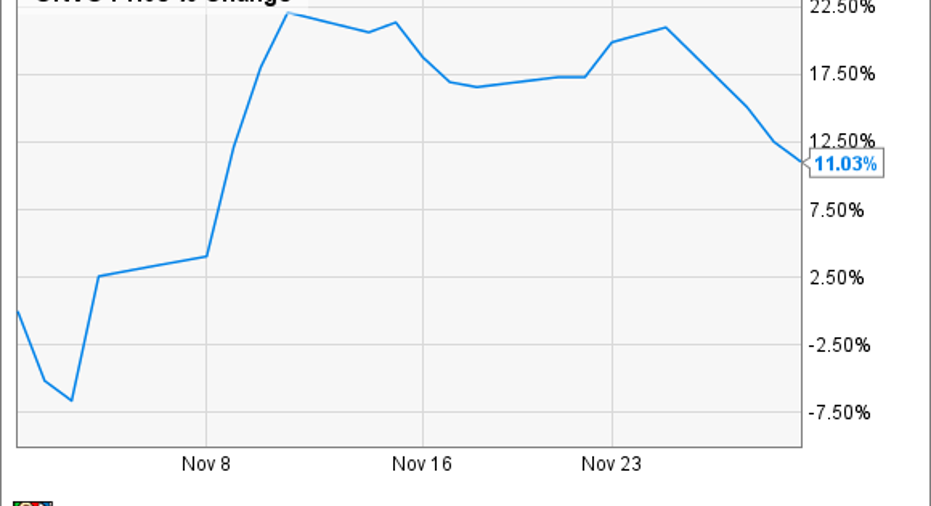 Image source: Getty Images.
What happened
Shares of Organovo Holdings (NASDAQ: ONVO), a small-cap company focused on 3D bioprinting and tissue engineering, rose11% in November, according to data fromS&P Global Market Intelligence.
So what
Organovo's shares were off to a good start after the company reported results from its fiscal second quarter. Here's a look at the highlights from the report.
Revenue grew 358% over the year-ago period to $1.4 million. Included in that total was $400,000 in collaborations and grant revenue received by pharma giant Merck.
Net loss was$9.4 million, or$0.10per share. That was an improvement over the $11.3 million loss that was reported in the same quarter last yearand was slightly better than the $0.11 loss that Wall Street had expected.
Ten of thetop 25 global pharmaceutical companies are now using Organovo's products.
Organovo's new ExVive Human Kidney Tissue service is doing well so far. Management said that it received "multiple orders" since it launched two months ago, two of which came from top 25 global pharma companies.
The company ended the quarter with $51.7 million in cash, but that figure doesn't include the roughly $25 million generated from a recently completed secondary offering.
Management also reaffirmed its fiscal-year 2017 outlook in the report, which calls for the following:
Finally, CEO Keith Murphy issued an even more bullish outlook when he presented at the Piper Jaffray Healthcare Conference at the end of the month. Murphy stated that he believes the Organovo will be able to grow at triple-digit rates for years to come.
Add all of the above to the general rally in the biotech sector from the surprise election of Donald Trump, and it is easy to see why shares rose in November.
Now what
The prospect of triple-digit sales growth for the foreseeable future is certainly quite exciting. It might not even be all that hard to pull off given the positive start for the company's ExVive Human Kidney Tissue service. With its partnership with Merck and a balance sheet that is flush with cash, no wonder investors are feeling bullish.
Then again, Organovo has always been long on potential, but financial results had always been tepid at best. Even assuming strong growth into next year, the company is only projecting about $5 million in total. With a current market cap that exceeds $330 million, Organovo's price-to-sales ratio is currently in the stratosphere. That could be one reason why the company had to offer a discount on its shares in its recent dilutive offering to drum up enough demand for them.
In total, I continue to believe that Organovo is a fascinating company to watch, but it is far too speculative to warrant an investment. I'd be happy to change my tune once we have a sense for when profits could be on the horizon, but for now, I think that caution is the right move.
10 stocks we like better than Organovo Holdings When investing geniuses David and Tom Gardner have a stock tip, it can pay to listen. After all, the newsletter they have run for over a decade, Motley Fool Stock Advisor, has tripled the market.*
David and Tom just revealed what they believe are the 10 best stocks for investors to buy right now... and Organovo Holdings wasn't one of them! That's right -- they think these 10 stocks are even better buys.
Click here to learn about these picks!
*Stock Advisor returns as of Nov. 7, 2016
Brian Feroldi has no position in any stocks mentioned.Like this article? Follow him onTwitter where he goes by the handle@Longtermmindsetor connect with him on LinkedIn to see more articles like this.
The Motley Fool has no position in any of the stocks mentioned. Try any of our Foolish newsletter services free for 30 days. We Fools may not all hold the same opinions, but we all believe that considering a diverse range of insights makes us better investors. The Motley Fool has a disclosure policy.