Here's Why Omeros Corporation Stock Is Falling Today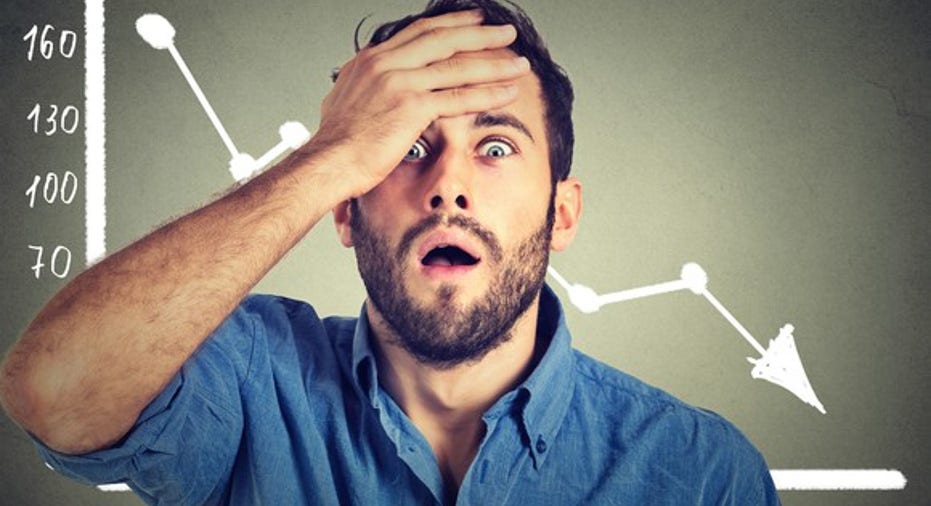 What happened
Shares of Omeros Corporation (NASDAQ: OMER), a rising star in the biotech industry, are losing altitude after the company reported first-quarter earnings today. The stock was down 16% earlier this morning, but just 11.4% lower than the previous day's closing price as of 11:40 a.m. EDT on Thursday.
So what
At the moment, Omeros' lead drug, Omidria, generates practically all its revenue. Sales of the first and only solution for preventing pupil constriction during cataract and lens replacement surgeries have soared in recent quarters, but might be tapering off. Although first-quarter Omidria revenue of $12.3 million was 69.2% higher than in the same period last year, it was $600,000 less than what was reported in the fourth quarter of 2016.
Image source: Getty Images.
In response, an analyst at Cantor Fitzgerald downgraded the stock to neutral. The downgrade carries a bit of extra weight as it comes from the same institution that underwrote a secondary offering of Omeros stock last summer.
Now what
Omeros blames wholesaler shipment schedules for softer-than-expected sales during the three-month period ended in March. According to management, wholesalers replenished their inventories with a $2.1 million Omidria purchase during the first week of April. Adding this figure to first-quarter Omidria sales would have turned the 5% sequential contraction into an 11% gain.
The analyst downgrade based on tapering Omidria sales looks like an overreaction, and it looks like bargain shoppers are responsible for the stock's partial recovery so far today. I thought the stock was one of the best biotech stocks to buy on sale a few weeks ago, and I'd say it's even deeper in value territory after today's slide.
Beyond Omidria, the company's lead new drug candidate, OMS721, is a potential first-in-class treatment for diseases that affect kidneys, includingatypical hemolytic uremic syndrome. Patients with aHUS have just one treatment option at the moment, Soliris, a drug that generated $2.8 billion in sales for Alexion Pharmaceuticalslast year.
If data from a late-stage clinical trial with OMS721 in aHUS fall in line with previous observations, you can be sure Omeros' recent market cap of about $626 million will dilate like a pupil in the dark.
10 stocks we like better than OmerosWhen investing geniuses David and Tom Gardner have a stock tip, it can pay to listen. After all, the newsletter they have run for over a decade, Motley Fool Stock Advisor, has tripled the market.*
David and Tom just revealed what they believe are the 10 best stocks for investors to buy right now... and Omeros wasn't one of them! That's right -- they think these 10 stocks are even better buys.
Click here to learn about these picks!
*Stock Advisor returns as of May 1, 2017
Cory Renauer has no position in any stocks mentioned. The Motley Fool has no position in any of the stocks mentioned. The Motley Fool has a disclosure policy.