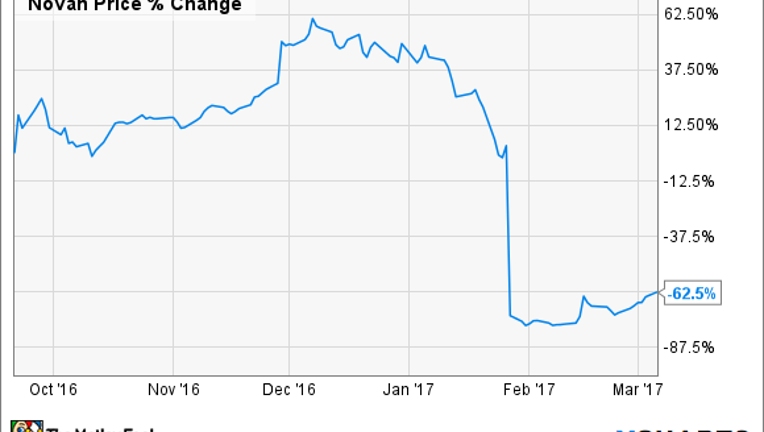 What happened
After the company announced its decision to proceed with development of its SB204 program,shares of Novan (NASDAQ: NOVN), a clinical-stage biotech focused on developing drugs used in dermatology, jumped by 10% as of 11:30 a.m. EST on Monday.
So what
In late January,Novanreported disappointing clinical results from two phase 3 trials that were testing its compound SB204 as a potential treatment for acne vulgaris. While SB204 was able to meet all three of its endpoints in its first trial, the compound only hit one of three co-primary endpoints in the second. That disappointing news caused shares to plunge by more than 75% in a single day.
Thankfully, management recently took a closer look at the results and had some good news to share. It now believes that its data is strong enough to warrant a pre-submission meeting with the Food and Drug Administration. The meeting is scheduled for the third quarter of this year, and if all goes well, a new drug application could be submitted by early 2018.
Image source: Getty Images.
Novan CEO Dr. Nathan Stasko stated: "The safety and tolerability of SB204 was evident from the trials conducted to date, and we look forward to moving ahead with the program."
Meanwhile, the company said that it has enough cash on hand to keep the doors open through the remainder of the year. However, management did say that a capital raise would be in the cards sometime soon and that it is currently looking at a number of options.
The news thatSB204 might still have a chance at finding its way to market has investors cheering today, hence today's rally.
Now what
While today's update is most certainly positive news for Novan's shareholders, there are ample reasons for investors to remain cautious. Novan's net loss through the first nine months of 2016 was more than $46 million. That's a run rate of more than $60 million annually, which is a massive number when compared to its current market cap of roughly $120 million. Even if everything goes perfectly for SB204 from here -- which is far from guaranteed -- the drug won't be on the market until 2019 at the earliest. That hints that multiple capital raises are on the horizon, which will be tough to pull off given the company's abysmal performance since its IPO.
The best-case scenario for Novan's shareholders might be for the company to team up with a deep-pocketed partner from the dermatology space to help it cover some of the costs of development. Allergan immediatelyjumps to mind as a natural fit, but investing in Novan based solely on the potential for a big partner to swoop in and save the day isn't a proposition that appeals to me. I'd suggest potential shareholders remain on the sidelines for the time being.
10 stocks we like better than Novan, Inc.When investing geniuses David and Tom Gardner have a stock tip, it can pay to listen. After all, the newsletter they have run for over a decade, Motley Fool Stock Advisor, has tripled the market.*
David and Tom just revealed what they believe are the 10 best stocks for investors to buy right now... and Novan, Inc. wasn't one of them! That's right -- they think these 10 stocks are even better buys.
Click here to learn about these picks!
*Stock Advisor returns as of February 6, 2017
Brian Feroldi has no position in any stocks mentioned. The Motley Fool has no position in any of the stocks mentioned. The Motley Fool has a disclosure policy.