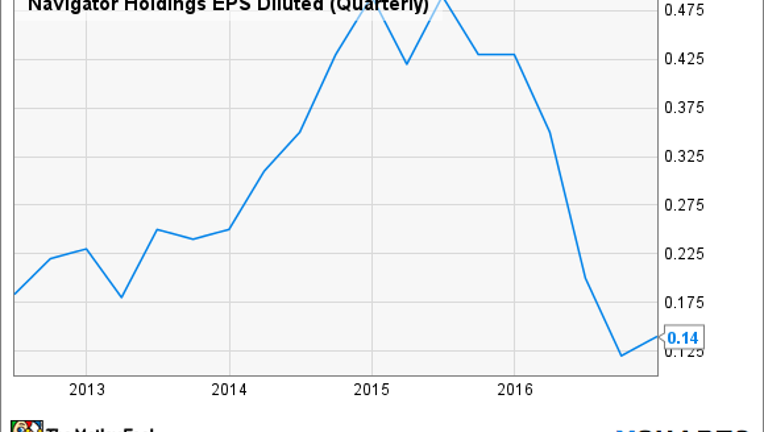 What happened
Shares ofNavigator Holdings Ltd(NYSE: NVGS) were up a very strong 25% in March 2017. This was the continuation of a very strong run that has the offshore shipper's stock up more than 51% through mid-April. Essentially all of the 25% gain in the company's stock price happened on March 2, following the release of the company's fourth-quarter and full-year 2016 financial and operating results after market close the prior day.
So what
Navigator Holdings shares jumped more than 27% on March 2, primarily driven by much better-than-expected profits. The company reported fourth quarter earnings of $7.6 million or $0.14 per share, which was more than double the consensus Wall Street analyst prediction of $0.06 per share from the company.This was also a sequential improvement for the company, which reported earnings of $0.12 per share in the third quarter.
Image source: Navigator Holdings.
Even with the sequential improvement and much better-than-expected profit, investors should note that Navigator Holdings' results are still down from 2015 and years before, as the offshore energy transportation market continues to work though a big oversupply of vessels which has driven down rates in recent years.
The company's average time charter equivalent rate, which measures how much it makes for each vessel working day, was $22,758, down from $30,282 in the year-before quarter.Fleet utilization -- a measure of the percentage of available days its fleet was actually working -- was 89.5%, down from 92.7% in 2015.
The good news is fleet utilization was slightly up sequentially, from 88.1% in the third quarter, though rates haven't begun to recover just yet.
Now what
Navigator Holdings' results may have turned a corner, but profits are still far down:
NVGS EPS Diluted (Quarterly) data by YCharts.
But if business conditions are starting to improve, which there was some sign of last quarter, there's reason to believe that profits could be set to recover. This is especially true with more natural gas and natural gas liquids export facilities scheduled to come online over the next several years, corresponding with the expansion of Navigator Holdings' fleet. The company will take delivery of a total of five newbuildings in 2017, which will increase its fleet to 38 vessels.
The company has also taken steps to improve its debt profile and lower expenses, recently issuing $100 million in unsecured bonds due in 2021 at 7.75% interest rate, paying off bonds set to expire at the end of the year, which were at a higher interest rate.
Trading at a price to earnings multiple of just over 17 and about 0.8 times book value at recent prices, Navigator Holdings appears to be reasonably priced, particularly if management can continue to navigate the weak pricing environment. But as gas export capacity builds, the current slight oversupply in vessels will balance out with market demand and charter rates will likely climb higher.If that happens as expected, the current price for Navigator Holdings could turn out to be a steal in a few years' time.
10 stocks we like better than Navigator HoldingsWhen investing geniuses David and Tom Gardner have a stock tip, it can pay to listen. After all, the newsletter they have run for over a decade, Motley Fool Stock Advisor, has tripled the market.*
David and Tom just revealed what they believe are the 10 best stocks for investors to buy right now...and Navigator Holdings wasn't one of them! That's right -- they think these 10 stocks are even better buys.
Click here to learn about these picks!
*Stock Advisor returns as of April 3, 2017.
Jason Hall has no position in any stocks mentioned. The Motley Fool has no position in any of the stocks mentioned. The Motley Fool has a disclosure policy.