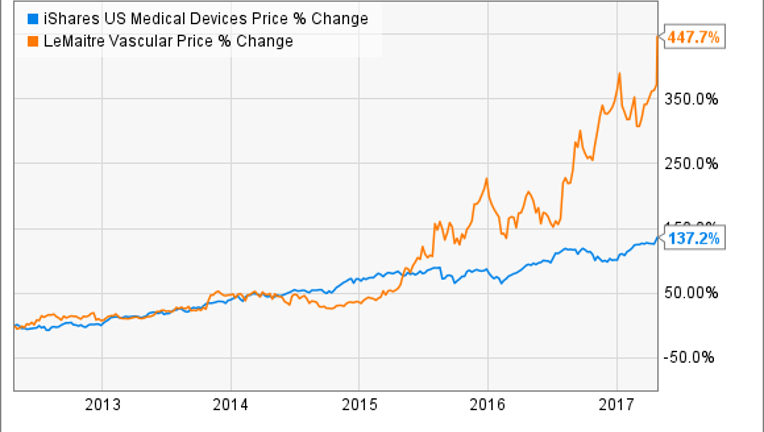 What happened
Shares ofLeMaitre Vascular(NASDAQ: LMAT), a provider ofvascular devices and services, rose 19% as of 12:34 p.m. EDT on Thursday after the company posted better-than-expected earnings.
So what
Here's a review of the key quarterly highlights that got investors excited:
Revenue jumped 19% to$24.1 million.
Gross margin expanded by 100 basis points to 71.9%.
Net income soared 49% to $3.2 million.
Earnings per share rose 42% to $0.16.
LeMaitre Vascular ended the quarter with$25.8 million in cash.
By contrast, Wall Street was only expecting $23.5 million in revenue and $0.15 in EPS, so the company managed a beat on both.
Image source: Getty Images.
Looking ahead, management offered up the following bullish guidance for the second quarter of 2017:
Data source:LeMaitre Vascular.
For comparison,analysts were only projecting $25 million in revenue and $0.15 in EPS for the second quarter.
If that wasn't exciting enough, management also raised its 2017 full-year guidance:
Data source:LeMaitre Vascular.
These numbers also compare favorably to the$99 million in revenue $0.66 in EPSthat Wall Street was expecting for 2017.
Given the quarterly beat and optimistic forecast, it is easy to understand why shares are soaring today.
Now what
CEO George LeMaitre kept it simple with his commentary, stating, "We continue to pursue 10% annual reported sales growth and 20% annual operating income growth." Thus far he has been quite successful at producing those results, which is a big reason why his company's stock has utterly smashed the iShares Dow Jones US Medical Device ETFover the past few years.
If LeMaitre can continue to deliver on its stated goals, thenit wouldn't surprise me one bit to see this stock continue to outperform from here.
10 stocks we like better than LeMaitre VascularWhen investing geniuses David and Tom Gardner have a stock tip, it can pay to listen. After all, the newsletter they have run for over a decade, Motley Fool Stock Advisor, has tripled the market.*
David and Tom just revealed what they believe are the 10 best stocks for investors to buy right now... and LeMaitre Vascular wasn't one of them! That's right -- they think these 10 stocks are even better buys.
Click here to learn about these picks!
*Stock Advisor returns as of April 3, 2017
Brian Feroldi has no position in any stocks mentioned. The Motley Fool has no position in any of the stocks mentioned. The Motley Fool has a disclosure policy.