Here's Why Kite Pharma's Stock Caught a Cold in December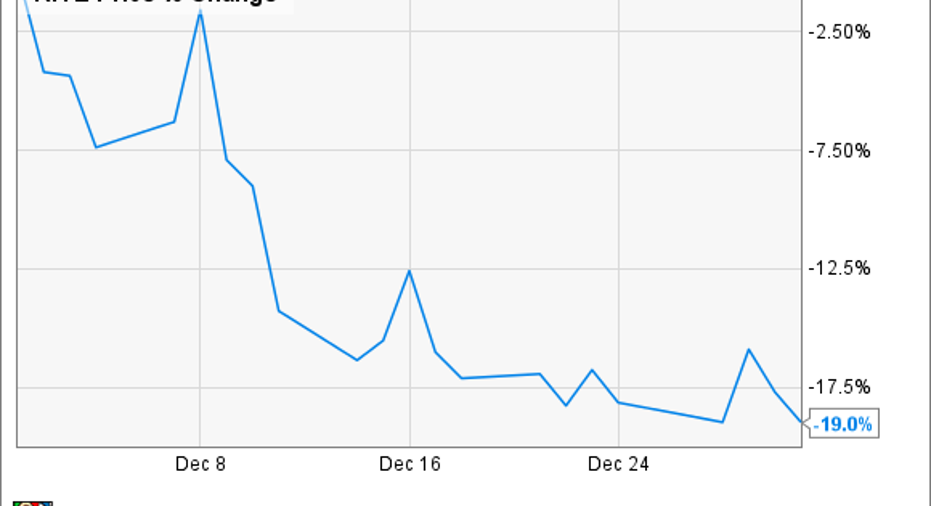 What: Shares of the clinical-stage cancer immunotherapy company Kite Pharma dropped 19% last month, according to data provided by S&P Capital IQ. The apparent catalyst behind this downward move was a public offering to the tune of $250 million that closed on Dec. 15.
So what: Public offerings that dilute early shareholders are a common practice among the developmental-stage biotech crowd, especially ones pursuing a super aggressive approach to building out their platform like Kite. Unfortunately, this offering came on the heels of the positive news that the company is in the process of launching a pivotal-stage trial for its lead clinical candidateKTE-C19 as a potential treatment for relapsed or refractory acute lymphoblastic leukemia (ALL) in children and young adults -- essentially killing the stock's upward momentum at the start of the month.
Now what: Kite is in a heated race to bring a modified T-cell therapy to market with Juno Therapeutics for ALL, among other indications in the multibillion dollar hematology space. However, Kite and Juno's competing therapies have both run into issues regarding their safety due to cases ofcytokine release syndrome and neurotoxicity popping up in clinical studies.
While these two leading names in the modified T-cell arena have both suggested that these safety issues are manageable, it's worth noting that there are several other emerging players in this field with perhaps less risky platforms in development that incorporate potent "suicide switches." Put simply, Kite and Juno may turn out to be among the first to market if their drugs are approved, but there are almost certainly going to face still competition -- if this novel approach to fighting cancer ultimately lives up to expectations.
The article Here's Why Kite Pharma's Stock Caught a Cold in December originally appeared on Fool.com.
George Budwell has no position in any stocks mentioned. The Motley Fool recommends Juno Therapeutics. Try any of our Foolish newsletter services free for 30 days. We Fools may not all hold the same opinions, but we all believe that considering a diverse range of insights makes us better investors. The Motley Fool has a disclosure policy.
Copyright 1995 - 2016 The Motley Fool, LLC. All rights reserved. The Motley Fool has a disclosure policy.