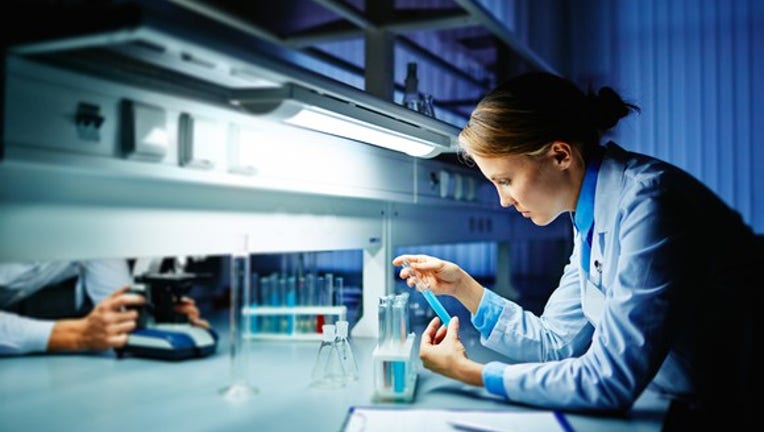 What happened
Shares of Intra-Cellular Therapies (NASDAQ: ITCI), a clinical-stage biopharmaceutical company focused on the development of medicines to treat disorders of the central nervous system, were taken for a wild ride on Wednesday. After falling by as much as 20% in early-morning trading, Intra-Cellular Therapies moved up by as much as 13% toward the end of the day. The reason for its volatility can be traced to its fourth-quarter earnings release.
So what
For the fourth quarter, Intra-Cellular Therapies reported a net loss of $27.5 million, or $0.64 per share, which was slightly narrower than the $28.8 million loss, or $0.67 per share, that it announced in Q4 2015. The difference can be tied to a modest reduction in research and development (R&D) expenses to $21.2 million from $22.9 million. R&D costs fell, because the second phase 3 trial with lumateperone (formerly ITI-007) as a treatment for schizophrenia ended in the third quarter. Intra-Cellular's net loss wound up coming in $0.13 narrower than Wall Street had forecast.
Image source: Getty Images.
However, its net loss wasn't the big market mover. Clinical-stage biotech losses are notoriously hard to pinpoint, meaning the "beat" isn't really what investors were focused on. Instead, it was the corporate-pipeline update that sparked the waves of trading throughout the day.
The big update involved the announcement of a meeting with the Food and Drug Administration later this month to discuss the submission of a new drug application for lumateperone. For those who may not recall, Intra-Cellular's stock nosedived nearly 70% in one day back in September, after phase 3 results failed to show a statistically significant response in schizophrenia relative to the placebo. However, the company contends that it's not uncommon to see high placebo response rates, so it is pursuing a path forward for its experimental schizophrenia drug.
Additionally, Intra-Cellular announced the further development of its PDE-inhibitor program, with the expectation of initiating a phase 1/2 study involving ITI-214 in patients with Parkinson's disease within the next four months.
Image source: Getty Images.
Now what
Today's excitement clearly revolves around the potential for a path forward for lumateperone, as well as the expectation of knowing whether there's a future for the drug as a schizophrenia treatment by the end of the month at the latest. The drug's safety and tolerability have never been in question. The major uncertainty is whether the FDA will accept data that didn't meet the primary endpoint of the study for approval consideration.
Though Intra-Cellular Therapies does have a number of ongoing clinical and preclinical trials, its schizophrenia program is by far its furthest along. If there winds up being no path forward in schizophrenia, it would be a notable setback for the company, and likely push out the time frame in which it would have the opportunity to bring an approved drug to market.
For the time being, my suggestion would be stick firmly to the sidelines.
10 stocks we like better than Intra-Cellular TherapiesWhen investing geniuses David and Tom Gardner have a stock tip, it can pay to listen. After all, the newsletter they have run for over a decade, Motley Fool Stock Advisor, has tripled the market.*
David and Tom just revealed what they believe are the 10 best stocks for investors to buy right now... and Intra-Cellular Therapies wasn't one of them! That's right -- they think these 10 stocks are even better buys.
Click here to learn about these picks!
*Stock Advisor returns as of February 6, 2017
Sean Williams has no position in any stocks mentioned. The Motley Fool has no position in any of the stocks mentioned. The Motley Fool has a disclosure policy.