Here's Why Intel Corporation's Data-Center Margins Tanked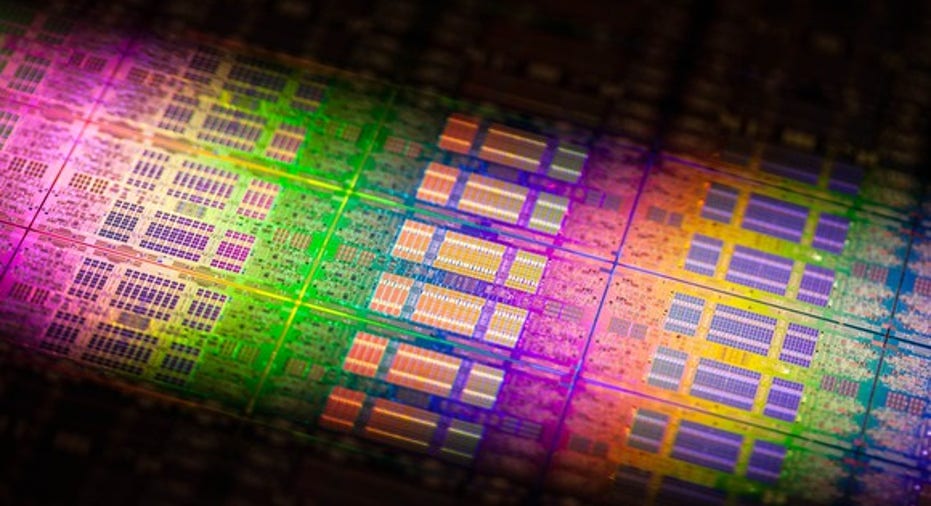 For quite a while, Intel's (NASDAQ: INTC)data-center group (DCG) has enjoyed an extremely high operating margin, often surpassing 50% in some quarters. However, in Intel's most recent quarter, DCG's operating-margin percentage fell to just 35.1% -- a 9-percentage-point drop year over year from approximately 44% a year earlier.
Absolute operating profit also dropped from $1.764 billion in the year-ago period to just $1.487 billion, even as revenue rose slightly from $4 billion to $4.23 billion.
Image source: Intel.
Why did Intel's DCG operating margin drop so much year over year last quarter? Will this figure improve in the coming quarters? Let's take a closer look.
Explaining the bulk of the drop
At Intel's February analyst day, the company talked about how it intends to transition its data-center chips to its new manufacturing technologies first. This is a notable change from how Intel previously handled manufacturing technology transitions; previously, the company's personal-computer chips would land on the new manufacturing technologies first and the data-center chips would follow.
SDCG will transition to next-generation manufacturing technologies first going forward, beginning with the company's 10-nanometer++ technology, according to comments from Intel DCG chief Diane Bryant. Therefore, DCG now takes on a larger portion of the development expenses associated with said manufacturing technologies.
CFO Robert Swan explained on the April 27 earnings call that 7 of the 9 lower percentage points in margin is attributable to that shift in expense allocation.
What about the rest?
There were two additional factors that Swan cited for the year-over-year drop in operating margin.The first was that the company saw "higher product costs" because the company's data-center processors are still transitioning away from older, more mature 22-nanometer chip manufacturing technology to the company's 14-nanometer technology. This transition has been going on for quite a while.
The second factor Intel cited was "the ramp of adjacency products." In other words, a higher proportion of Intel's DCG revenue came from non-processor products (e.g., silicon photonics, Omni-Path interconnect), which Intel management has previously said carry a lower gross profit margin than its processor products.
Taking a longer-term view
Swan reiterated on the call Intel's long-term operating margin target range for DCG of 40%-45% and explained that for the full year of 2017, Intel expects the business to deliver an operating margin percentage "at the lower end of that range."
Swan also explained that the company expects its operating-margin percentage in DCG to grow as the year progresses because of improvements in average selling prices, as well as product cost improvements, as its 14-nanometer technology continues to mature.
One thing investors should keep in mind, though, is that Intel is banking on non-processor products to continue to become an increasing portion of DCG's overall revenue mix. This is by no means a terrible thing, as these products are accretive to revenue and total gross-profit dollars, but this increased product diversification is one of the reasons Intel's DCG operating margin target range is now 40%-45% rather than the 45%-50% the company aimed for previously.
10 stocks we like better than IntelWhen investing geniuses David and Tom Gardner have a stock tip, it can pay to listen. After all, the newsletter they have run for over a decade, Motley Fool Stock Advisor, has tripled the market.*
David and Tom just revealed what they believe are the 10 best stocks for investors to buy right now... and Intel wasn't one of them! That's right -- they think these 10 stocks are even better buys.
Click here to learn about these picks!
*Stock Advisor returns as of April 3, 2017
Ashraf Eassa owns shares of Intel. The Motley Fool recommends Intel. The Motley Fool has a disclosure policy.