Here's Why ImmunoGen, Inc. Skyrocketed 45% in February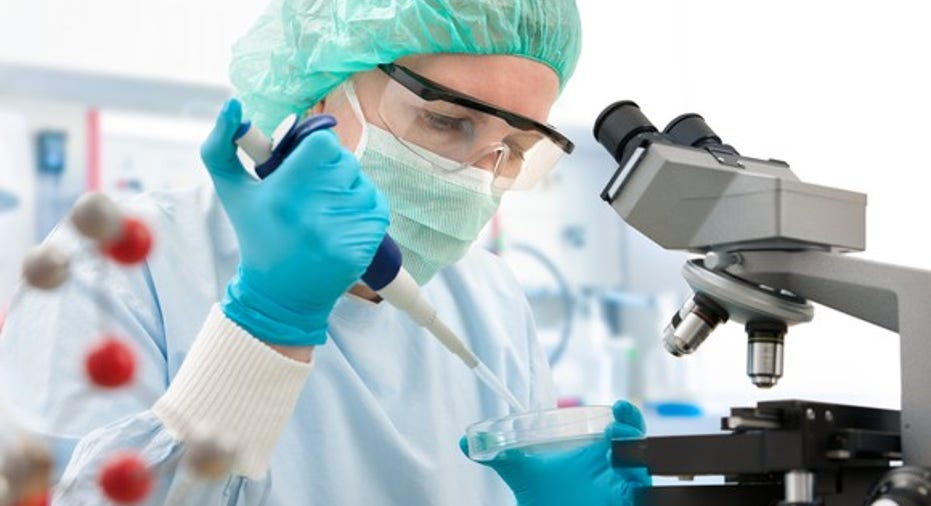 What happened
Shares of ImmunoGen (NASDAQ: IMGN), a small-cap biopharmaceutical company that utilizes its proprietary antibody-drug conjugate (ADC) technology to fight various forms of cancer, skyrocketed 45% during February, according to data from S&P Global Market Intelligence. Two factors appeared to play an integral role in ImmunoGen's solid performance.
So what
The lead catalyst in February was the expectation of new clinical data to stew over in the weeks that lie ahead. As my Foolish colleague Brian Orelli noted last month, investors may have been buying ahead of the Society of Gynecologic Oncology's Annual Meeting of Women's Cancer, which takes place next week. ImmunoGen is set to present additional phase 1 data from a select subset of patients who received its leading experimental drug, mirvetuximab soravtansine.
Image source: Getty Images.
Additionally, ImmunoGen is set to present nine abstracts at the American Association of Cancer Research annual meeting, which is being held in the first week of April. Clinical data is what turns the wheel for biotech investors, so they're clearly excited with the bounty of upcoming data they'll get to pore over.
Biotech stocks also benefited in February by a lack of discussion on drug-price reform from the White House. President Trump has a laundry list of reforms on his agenda, including in healthcare and tax policy. While drug pricing hasn't been completely cast aside, it's looking far more likely that it's going to take a backseat to other key reform measures. Not to mention that most Republican lawmakers believe in free-market pricing, so it looks as though specialty drugmakers like ImmunoGen are going to retain their pricing power, at least for the time being.
Now what
The good news for investors is they'll have a lot more meat-and-potatoes data to feast upon in the coming weeks. Although much of the data being presented is preclinical or from early-stage clinical trials, it nonetheless paints a picture of efficacy that could fuel excitement about ImmunoGen's ADC-based pipeline.
Image source: Getty Images.
However, it's still worth mentioning that ImmunoGen took a big risk by amending its FORWARD I trial in mid-2016, which makes ImmunoGen's stock quite the gamble here. The trial was originally slated to be run as two phase 2 studies, but ImmunoGen relied on positive phase 1 data in folate receptor alpha-positive ovarian cancer patients as its basis to run a single phase 3 study in this patient subset. ImmunoGen has to hope that mirvetuximab soravtansine is as effective in a larger group of FR alpha-positive patients as it was in a small subset of phase 1 patients, or it could find itself in big trouble and a possible future cash crunch.
Despite ImmunoGen's pipeline rich with preclinical and clinical innovation, I'd remain on the sidelines until we have more concrete evidence of mirvetuximab soravtansine's efficacy.
10 stocks we like better than ImmunoGenWhen investing geniuses David and Tom Gardner have a stock tip, it can pay to listen. After all, the newsletter they have run for over a decade, Motley Fool Stock Advisor, has tripled the market.*
David and Tom just revealed what they believe are the 10 best stocks for investors to buy right now... and ImmunoGen wasn't one of them! That's right -- they think these 10 stocks are even better buys.
Click here to learn about these picks!
*Stock Advisor returns as of February 6, 2017
Sean Williams has no position in any stocks mentioned. The Motley Fool recommends ImmunoGen. The Motley Fool has a disclosure policy.