Here's Why Illumina Is Soaring Today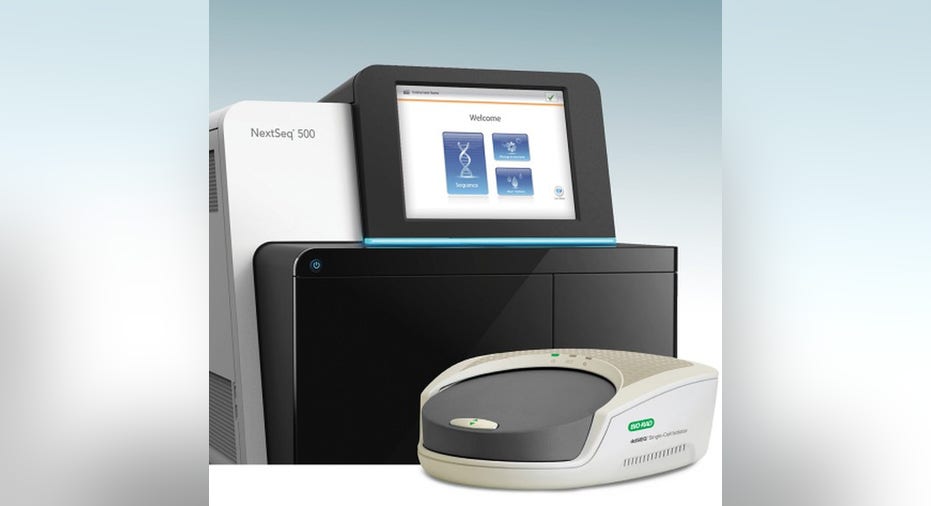 Illumina's new NovaSeq 6000 system. Image source: Illumina.
What happened
After Illumina(NASDAQ: ILMN) announceda number of new partnerships, products, and an upbeat financial guidance atthe 2017 J.P. Morgan Healthcare Conference, its stock rose by more than 16% as of 12:30 p.m. EST on Tuesday.
So what
It was an eventful day for the genomic equipment maker. Here's a review of the key announcements that combined to drive the company's share price higher:
First, Illumina and Bio-Rad Laboratories(NYSE: BIO)announced the launch of a new product called the Illumina Bio-Rad Single-Cell Sequencing Solution. The two companies stated that this next-generation sequencing machine will give researchers the ability to "investigate the coordinated contribution of individual cells in tissue function, disease progression, and therapeutic response." The system is expected to ship in early February.
The Illumina Bio-Rad Single-Cell Sequencing Solution. Image source: Illumina.
Next, Illumina andPhilipsannounced that they have entered into a new strategic collaboration. The aim of the partnership is to use the two companies' expertise to "provide new solutions aimed at the acquisition, analysis, annotation and interpretation of genomics data in oncology cases."
In addition, Illumina also announced a new partnership with tech giantIBM (NYSE: IBM). The goal of this collaboration is to combine Illumina's sequencing platform with IBM's Watson to "help standardize and simplify genomic data interpretation." The two companies believe that combining Illumina's TruSight Tumor 170 technology with Watson's advanced pattern recognition software will allow it to comb through thousands of scientific articles, medical books, and clinical trials to produce highly detailed genetic reports in a matter of minutes. Those same reports currently take scientists more than a week to produce, so this collaboration promises to be a game changer in genetic reporting and data interpretations. This new software is expected to be availablein early 2017.
If all of the above weren't enough, Illumina also introduced its next-generation high-throughput sequencing system, which it calls the NovaSeq series. The company claims that this new system will one day enable researchers to sequence a genome for as little as $100.Illumina stated that they are initially offering two versions of thenew system -- called the NovaSeq 5000 and NovaSeq 6000 -- which are priced at$850,000and$985,000, respectively. The 6000 series will begin shipping in March and the 5000 series will ship by mid-year.
Finally, Illumina forecasted that its fourth-quarter revenue will land at $619 million, which is nicely ahead of the $610 million that Wall Street was anticipating. What's more, the company expects that its full-year revenue will grow by 10% to 12%. That number also compares favorably to what market watchers were projecting.
Given the barrage of exciting announcements, it is no surprise to see that Illumina's shares are soaring today.
Now what
While each of these news releases provides shareholders with reasons to be optimistic about the company's future, I think that the launch of new NovaSeq series is the most compelling.
Here's what Illumina's CEO Francis deSouza had to say about this new product line:
What's more, Illumina believes that the NovaSeq series will provide laboratories that cannot afford the high up-front cost of a HiSeq X Five or HiSeq X Ten System with a road map to bring down their genomic sequencing costs to$1,000per genome. That's an attractive proposition that could go a long way toward reviving the company's waning instrument revenue growth rates.
Overall, Illumina provided investors with plenty of reasons to believe that its best days still lie ahead. If you agree, then buying Illumina's stock while it is still on sale could prove to be a profit-friendly move.
10 stocks we like better than Illumina When investing geniuses David and Tom Gardner have a stock tip, it can pay to listen. After all, the newsletter they have run for over a decade, Motley Fool Stock Advisor, has tripled the market.*
David and Tom just revealed what they believe are the 10 best stocks for investors to buy right now... and Illumina wasn't one of them! That's right -- they think these 10 stocks are even better buys.
Click here to learn about these picks!
*Stock Advisor returns as of January 4, 2017
Brian Feroldi has the following options: long January 2017 $195 calls on IBM, short January 2019 $185 puts on IBM, short January 2019 $180 puts on IBM, long January 2018 $175 calls on IBM, and short January 2018 $175 puts on IBM. Like this article? Follow him onTwitter, where he goes by the handle@BrianFeroldi, or connect with him on LinkedIn to see more articles like this.
The Motley Fool owns shares of and recommends Illumina.The Motley Fool has a disclosure policy.